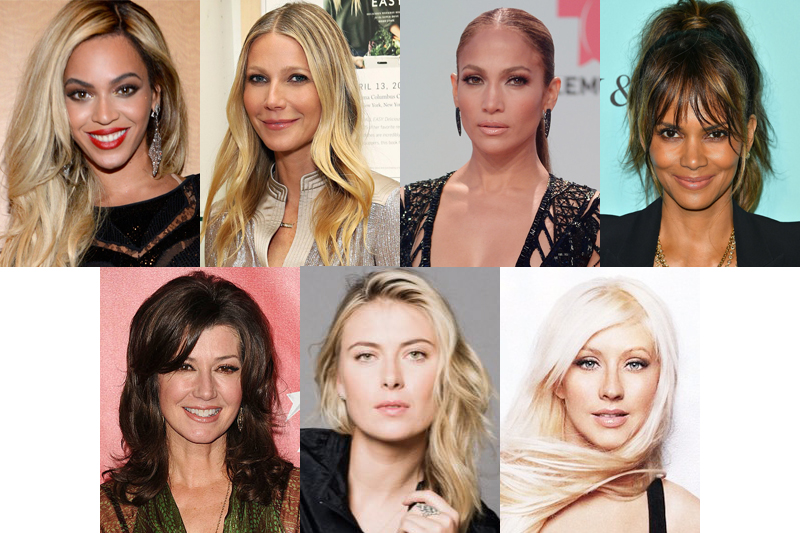 These celebs sleep well and look great(Clockwise from upper left): Beyoncé, Gwyneth Paltrow, Jennifer Lopez, Halle Berry, Christine Aguilera, Maria Sharapova and Amy Grant
Sleep more in 2018 to look and feel better
Many fall ill during the first week of January. Aside from the weather, it could be due to the stress of the hectic holiday schedule, the over-indulgence in rich food (only taken during cheat days the rest of the year) and the lack of sleep and rest due to all the festivities.
Two friends were admitted into the hospital, and while the resulting illnesses and symptoms were different, the culprit was similar. They both lacked sleep.
While New Year's resolutions normally revolve around exercising more or eating less, maybe we can add "sleeping more" in 2018.
More and more people feel that they can survive with five hours of sleep per day. There are too many distractions and issues that crimp our day.
Traffic congestion to and from work can reduce our day by as much as four hours. Social media, movies on demand and other online activities can easily reduce whatever is left.
It is therefore natural for people to just slash their sleeping hours from the usual eight hours to a mere five. But is that enough?
According to the National Sleep Foundation (NSF), everyone needs to get between seven to nine hours of sleep. This is the much-needed downtime when our brain and nervous systems perform much-needed daily maintenance work.
"Research consistently shows that adequate, quality sleep directly positively affects mental, physical and emotional well-being," says National Sleep Foundation chairman Max Hirshkowitz. "NSF's 'Sleep Better. Feel Better' campaign shines a light on the importance of sleep health toward improved productivity, mood and overall health."
Popular celebrities also swear by having enough sleep. Here are some for added inspiration:
Christina Aguilera told People magazine, "People spend money on beauty potions, but a good night's rest makes all the difference."
Halle Berry was also quoted by People magazine: "I love to sleep. When I am rested, I'm at my best."
Beyoncé told People, " I am a person who has a hard time shutting off my brain. But if you are active during your day, you will be so exhausted you can't help but fall asleep. Having peace, happiness and healthiness is my definition of beauty. And you can't have any of that without sleep." Beyoncé is in bed by 11 p.m.
Gwyneth Paltrow said, "For me, sleep is a major thing. I don't always get it, and when I don't, I look like I've been hit by a truck."
Jennifer Lopez shared with Health.com, " Sleep is my weapon... I try to get eight hours a night. I think what works best is sleep, water, and a good cleanser."
InStyle magazine also quoted her: "The number one tip is to always get enough sleep. I can't stress this enough. Ideally I would love to get nine or 10 hours of sleep, but either way, I always make sure I get at least eight."
Tennis star Maria Sharapova said, "I'm always on the go. I love doing things until I hit rock bottom. Then I need my 12 hours of sleep, and I'm on the go again."
Amy Grant shared, "In the past, when I'd recorded during a break in a tour, it was so easy to sing, because I felt strong. Also, like so many new mothers, I wasn't getting a lot of sleep, and sleeping is such a huge part of being able to sing."
Still not motivated to sleep seven to nine hours a day? Will you if you could easily lose 10 pounds without diet and exercise?
A lot of studies have revealed that getting only four to five hours of sleep a day increases your appetite for high-fat and high-carb snacks by as much as 45 percent. In these studies, men and women with the lowest Body Mass Index (BMI) were asleep for approximately eight hours per day. It further stated that women who slept five hours or less have a 47-percent risk of major weight gain or even obesity.
More importantly, 6.5 hours of sleep or less increases the quantity of ghrelin, or the "I'm hungry" hormone, and decreases the quantity of leptin, or the "I'm full" hormone. That's the reason why we eat more when we sleep less.
* * *
Post me a note at mylene@goldsgym.com.ph or mylenedayrit@gmail.com.