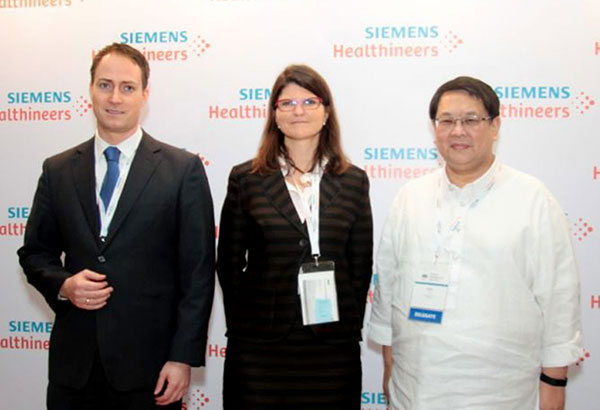 Digitalizing healthcare: Enno Nehrbass, Siemens Healthineers head of strategy and head of Digital Health Services, Asia Pacific; Elisabeth Staudinger, Siemens Healthineers president, Asia Pacific; and Mike Tan, Siemens Healthineers president, Philippines.
Rx: Better healthcare, lower cost
Unless you've been living under a rock, you and I know how this global behemoth called the Internet has changed the way we do things; it has certainly changed our lives! This is particularly evident on the medical/health front, as the healthcare industry makes the transition towards a more digital ecosystem by employing mobile apps, wearable technology, and other advanced technologies in accessing data, sharing information, identifying trends, and even discovering breakthroughs when it comes to caring for patients. Think, for instance, being able to diagnose cancer from a single blood sample. Or a patient undergoing open-heart surgery with just a minor cut using minimally-invasive technology. Or picture an MRI (Magnetic Resonance Imaging) scanner that adapts to a patient's anatomical characteristics for high-quality imaging, reducing the need for a rescan.
Indeed, the digital health market is expected to grow even more by 2024, according to Global Market Insights, to enhance the efficiency of healthcare delivery and make medicines more personalized and precise (and maybe cheaper?).
Siemens Healthineers, Siemens' worldwide healthcare business brand, underscores its pioneering spirit and engineering expertise in the healthcare industry by focusing on helping healthcare providers to deliver better outcomes at lower costs while assisting an estimated five million patients globally every day.
Elisabeth Staudinger, president of Siemens Healthineers Asia Pacific, talks about the company's efforts towards the digitalization of healthcare, and how these innovations can make a significant impact on the Philippine healthcare industry. Excerpts from the interview:
PHILIPPINE STAR: Among Asia Pacific countries, what country is the most advanced in terms of digital healthcare?
ELISABETH STAUDINGER: Singapore clearly is in a leading position. The government has launched its SMART National policy a few years back, to tackle urban challenges and enhance people's lives through digitalization. And at Siemens Healthineers, we are proud to be part of this initiative. Only recently, we witnessed the inauguration of the so-called Siemens Digitalization Hub in Singapore. This is a government-supported initiative, which aims to make Singapore even "smarter" when it comes to technology — by developing smart solutions for the society and further developing high-level digital competencies. Healthcare is one of the key target areas. Also, because Singapore is such a small and tech-savvy country, new technologies are being picked up very quickly.
How would you rate the Philippines?
We observe the Philippines as a very dynamic market in healthcare and well-versed when it comes to digitalization. A Microsoft study shows that 32 percent of its business leaders already have digital strategies in place and infrastructures are being developed further. Globally, adopting digitalization in healthcare has been challenging due to it being a heavily regulated sector. But those challenges can come as opportunities to simplify and make it better.
Digital solutions offer the tremendous opportunity of connecting patients and healthcare providers with the click of a button; for instance, as an archipelago, the Philippines can benefit immensely from that. I'm thinking of teleradiology, a concept that allows for a remote diagnosis, since patient and physician don't have to be in the same location. Instead, the patient's medical images are being taken and then sent to a specialist in a larger city. Here, digitalization can serve as a virtual bridge between the patient and the radiologist who reads the medical image and delivers his diagnosis remotely.
We at Siemens Healthineers have recently launched our digital ecosystem. It is based on a cloud-based platform named "teamplay" that is connecting more than 1,500 hospitals worldwide. The intention is to bring healthcare professionals from all around the globe together to advance medicine and human health. The network allows them to identify improvement potential on all levels of execution. They can benchmark the performance of their hospital against others, and share information and studies. Discussions with major hospitals in the Philippines are underway.
Many Filipinos, especially those living in the very remote areas of the country, have no access to hospitals and even the most basic healthcare. How would digitalizing healthcare help them?
In a country composed of over 7,000 islands, digitalization can be the bridge that will further strengthen access to quality healthcare — building connection regardless of location. Our healthcare solutions, from imaging to laboratory diagnostics including after-sales service, are already present in most parts of the country. Siemens Healthineers is in an excellent position to assist its customers in transitioning to digital with various offerings such as the aforementioned digital ecosystem and teamplay.
Will digitalizing healthcare bring down healthcare costs and benefit more Filipinos?
First and foremost, digitalization will help to improve access to healthcare technology, like I've outlined previously. In addition to that, in order to lower cost in healthcare, we as a healthcare company strongly focus on value-based innovation. For example, we recently launched a Computed Tomography Scanner called Somatom Go. It was developed with the need of our customers from different parts of the world in mind. It focuses on increased workflow automation, affordable advanced clinical capabilities, and a low total cost of ownership — it comes at a much lower price than high-end CT scanners.
What are some of the recent breakthroughs in caring for patients?
A lot has been happening in fact. In the field of laboratory diagnostics, the so-called in-vitro business, our new automated system Atellica Solution delivers accurate and fast results, saving valuable waiting time for patients to receive correct diagnostics and treatment. The system utilizes a magnetic transport system that works 10 times faster than conventional tracks. Combined with other groundbreaking technologies, this helps in providing results much more quickly and accurately, to the benefit of the patient.
In diagnostic imaging, we have been pursuing the idea of precision medicine and developed a Magnetic Resonance Imaging (MRI) scanner called Magnetom Vida, that adapts automatically to individual anatomical and physiological characteristics to offer consistent, high-quality imaging for all patients, using a technology called Biomatrix. This provides for reduced rescans for the patient and increased productivity for the healthcare provider.
And, of course, the topic of digitalization and Artificial Intelligence is something that we are intensely focusing our efforts on. Here, one of the buzzwords is "Cinematic Rendering." It's a new type of research visualization technology that enables 3D photo-realistic images to be produced of the human body using data from imaging systems such as CT and MRI. The technology's main benefit lies in improving planning for surgery, as well as part of communication between doctors and the dialog with patients.
How will advanced technology help in the diagnosis and treatment of serious illnesses like cancer and heart disease?
According to the World Health Organization (WHO), the Philippines has one of the highest numbers of deaths due to chronic diseases such as cardiovascular diseases, which account for 33 percent of deaths, and cancer, 10 percent. We need innovation to tackle this issue. The above-mentioned products and innovations have a great role to play. We are looking at more accurate and faster diagnosis, low radiation doses, and better patient experiences. Artificial Intelligence can also help to provide for more targeted treatment.
In the field of cancer diagnosis, there is an example that I would like to highlight because it is so innovative: Liquid Biopsy Testing in diagnosing lung cancer, one of the most common types of cancer. How does it work? The test is able to determine the specific treatment-relevant mutations in the cancer from just a single blood sample. This makes the test a non-invasive, painless, and low-risk alternative to a biopsy, where a tissue sample must be taken from the patient for analysis. Once the type of tumor is ascertained from the blood sample, the treatment can be focused and effective.
In the field of heart disease, look at how far medicine has come: Only 10 years ago, a patient requiring aortic valve repair would have to undergo open-heart surgery. If for some reason the surgery was not successful, or if there were other complications, the procedure would have to be repeated. Today, the same procedure can be done using sophisticated imaging and minimally-invasive technology, with just a minor cut required. Real-time information from multiple imaging systems can be used simultaneously — for example, live ultrasound to detect abnormal tissues, and correct it immediately — without the need for a second procedure. And as the procedure is minimally-invasive, the patient can usually be discharged sooner than before, sometimes even the next day.