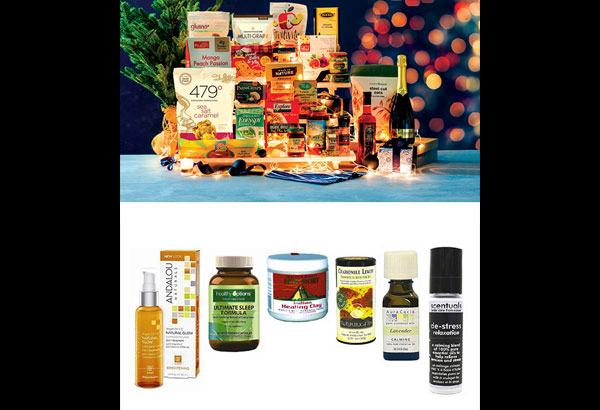 A merry, healthy Christmas to one and all: Healthy Options offers an array of Christmas products to light up your life for the holidays and all year through.
Good tidings, good health for christmas
As soon as we enter the store, our eyes light up at the sight of the assorted holiday goodies bundled together under such categories as: Glimmer, Glisten, Glow, Luster, Shimmer, Twinkle, Be Dazzling, Pure Radiance.
"Just what I needed for the stressful holidays," one mom gushes with a twinkle in her eyes as she scoops up a most-coveted jar of cream. "My teenage daughter gave me a wrinkle remover last Christmas," she happily shares. "And what did she give you the Christmas before that?" asks Mom No. 2. To which Mom No. 1 replies, "She gave me the wrinkles!"
And what are the must-have beauty/health products on people's Christmas lists?
"Collagen (super effective in helping renew skin cells) and alpha lipoic acid supplements to remove wrinkles are among our bestsellers," says Healthy Options brand director Pam Suarez. "Also vitamin E supplements (HO's top brand Derm E) and glutathione, an antioxidant that makes skin whiter and lighter. We also have Andalou to remove eye bags."
Pam adds as we intently hover over the array of beauty products, "W e have the Aztec Indian Healing Clay, which is like a mask made of volcanic bentonite ash, that clears the skin of impurities. It is recommended that you use it mixed with apple cider vinegar. After you wash it off, the toxins in your skin will be removed."
These past many Christmases, apple cider vinegar was flying off the shelves of Healthy Options, a leading chain of all-natural products stores. Apple cider vinegar is much touted for its weight loss benefits. But if it doesn't really subtract inches from your waistline, you can always use it to add flavor to your food.
The junkies among us (like me) are all agog over the snack items and other foodstuff in Healthy Options' holiday boxes. Yes, there are such things as healthy chips and cookies.
Among Healthy Options' best-selling items are chia (these tiny superfood seeds are chockful of healthy fats, fiber, and antioxidants), quinoa (a complete protein grain that contains all nine essential amino acids), and flaxseed (a wonder food that initial research shows can fight everything from heart disease to diabetes).
What's in those Christmas boxes? Pam tells us, "The Glisten box, for instance, is a completely gluten-free line — for people who are either avoiding gluten or are really medically gluten-intolerant. On the other hand, the Twinkle box is for weight or health-conscious people because the items there are low-sugar and low-sodium, like the cookies, pretzels, rice chips, oatmeal. This is for those who are hypertensive or diabetic, trying to lose weight or watching their health. The sparkling juice is in every box (at P2,995 per and up)."
But you can also create your own box (to give or to keep for youself). There's also a box that allows you to create your own healthy noche buena meal. What a thoughtful gift to give to someone special who has no time to think of what to cook this Christmas! Or why not give me to yourself?
"For this year, we were inspired by Christmas lights for our boxes," says Pam. "The concept is to light up your Christmas. There's light that emanates from each of us and usually, for Christmas, we want to spread that goodness and light. We want our gift boxes to be representative of that kind of light."
Pam shares a few healthy tips that can help you deal with stress, and get going and glowing this holiday season.
• Be mindful. Breathe deeply to bring yourself to the present moment, and acknowledge your stress without judgment. Taking a few deep breaths will help you be mindful of what is truly stressing you out, and have a profound effect on resetting your stress response. A simple and accessible go-to health trick is to have at hand your favorite all-natural essential oils from Aura Cacia, such as lavender to keep calm, and peppermint to provide clarity. Scentuals roll-on oil can also help you to de-stress. Take four deep breaths with your favorite scents and see how different you'll feel.
• Exercise and cleanse. Make movement your option to feeling good. Exercise has well been proven to burn off stress chemicals that our body emits. It comes with the double benefit of de-stressing the mind and protecting it from stress-induced mental issues such as anxiety and depression.
There is nothing better than the endorphin high of a good sweat session, followed by a good long shower to boost your circulation even more, accompanied by toxin-free beauty products. Make your anti-stress personal hygiene routine a healthy ritual by stocking your bathroom with products you look forward to using, such as a deeply nourishing pair of Giovanni 2-Chic Ultra-Sleek shampoo and conditioner, a deep pore cleansing mask like Aztec Indian Healing Clay to suck up grime, and facial care like the Andalou Naturals brightening skincare line to keep you radiant.
• Keep up nourishment. Stress dampens the immune system and increases inflammation. Balance your body with the correct nutrition before you even feel stressed to arm your body against stress responses. Don't wait to feel sick and sluggish before you decide that maybe all that fast foods you have been eating are not doing you any good. Instead, opt for nutrient-dense foods that are quick and easy to grab. Try carrying around with you Bobs Red Mill dried blueberries or cranberries for your sweet tooth instead of candy. Bobs Red Mill products work great, topped with just about anything. Take The Republic of Tea white teas and green teas for a caffeine and antioxidant boost instead of soda, and Woodstock Farms dark chocolate, nuts, trailmix, and seeds for a savory crunch filled with brain-boosting healthy fats instead of saturated fat-filled chips.
• Supplement. When the body is stressed, nutrients are more poorly absorbed and more quickly depleted from it as it tries to cope. So, when the holiday traffic is pushing your last nerve, when the pressure of a mile-long to-do list has you feeling overwhelmed, when deadlines are squeezing away your last bits of leisure time, arm your body daily with supplements to keep your energy up, your mind calm, and your body relaxed. Here are some supplements to consider to maintain good health amid stressful periods.
1. Magnesium: The original chill pill known to relax muscles, ease headaches, and reduce feelings of anxiety.
2. Gaba: To treat overstimulated areas of the brain induced by stress such as depression and anxiety. It encourages deeper and more restful sleep patterns, and gives you that all-natural feeling of calm without the sluggishness or crash.
3. L-Theanine: To promote feelings of calm and centeredness. L-Theanine is especially beneficial for those who need to focus and concentrate, while feeling relaxed instead of jittery.
5. Support your hormones. Cortisol is a stress hormone that has a direct impact on your entire endocrine system. From the serotonin (your "happy" horomone) produced in your gut, to your sex hormones such as testosterone and estrogen, cortisol dampens production and these hormones become less available to your body. This is why chronic stress leads to so many hormone imbalance-related issues, such poor digestion, foul moods, and brain fog.
Try these hormone-supporting foods and supplements to help counteract hormone imbalances brought about by chronic stress:
1. Maca: Maca powder provides calming energy while giving your body the extra boost to balance out hormones, whether it needs more or less of a specific hormone. For example, less cortisol, more serotonin.
2. High-fiber, gluten-free foods: Have gluten-free, high-fiber foods with you to snack on. Think Healthy Options granola, flaxseeds, sunflower seeds, and rolled oats. Fiber keeps your gut happy, and gluten-free foods can help eliminate gut inflammation, indigestion, and brain fog. This is especially beneficial for those who have mild to severe types of gluten allergies or intolerances, especially during times of stress when digestion is weaker.
3. Probiotics: When stressed, our gut flora can be unbalanced due to illness-causing bad bacteria building up. Keep up your immunity and proper nutrient absorption with probiotics.
The key takeaway when it comes to staying healthy in the face of holiday stress is to keep your mind and body well nourished. Daily circulation, proper and consistent nutrition, and mindfulness to keep you grounded are all-natural and accessible ways to stay resilient.
Make healthy habits not just a go-to solution for stress but a lifestyle. With consistent effort, your good health will make you feel more vibrant. Radiate the inner light during this wonderful time of the year.
Have yourself a healthy, stress-free holiday season!
* * *
To learn more about Healthy Options and its premium quality product lines, visit www.healthyoptions.com.ph. Healthy Options has stores in key cities all over the Philippines.