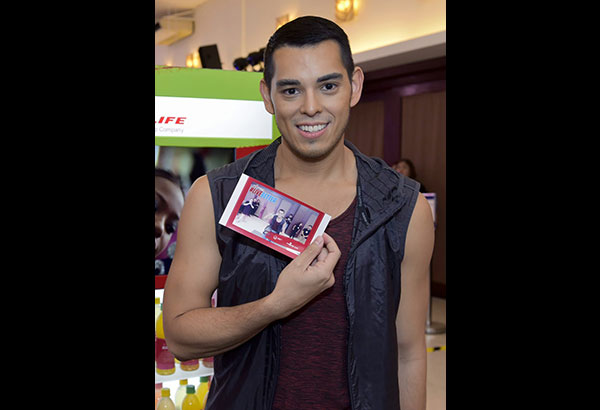 Meet the "new" Raymond Gutierrez, the new ambassador of Philam Life's Live Better campaign.
Raymond Gutierrez: From fat to fit
Is that Richard Gutierrez? No, that's his twin Raymond Gutierrez! Yes, the always-fat/rotund Raymond can now be mistaken for his fit/lean and mean brother Richard.
"I've lost 65 pounds since December last year," Raymond tells us, standing tall with his well-sculpted body with nary an unwanted flab.
He shares his journey from fat to fit: "It was December of last year when I decided to focus on myself and on my health. I was overweight, always drinking and having late nights. My lifestyle before wasn't really the healthiest. I kept focusing on work, I would open our nightclubs, throw events and launches, do hosting, do a reality show. I kept focusing more and more on work, I never really focused on myself. So, I said it's time I focused on myself. It's gonna be another year. I'm turning a year older, 33. I kind of pressured myself to do it now. I started working out. I started watching what I ate, removing the things that were bad for me. By January, I kind of got the hang of it."
To celebrate his 33rd birthday, Raymond threw a healthy fitness party ("instead of my usual drinking party") at Isabelle Daza's indoor cycling studio Ride Revolution. "I had a tuna buffet and Jamba Juice. I got used to it and started enjoying it. I surrounded myself with like-minded people who were into fitness, like Solenn (Heussaff) and Nico (Bolzico), people who motivated me."
Little did Raymond think he would be a fitspiration for a lot of people. "I got so many messages on my Instagram, Twitter, and Facebook about how my journey encouraged them. It's so nice reading those messages from people because they motivate me to work harder. I still get so kilig when I see messages from people saying, 'Mon, I started my Day 1 because of you. And seeing how you did it, I can do it, too.'"
"It's never too late," Raymond stresses. "That's the message I want to spread — it's never too late to take care of yourself. At one point in my life, I was saying, 'I'm just going to be the fat twin.' Then I realized it's never too late to take care of yourself, take a break from whatever you're doing, and take care of yourself."
Raymond didn't really have big health issues. "But it was leading towards that, if I didn't watch what I ate or didn't start working out. On some days, I was breathing heavily, and on other days, I had a harder time getting up. So what would this lead to? Am I gonna wait to get sick or have health issues before taking care of myself? It's also preventive."
His mom Annabelle was surprised but happy to see "a new" member of the family. (Annabelle has yet to embark on her own journey to weight loss — well, it takes guts — but the fact that she bought a pair of sneakers is a good sign.)
Raymond has inspired his whole family to embrace wellness. Like his sister Ruffa, who now hits the gym every day.
For Raymond, it's more than losing weight. It's about gaining a new lifestyle. "Even my schedule is different now," he says. "Before, I was a night person; now, I'm a morning person. I wake up at 6 a.m. to work out, I do the treadmill first thing in the morning. Before, I'd come home late at night. Now, I'm in bed by 10:30 p.m. My parents are very happy that I've chosen this kind of lifestyle."
He goes on to confess, "I still do my events, my brand launches, I'm still co-owner of The Palace, I still do big concerts. Before, I would just party because I wanted to, drink because I wanted to. The challenge now is about choosing the celebrations that matter. Really to celebrate and not anymore just because."
Raymond gives this big fat tip: "I always tell people to listen to their body. So, whenever I'm feeling sore or too tired, I take a break, I don't want to push myself too much because I don't want to get sick. If you need a day off, have a day off."
Raymond's mantra: Everything in moderation! " I removed beef and pork from my diet. I eat chicken, fish, and vegetables. I feel so refreshed, so much better now. I'll have a bite of cheesecake, but I know the consequences. If I have wine or a cocktail, it's always knowing what I put in my body, being mindful of it."
Raymond minds his body more than ever. And he looks up to his fitness buddy Richard. " Now, it's funny we can actually work out together and bond. Iba na yung bonding namin — before it was drinking, now it's working out."
Sharing in Raymond's weight loss victory is his gal pal Solenn Heussaff, who started her fitness journey when she was 22, "when I started noticing changes in my body, changes in the way I would feel or think or react to certain things."
She feels the last two years have been the fittest she's ever been. "People say I'm getting older but for me, I'm getting older, but I feel I'm getting younger because I'm so much healthier in every sense, in every aspect of my life than when I was a kid because I'm more aware and more educated now."
"Diet" is not a word you'll find in Solenn's vocabulary. "It's a bit of a scary word," she declares. "People think it's eating a carrot every day or cleansing. Diet just basically means the quantity of food you eat. For me, I make sure I balance my food. So I have eggs for breakfast, I never have a second serving, I don't drink unnatural sugar, I have fresh fruit juice, not a packed one. I don't drink soda, I don't remember the last time I had a soda."
Because Solenn eats a balanced diet and eats what she wants in small quantities, she doesn't really have to cheat. "And I don't crave. If I feel like eating pizza, I'll have a slice, not half a pizza. But I eat slow, that's very important. I drink a lot of water before I eat. I eat in small plates at home, to trick my mind that I'm eating a full serving. The plates are really for dessert."
Solenn doesn't eat white rice. "But when I'm in Japan, I'll have sushi, I won't say no to rice. I love bread, brown bread, but I'll have a slice, not a loaf."
It helps that Solenn has a chef brother, Erwan Heussaff, who gives her tips on healthy food substitutes.
Solenn shares her own fitness tips: "Don't stress on the weight loss. Because even if you're doing an extreme diet, you're possibly thinking, 'I wanna lose weight, I wanna lose weight.' You're gonna get bigger because your body is under stress and looking for things to eat. Always be relaxed. Maybe a diet for you will work in two days; for some, it will work in 10 days. Everyone has his own body and own level ... Don't have too much oily food, try not to eat carbs or have it only in the morning. Filipinos love rice, it's full of sugar. People who are not educated in the food department think rice isn't carbs, but you know that rice is sugar, and the Philippines is super high in diabetes. You need to educate yourself."
Solenn's advice to women who have yet to fit fitness into their sedentary lives: "Stop making excuses, get out of bed, surround yourself with people who can motivate you and lift you up, and start today, not tomorrow."
Raymond and Solenn with husband Nico Bolzico, and Wil Dasovich are today's fitspirations and ambassadors of Philam Life's "Live Better" campaign. They will join powerhouse athletes Alyssa Valdez and Mika Reyes in promoting the company's wellness-oriented advocacy to inspire more Filipinos "to go out, eat right, and live a life of total wellness."
"At the core of Live Better is the Vitality Program, a holistic program that helps Filipinos live better by letting them take charge of their overall health, their mind, body, as well as their financial wellness," says Tim Marriott, Philam Life's chief marketing officer. "In the long term, it seeks to help Filipinos live life to the fullest."
To help Filipinos achieve their health goals towards a healthy lifestyle, Bernadette Chincuanco, Philam Life's head of brand and communications, says they're taking the campaign to the big malls like Glorietta and TriNoma, where healthy vending machines are being installed and you get a bottle that serves as your invite (media got their invites last week as we got to try the campaign's features). Later, we'll go to the provinces."
Let the journey to fitness and wellness begin — now!
* * *
Catch Philam Life's Wellness Expo on June 24-25 at the TriNoma Activity Center and learn more about how you can improve your life through food, fitness, wellness, and finance. Get exciting tips, tricks, and treats from fitness ambassadors Mond, Solenn, Nico, Wil, Alyssa, and Mika. For details, visit www.facebook.com/PhilamLifeA/A.