Infographic: How to pick the best postpaid plan
(Philstar.com) - April 26, 2016 - 3:48pm
MANILA, Philippines – When not all deals are the same and it's your first time, how would you know which postpaid plan will work best for you?
Things might be more confusing now with telcos getting more and more competitive with their offers. You are faced with a lot of options which all look nice and reasonable, not to mention the enticing devices that go with them.
But you use your phone a lot and getting a contract mobile plan is the most practical choice for you. Your lifestyle also demands it—whether you're a movie junkie, an adventurer or a music lover. So, just before you pick a postpaid plan, let this infographic guide you: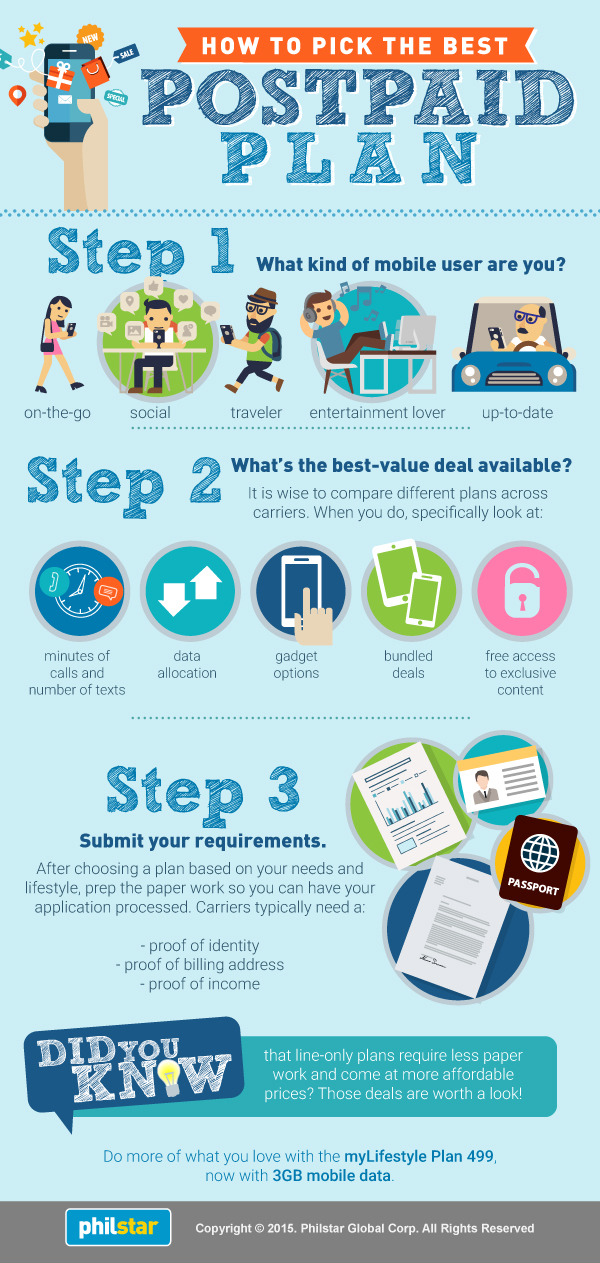 Globe myLifestyle Plans has just gotten better! Plans 499 and 599 come with Surf More, allowing users to enjoy more data allocation and access to more free content.
Plan 499 is packed with unlimited calls and texts to Globe and TM, 3 GB of data, three-month free access to either Spotify Premium or HOOQ, 1 GB Globe Cloud Storage good for 24 months, and a lifestyle pack for one month. Plan 599, on the other hand, adds Samsung J1 or Lenovo A5000, one-month Gadget Care coverage, and 1.5 GB of data.
So go on bigger adventures and do more of what you love with Globe Telecom's myLifestyle Plans. Check out www.globe.com.ph/postpaid for more information.
READ MORE:
Infographic: 6 times Chromecast makes life a lot better
Best clashers named in Globe #NextLevelKa Ultimate Clash Tournament
LOOK: Globe opens GEN3 store at Greenbelt
Infographic: CoC moves that level up everybody's game
QUIZ: Which gaming character are you?