WATCH: How to look 'executive class'? David Celdran shares tips
MANILA, Philippines — Who said men do not need to be fashionable?
In this era of fashion statements, men also need to dress up and face the world in their most stylish mode. With brands all over the world releasing new fashion trends for men, it is important for boys to become men from head to toe in their everyday lives.
In the video by Philstar.com, David Celdran, news anchor and host of lifestyle TV show "Executive Class," shares some tips on how men can look classy for the upcoming holiday season.
Celdran recently hosted the fashion show of sportswear brand Paul&Shark, founded in 1976 by fashion entrepreneurs who had been in the business since 1921.
Manufactured and distributed by DamaS.p.A, the brand has been known the world over for its shark-shaped logo. It offers full men's, women's and children's collections as well as various capsule collections inspired by the world of sailing and adventure. In the Philippines, the brand is available at Shangri-La Plaza Mall, and The Shops at The Boulevard, City of Dreams.
Here are other men's fashion collections that could help one look 'executive class':
Sailor's shoes modified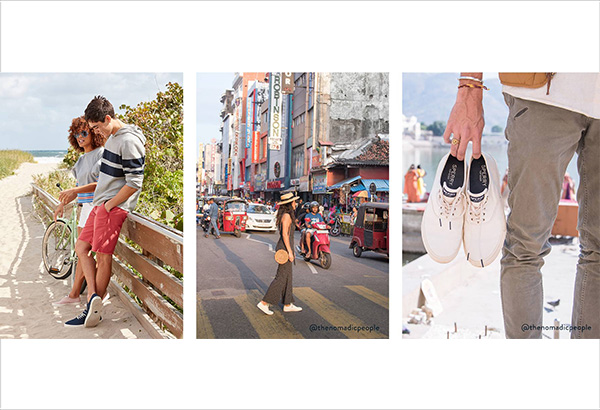 Screenshots from Instagram/@thenomadicpeople
After a fateful slip off of a boat deck in 1935, avid sailor Paul Sperry made his first pair of Sperry shoes. Inspired by the accident, he designed the CVO sneaker by carving grooves on a rubber sole, providing a non-slip grip to keep sailors safe on slippery decks.
Generations later, the brand's CVO is still an icon that has inspired countless style leaders and brands in the decades to follow. The sneaker has gained the approval of the US Navy, President John F. Kennedy, Ivy Leaguers of the 60's, to the preps of the '80s and '90s.
The shoe originally used to sailing around New England has been reintroduced this year in a lineup that aims to keep the original's clean classic lines, but updated with modern features. These include taking inspiration from military materials such as ammo cans, camouflage uniforms and olive drabs.
Tribute to a legend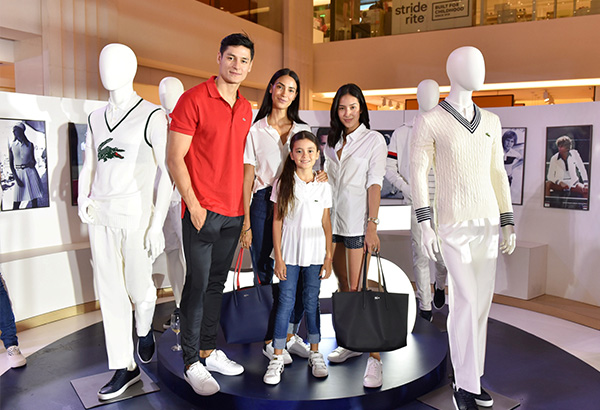 Hideo Muraoka and family at the opening of Lacoste 85th anniversary exhibit. Photo release
Commemorating its 85th anniversary, Lacoste created a pop-up exhibition at Central Square, Bonifacio High Street Central, Bonifacio Global City, Taguig City.
The exhibition, designed as a tribute to the legendary René Lacoste, showcased the 85th anniversary capsule collection, allowed visitors to know more about the story of René Lacoste, and the evolution of the famous L.12.12 polo shirt through eight decades.
Loyal patrons, including Hideo Muraoka, Fatima Rabago, and daughter Daniela, Kerwin King, Mari Jasmine, Mikaela Martinez, Sean Go, and Tim Yap, gathered at the official opening of the 136-sqm exhibit, which was built with a modern design based on the 85th anniversary logo created for the campaign, the 136-sqm exhibit was inspired from the French noble colors of white and blue.
At the recent opening, a fashion presentation commenced to showcase the anniversary collection, which traced the brand's style evolution. In addition to revisiting some of its most iconic pieces from the past decades, the brand also offered a glimpse into its bright feature with the redesigned Paris Polo within the exhibit area—a younger, fresher and more updated take on its classic silhouette.
Sports, denim and graphics
Continuing to reconstruct its image, Diesel Fall-Winter 2018 main collection is drawn from a melting pot of elements: sport, denim, colors, graphics, checks, and treatments. The collection creates an avant-garde mixture translated through three tribes MuffinHeads, Voltag3, and Kultur, appealing to a variety of personalities whose attitude can be balanced, free, and convincing.
MuffinHeads aka English Ravers dressed in school uniforms have given way to graphic stripes in unexpected color combinations including the palette of bottle green, utility orange, burgundy, and dark grey.
Voltag3 embodies Victorian-meets-sport vibe with transformable pieces that not only can be adapted to the body, but also lend a playful touch to a chameleon item.
Lastly, Kultur brings out the gothic-cyber hybrid to a classic wardrobe, where elegant wool coats with raw edges and blazers with built-in hoodies give a new twist.
This season's tailoring takes a distinctive turn as sport details are applied to more classic items, whilst puffy faux fur removable elements give a playful touch. Graphics recall gothic churches' windows or punk stitches transformed through acid colors and incongruous proportions. Volumes games can be seen on outerwear or using denim for an experimental turn — a clash of workwear and couture, making it strange and yet stronger.
The cyborg manifesto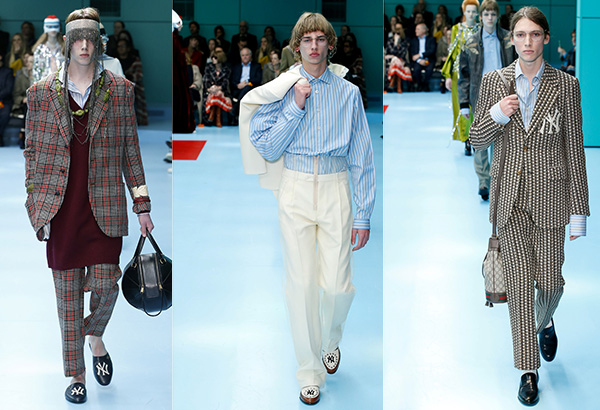 Pieces from the Cyborg collection. Photo release
Fashion brand Gucci recently released their new Fall Winter 2018 collection, Cyborg.
As the brand said, the collection goes further beyond, taking the shape of a genuine Cyborg Manifesto (D. J.Haraway), in which the hybrid is metaphorically praised as a figure that can overcome the dualism and the dichotomy of identity.
The cyborg, in fact, is a paradoxical creature keeping together nature and culture, masculine and feminine, normal and alien, psyche and matter.
Conflicting with any category grid, the cyborg is the expression that blends different evolving identities. Hybrid and shifting identities, built on multiple belongings, that transgress the normative discipline.
The brand's cyborg is post-human: it has eyes on its hands, faun horns, dragon's puppies and doubling heads. It's a biologically indefinite and culturally aware creature. The last and extreme sign of a mongrel identity under constant transformation.
Personal connections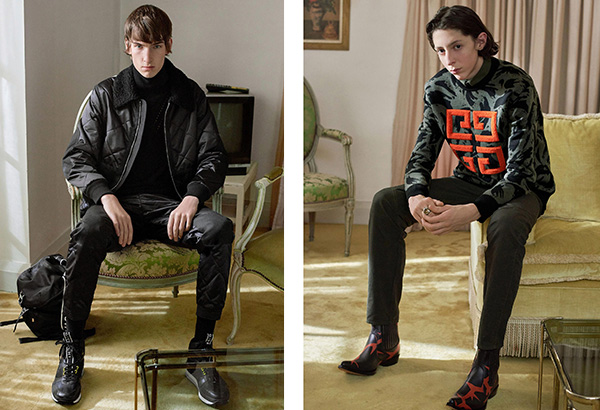 Pieces from the Pre-Fall 2018 collection. Photo release
Artistic director Clare Waight Keller presents her first Givenchy pre-collection for Pre-Fall 2018.
In keeping with the designer's preference for personal connections and private settings, the pre-fall look book was shot in various indoor and outdoor settings at a private manor in Kent, England.
Likewise, the styling emphasizes authentic poses and attitudes to let the clothes convey their real world appeal. As with Keller's début runway show, the pre-fall wardrobe blurs lines with men wearing embroidered evening pieces and women sporting tailored silhouettes with sharp shoulders.
Against this intimate backdrop, an urban vibe runs throughout the collection. Key pieces for women and men seem to mix and mingle almost interchangeably, with an emphasis on sharp tailoring, the stylized 4G emblem sweater, and a pointy boot for men and women. Color blocking in red, blue, amber and black, on clothes and the new GV Bucket bag sets the tone for the season.
Carry-overs from the Spring-Summer 2018 collection include leather trousers, three-quarter length coats and the new trench. Two featured graphics are a leopard print revisited in red and a lily print, for example in black on a fluid ivory mid-length dress. For evening, the accent is on sexy elegance with detail-rich pieces embellished with metallic embroidery, velvet on lace, facetted studs and pleated tulle.
Initially seen on the runway for Fall-Winter 2018-2019, the Jaw sneaker is Keller's first urban sport sneaker for the house.
Inspired by the multiple functionalities of a sports shoe, the sneaker is named for the distinctive "teeth" on its soles, yet it takes cues from many different eras, from the track shoes of the Sixties and Seventies to the high-tech sneakers that emerged in the Nineties, all while keeping its accent squarely on the present moment.
With a streamlined style and urban attitude, the shoes debuted exclusively as all-white or all-black high-tops in leather and nylon with a zip closure.
Fashion brand finds new Philippine home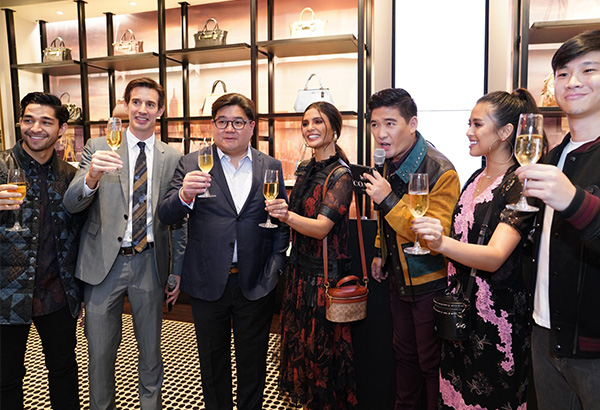 Gabbi Garcia and Lovi Poe, actress Rhian Ramos, TV host/ VJ Richard Juan, event host Tim Yap, and YouTuber Wil Dasovich with the brand's officials for the ceremonial toast. Photo release
Coach, a leading New York design house of modern luxury accessories and lifestyle collections, has officially opened its new boutique, located at the first level of Power Plant Mall, Rockwell, near the Lopez Drive entrance.
The nearly 120 square-meter space was designed by Creative Director Stuart Vevers in partnership with William Sofield, designer and president Studio Sofield. Featuring the brand's distinctive modern luxury concept, the store environment features leather and natural wood finishes that reflect the sophisticated yet playful refinement of New York — the city the brand has always called home.
Gracing the opening party were celebrities who arrived dressed in the brand—actresses and singers Gabbi Garcia and Lovi Poe, actress Rhian Ramos, TV host/ VJ Richard Juan, event host Tim Yap, and YouTuber Wil Dasovich. A ceremonial toast led by Coach Vice President - General Manager for Tapestry South-East Asia and Oceania Emmanuel Ruelland and SSI Group, Inc. President Anton Huang, together with the celebrities in attendance, was held to formally open the boutique.
No boundaries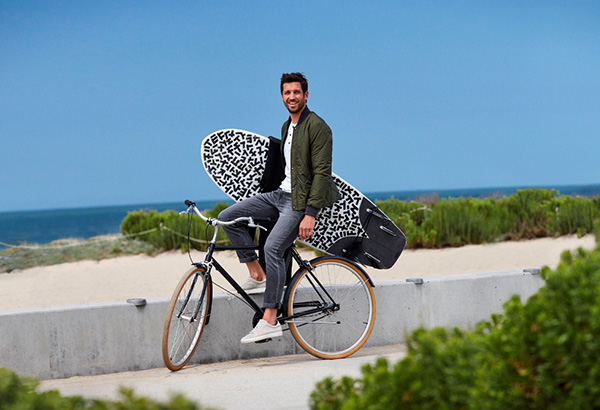 Pieces from No Boundaries collection. Photo release
As a nod to Banana Republic's heritage, the No Boundaries collection is a celebration of classic, archive hero pieces that she and he know and love made modern for now.
The range features utility inspired styles, iconic trenches, covetable sweaters and luxe fabrications. As the cooler weather starts to set in, the brand's range of everyday luxury sweaters and outerwear is a great addition to any fall wardrobe.
The bestselling traveler style is available in even more fits and fabrics this fall. The brand is also introducing the Tech Stretch Cotton Shirt, which comes in a Slim Flex Fit, a hybrid between Slim and Standard, and a wide assortment of color and traditional and novelty prints and patterns.
The shirt is cut shorter so it can be worn tucked in or tucked out and features stretch, moisture wicking, quick-dry and breathable performance prosperities.
The men's collection also includes the Solid Merino Crew, which is renowned for its lightweight warmth, durability and ability to retain its shape available in bronze brown, sea green, and true red.
A daring expression
Ermenegildo Zegna teamed up with William Chan and Sehun to celebrate the most daring expression to date, a genre-defying stars whose styles challenge conventional rules and codes, will proudly represent the brand's international, multi-tiered campaign.
Zegna XXX, or XXX, whose universal style merges luxury and streetwear, delivers a modern wardrobe that matches the versatility of contemporary living. Now, in a new twist to elite fashion, Artistic Director Alessandro Sartori has crafted an unconventional uniform for the modern XXX tribe; those who embrace everyday couture in their dynamic lives.
An identity for those who don't conform to style codes, the countercultural movement is marked by its expressive logo and crafted fusion. Purpose-driven, authentic, self-assertive; XXX elevates the refinery of tailoring and pairs it with the versatility of streetwear to create something instantly iconic.
Classics reinvented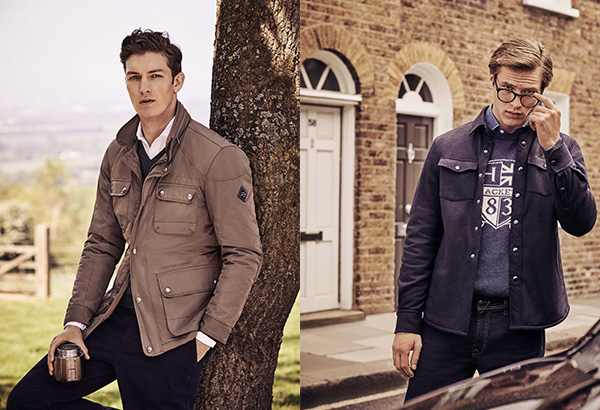 Pieces from Classics Reinvented. Photo release
Hackett London introduces their first trend story: Classics Reinvented, a collection of essential items designed to be layered and which confidently juxtapose texture, color and warm fabrics in preparation as the days get shorter and colder.
Classics Reinvented takes familiar elements and reworks them to create a wardrobe of essentials that are easy to wear and are core outfit builders. Celebrating 35 years since the brand opened its first store in Parson's Green, the design team took to Jeremy Hackett's archive of favorites which evolved to become synonymous to the brand name.
As a result, the brand launches the Archive collection. Made up of polo's, rugby shirts and sweaters all adorning the new Hackett Archive label, this capsule range of items pays homage to a primary color palette of green, navy, red with jewel nuances of Bordeaux, mustard and ink evoking the richness of yesteryear.
Fabrics are core to this delivery as the brand show playfulness in layering, clashing and combining all the classic British essentials for an elegantly desirable outfit. Grey flannel is much finer and softer than before and has been used in Look 1 single breasted, window pane suit; styled with an open shirt, neck scarf and melange blue knitwear, this look gently breaks the rules of tailoring whilst remaining quintessentially classic in its charm. — Video by Deni Bernardo