Udon wanna miss this: Tsurumaru opens at SM Mall of Asia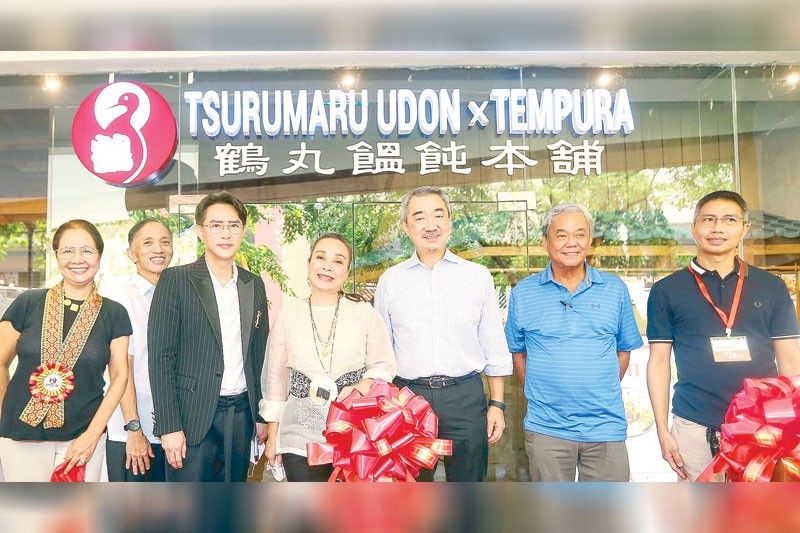 Innovative seasoned restaurateur Maritel Nievera was on vacation in Hawaii with her family in January 2017 when she saw, in front of her hotel, a continuous stream of people patiently queuing up at the door of a charming Japanese restaurant called Tsurumaru Udon. Herself a passionate lover of Japanese food, Maritel was intrigued by how this restaurant managed to pack in diners grabbing a meal round the clock, from breakfast to lunch to dinner till midnight. She naturally wanted to find out why this restaurant was so popular.
That same year, Maritel and her family went to Osaka for spring break and happened to see this restaurant again. As in Hawaii, the restaurant was also packed to the hilt.
"Tsurumaru Udon x Tempura is a successful pioneering concept by a big company in Osaka, the foodie capital of Japan," says Maritel for starters. Tsurumaru is just one of the numerous food concepts of Fujio Foods System (FFS) Co., Ltd Inc., founded by CEO Masahiro Fujio. It's so popular among the Japanese and foreigners that it now has almost 700 branches all over Japan and overseas.
From Osaka to Manila with lots of love
Maritel had long wanted to bring Tsurumaru to Manila. And so she did, flying back and forth to Osaka and sending her best people to train under Japanese chefs who likewise came to Manila to supervise the local kitchen. The Cabalen Group of Restaurants acquired the master license of Tsurumaru Udon x Tempura, spreading its wings to bring in more global brands to the Philippines. After her first food venture 37 years ago when she started Cabalen, Maritel now has Soi, BKK Express and Chaixi (all Thai), Sukiya (Japanese shabu-shabu from Singapore), Cerveseria (Spanish), Eats Pinoy (Filipino) and Mangan (Pampango). Having established her much-loved Kapampangan food, Maritel now ventures into popular Japanese food. To date, Tsurumaru has branches at Robinsons Ermita, West Avenue in Quezon City, and now at SM Mall of Asia.
So, what are people lining up for at Tsurumaru Udon x Tempura? But of course, it's the udon.
"Our udon noodles are made fresh every day, right here at our open kitchen," Maritel says, sharing the delicious news. "Our beef and most ingredients are carefully sourced from Japan."
Just looking at how these flat, thick Japanese wheat noodles are prepared al dente from the neat, long counter laden with food is enough for one to work up an appetite. But wait, have you decided on what udon dish to order? There are oodles of noodle items on the menu; you're simply spoiled for choice. Get ready for the ultimate udon experience!
Udon is comfort food for many Japanese. It is certainly comforting, served warm on a cold rainy day and cold on a sweltering hot day. And always prepared à la minute to maintain the quality of the food.
As Fujio would say, "Serve warm foods warm and cold foods cold. And always serve it with endearment and a smile."
Here's the finest beef
ATsurumaru hot bestseller is the Beef Bukkake (P205 for a regular bowl, P258 for a large one), chilled udon served with a soy-based broth and toppings like grated ginger, soft-cooked egg and scallions. It's flavorful and filling but never heavy, to make you feel nice and cool.
If you think the udon soup is delightfully savory, it's because it's gingerly laced with katsuo (fish flakes).
Those who like it warm must try the Kamaage Udon (P95, regular; P145, large), dipped in a bowl of warm, light dashi tsuyu (soup stock) mixed with grated ginger, fried sesame seeds, and thinly sliced green onions.
If you like sukiyaki, you'll love the Beef Sukiyaki Udon (P215, regular; P265, large), a hot pot chock-full of delicious tender beef, mushrooms, and vegetables in a rich soy mirin dashi broth.
The ultimate comfort dish, Niku Udon (P190, regular; P235, large) is made of tender sliced beef sitting on top of thick, chewy udon noodles in a savory broth.
If you want it simple, there's the Kake Udon (P100, regular; P145, large), the most basic of the hot udon noodle soups, the noodles sitting in a mouthwatering dashi-based broth.
You get more of that Japanese-style street vibe with a lot more Tsurumaru offerings, from the freshly cooked tempura to the Japanese rice bowls (donburi), filling rice balls (omusubi), and side dishes.
Probably the best udon and tempura in town at the most affordable prices? Udon wanna miss all this!
* * *
Tsurumaru Udon x Tempura recently opened at Level 1, South Main Mall, SM Mall of Asia. Call +63 9761926863. Visit Facebook/Instagram/TsurumaruPH.