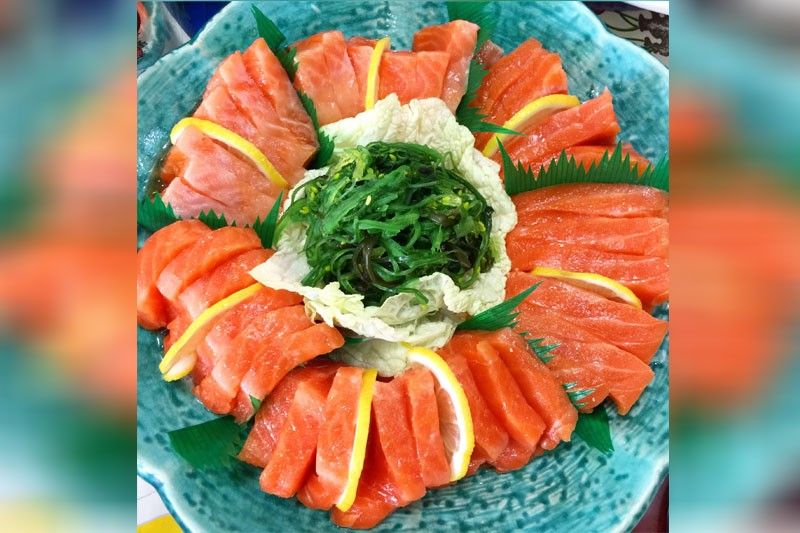 Sushi and sashimi are some of the dishes frontliners miss the most.
Food that fuels frontliners
During these past few months in quarantine, I was heartened to see how so many of my fellow chefs, food professionals and F&B establishments stepped up to feed our medical frontliners despite the obvious financial losses that have hit them. I felt it was right that the people who are helping to heal and protect us shouldn't have to worry about where to find their next meal.
I've always been a curious person, so I wanted to check in on some of our brave medical professionals and talk to them about my favorite subject, which is food, of course! This week, it was a thrill to interview some of the Philippine General Hospital's (PGH) finest, Dr. Thea de la Peña, and nurses Mikey Mercado and Yin Quintin-Gutierrez.
Frontliner cravings
Working the front lines means not only a lot of hard work, but also giving up a lot of things you might take for granted during normal times, like their favorite foods.
For Mikey, it's the taste of Nueva Ecija: "I miss the cured meats from Cabanatuan like longganisa recado, binabad and tapa. Too bad we can't travel easily from Metro Manila as of the moment."
Meanwhile, for Thea, her Korean BBQ cravings have been left unsatisfied. "I love Korean BBQ! We have a lot of KBBQ joints near PGH and obviously, due to COVID, I haven't eaten samgyupsal in a long time."
Japanese food is top-of-mind for Yin, who misses sashimi, sushi and takoyaki.
At the bottom of it all, though, what they miss is more than the food.
"What I miss about eating experiences is that you can't enjoy meals with family and friends as much as you would like," Mikey says.
"I tried ordering (Korean BBQ) once through a food delivery service, but it's just not the same as cooking the meat in front of you and eating with friends," adds Thea.
Despite all the unsatisfied food cravings, they remain positive and thankful. "We're actually very grateful for all the donors who shared their blessings," Mikey says. "It's huge, especially with ECQ. It's so difficult to get food while on duty."
All this talk about food donations got me interested in a quick survey. The dish medical frontliners receive the most?
"I think adobo?" muses Thea. "We've probably eaten all different kinds of adobo since the donations started coming in." Mikey agrees, but quickly points out, "We're definitely not complaining!" Yin adds, "It's more than just the food per se. It's the thought, the morale boost that lies underneath it!"
Having people from all walks of life give donations has definitely made things interesting for these medical frontliners. "Honestly, it's a surprise every day!" Yin says. "Sometimes we get the usual packed meals: rice and viands, or rice toppings. Sometimes some from fast food or restaurant, but home-cooked meals, too! The occasional cookie or sweet treat."
On the lighter side, some surprises greet them at work. "I think the most unusual thing I got was a liter of fresh milk!" smiles Yin. "Oh, and there was one time we got whole cakes!" Mikey then tells the story of how Xavier alumni from batch '96 gave PGH food from The Manila Hotel. "The best!" he laughs.
'Toxic' foods
In the course of the interview, I finally confirmed the well-entrenched but not necessarily known urban legend in the medical community that eating pancit or spaghetti during a hospital shift can have negative results.
Thea recounts, "I have no idea how or why it happened, but pancit and spaghetti are the most 'toxic' foods that we doctors can eat in the hospital. I'm not a huge believer in this, but I work with some people who are, and they will not let anyone in the duty team eat pancit or spaghetti for fear of having a 'toxic' or busy duty."
Mikey adds, "They say it's a bad omen, but personally I don't believe it." Meanwhile, Yin quickly brings the situation back to reality: "Since the whole pandemic went down, we cannot be choosy."
Go-to foods
The medical frontliners at PGH, despite their busy schedules, make sure to exercise personal care by having at least two meals a day, usually one before and one after their often more-than-eight-hour shifts. It helps to have their "go-to" foods and drinks to help them stay sane. "Nuts, Korean ramyeon and Coke Zero," enumerates Mikey. "That plus kimchi and Korean pickled radish. It's easy to prepare and easy to clean up."
Thea and Yin are not particular about the food they have at the hospital, but Yin has one non-negotiable: "A cold, cold bottle/can of soda is a must."
As much fun as it was to recount food tales with these medical professionals, it does not escape our minds the difficulties they face every day. "It can be a bit daunting at times," reveals Thea. Yin agrees. "It's hard at first; the uncertainty, the fear, the reality of everything that is happening. Physically the heat, the PPE, the threat of the virus are all too real. Emotionally and mentally, it can be very taxing." Mikey continues, "The most difficult part of going through this is the uncertainty of everything."
What's definitely certain though, is that they, along with everyone at PGH, from doctors and nurses to security guards and janitors, are resolute in their work. "We remind ourselves every day of our sworn oath and this is a chance to step up and serve, not just what is expected of us but beyond," declares Yin.
For us non-medical personnel, we must be resolute, too. We should keep making sure these brave people are always well fed.
* * *
Sharwin's book, So, You Want To Be A Chef? is available in all National Book Stores and Powerbooks nationwide. Follow Sharwin's food adventures on Instagram @chefsharwin and for questions, reactions, recipe and column suggestions, you can contact him on www.sharwintee.com .