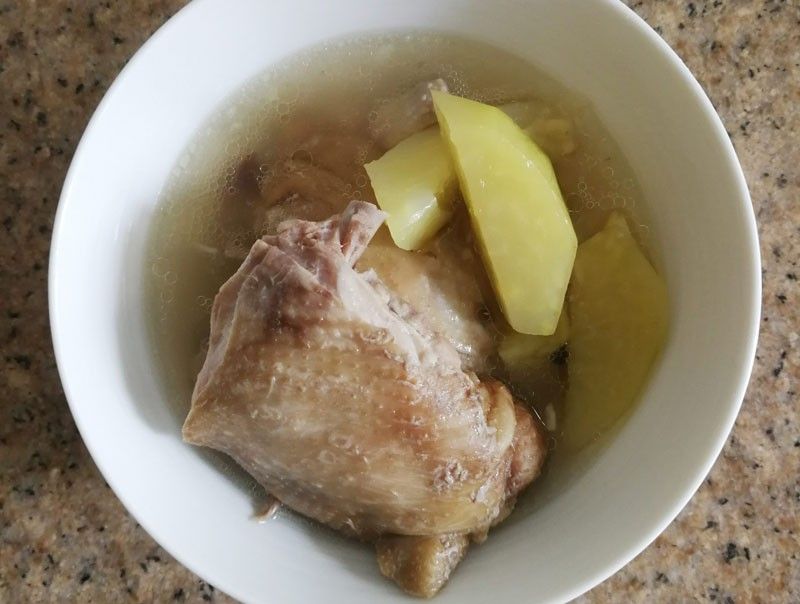 Chicken tinola without malunggay but using papaya from our tree
Home-cooked meals under quarantine
Millie: Concerned friends have asked how Karla and I are coping during the ECQ and I always say, "I'm enjoying it!" I have lots of quiet time to pray, to work, do house chores. No stress. It's like I'm on a long vacation and not in a hurry to go anywhere.
But most of all, I am enjoying the meals Karla prepares for me every single day! It's anywhere from a simple meal to something fancy, depending on her mood.
Since we were not able to go to the grocery before the quarantine was announced, we just had to make do with whatever we had at home. Whatever we had, we shared with my sister Dorcie, who lives next door, and my Uncle Vic, who also is just a stone's throw away.
Before the ECQ, we were supposed to have a big catering event, which, sadly, had to be cancelled at the last minute. But since most of the food was already delivered, I had to dispose of the perishable items like the vegetables and prawns. So I brought home a kilo and stored it in the freezer.
In the course of our spring-cleaning, Karla found a box of Way Sauce, bottled instant sauce mixes, which a supplier gave to her to try. Lo and behold! There was sambal sauce! So Karla prepared prawns in spicy sambal sauce. What a treat!
One Friday, Karla steamed the prawns and served it with Puro taba ng talangka over steaming hot rice, and it was heavenly!
Karla: If there's one thing we won't run out of at home, it would be Puro taba ng talangka. I always have a few bottles in our freezer because I use them to make my taba ng talangka cheese spreads for La Petite Fromagerie. Because of that, I decided to become a reseller as well.
During the entire lockdown, we didn't have a stock of seafood except for prawns, so I had to get creative every week. Good thing my friend, Doty Bejerano, sent me a pack of frozen Alavar's sauce from Zamboanga. I cooked it with the prawns and made some garlic noodles on the side. There was one Friday I sautéed prawns with garlic and topped it on mushroom aglio olio pasta, which Mom loved!
Millie: Like everyone else we knew, nights were spent watching Netflix, and because Karla and I are both night owls, we would wake up late every morning and just have brunch so I could catch the 1 p.m. virtual Mass on EWTN with Pope Francis.
Brunch is usually a piece of toast or pan de sal with apricot or strawberry jam from Baguio, a slice of Gruyere cheese or kesong puti, freshly squeezed orange juice and freshly brewed coffee! Some mornings, Karla would surprise me with oven-baked croissants! The most memorable was a croissant stuffed with smoked Norwegian salmon, Beillevaire French butter and Boursin, both of which Karla also sells, plus fluffy French-style scrambled eggs!
Karla continues to surprise me. One day, our security guard came with a bunch of papayas he picked from our tree. Karla made some chicken tinola, something she had never cooked before, and it was so good! We had gifts from nature indeed!
My nephew Benjo spent some afternoons picking mangoes from our tree, which my dad planted many years ago. We would eat the mangoes green with Aristocrat bagoong or wait for all the mangoes to ripen.
I try not to ask Karla to prepare difficult meals, but she seems to be enjoying it. One evening, for dinner, she found roti bread in the freezer so she decided to make chicken curry. Luckily, we had some mango chutney and it was perfect! It's like we are eating out every meal.
One other dish I truly enjoyed was Karla's wild mushroom risotto, which was heavenly, served with chicken cooked in white wine, garlic, and cream.
Karla: The first three weeks of the quarantine, I couldn't prepare anything difficult or complicated. Between working on relief ops, doing house chores and making sure mom and our guard are fed well, I felt drained by the end of the day.
It was only during the third week that I was able to play around in the kitchen. Though ingredients are limited, I try to improvise and that makes it more exciting. I think a cook's worst nightmare is running out of basic ingredients. And, though I had a lot of salt — iodized, Himalayan, kosher, and rock salt — I was down to the last 10 whole black peppercorns. It was on my grocery list but there was none available at the grocery nearby. I even called our commissary to check if we had any. The guard insisted that he couldn't find any, which I found so odd that out kitchen would run out of something as basic as pepper. I tried to work around not using pepper for maybe two weeks until it was finally back in stock. I bought three packs. Haha!
One of the things I've been able to do during this quarantine is recreate my childhood favorites. When I was growing up, we had a cook named Lola Moding, who used to cook in this huge wok. Although I was not allowed to go near her stove and oven because I was to small, I realized I still remember bits and pieces. I was able to recreate this roast chicken she used to make all the time, a pretty close version of her sinigang and beef mechado. Recreating the beef mechado almost brought me to tears, remembering both our cook, Lola Moding, and my grandpa, Lolo Joe. He would have loved it. I remember how he would eat it with toasted ciabatta and butter and scrape away that sauce from his plate.
The beef mechado was easy to do and even easier in an Instantpot. Sauté garlic and onions in olive oil until the onions are translucent then add chopped tomatoes. Season the beef and add it in. I used one kilo of beef brisket. Once browned, add a small pack of Del Monte tomato paste and mix thoroughly. Add in water to cover the meat and cook until tender, either on the stove or oven, whichever you're comfortable with. Or if you're using a pressure cooker or Instantpot, pressure cook for 40 minutes. When tender, add in potatoes and carrots and cook until tender and water is reduced to a thick tomato sauce. Salt and pepper to season, and voila! That's it!
Another dish that I wish I could have cooked for my lolo is Hainanese chicken rice. I discovered that it isn't all that difficult to make. The most tedious part is probably grating the ginger. He would have enjoyed the rice most of all. I made the ginger sauce and dark soy sauce from scratch but the chili sauce — I discovered that Way Sauce's Hainanese Chicken Rice Chili Sauce is so good! That was probably one of our best dinners during the quarantine. It was so good that I even had the leftover rice the next day.
Millie: The thing about Karla is, every dish she whips up, she takes a photo of and posts it. One afternoon, she and my nephew Benjo, who lives next door, had nothing to do, so they decided to bake brownies from scratch. It was so fudgy and not too sweet that we finished it off almost instantly! When she posted the photo, she even received orders from friends!
I think Benjo loves to hang around the house to see what Karla is cooking. Although he offers to do some chores like water the plants, heat the cars' engines or mop the kitchen floors, he is, more often than not, in the kitchen looking over Karla's shoulder to see what's cooking.
One day, my friend Rene de Leon sent me a huge pack of Nathan's hotdogs and Benjo's eyes popped when he saw them. Karla and I agreed to share some with him and he brought home quite a handful to his family who, at that moment, was grilling barbecue on the pit.
Sharing one's blessings is one of the most meaningful experiences under ECQ. No matter how small or little, when you give to share with someone, it comes back a thousand-fold! It leaves you with a feeling of joy, peace and contentment, even if the person you shared it with only has words of gratitude in return.
* * *
Send email to milliereyes.foodforthought@gmail.com and quichethecook.ph@gmail.com. Find us on Facebook: Food for Thought by Millie & Karla Reyes and Instagram: @quichethecookph.