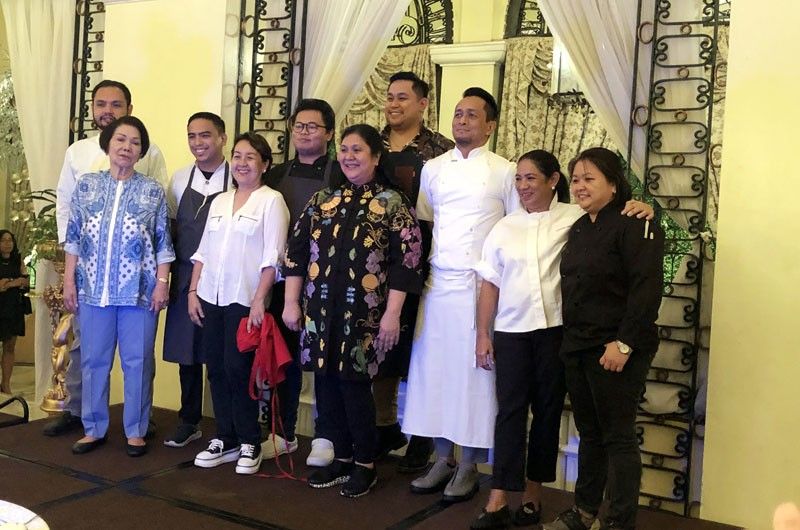 The chefs all served delicious food: Datu Shariff Pendatun, Glenda Barretto, Thirdy Dolatre, Nancy Reyes Lumen, Kevin Villarica, Dedet de la Fuente, Mikel Zaguirre, Sau del Ro-sario, Gaita Fores and Tanya Dizon
A dinner with flavors as bold as its mission
I'm seated in a cozy corner of the Champagne Room at the Manila Hotel. Tonight I am attending the Project Wheelchair dinner as a diner and not a chef. My stomach grumbles a bit and, just in time, the first course is served. A beautiful combo of kinilaw na tuna with coconut kamias foam and crispy ukoy by the legend, chef Glenda Barretto, opens the night expertly with its brightness and textural contrast.
It is soon followed by a rich ginataang alimasag and squash puree from chefs Kevin Villarica, Thirdy Dolatre and Kevin Navoa of Hapag, resplendent in its sweetness and umami.
Adobo Queen Nancy Reyes Lumen follows it up with an adobo and banana spring roll with adobo aioli, a quirky but crunchy take on two of the country's most well-loved dishes. My stomach sighs with happiness. The three dishes are the best of beginnings, teasing about more great things to come.
Project Wheelchair had a similar delicious beginning as well. I remember dropping off a tray of my restaurant's signature dish, the Pork Panalo, my contribution to Dedet de la Fuente's first Project Wheelchair dinner in 2013. She asked several chefs to contribute their signature dishes to create a multi-course dinner that would raise funds to buy wheelchairs and donate them to the people who needed them the most.
In a private moment before that first dinner started, I remember telling Dedet how powerful a message that dinner was sending. Despite its relatively small size, that dinner would just be the beginning. Its success would breed more dinners and help more people. Little did I know how prophetic that statement would be.
In front of me, the server places the night's most unique dish, Linigil a Manuk by Datu Shariff Pendatun — moist, tender chicken, a coconut milk sauce topped with palapa. The toasted notes from the coconut strands of the palapa contrasted well with the richness of the coconut milk — a triumph of flavors.
Then, a rich bowl of bopis, orzo and milk broth from Kel Zaguirre of Locavore follows. It is luxuriously fatty, lip-smackingly rich. Chef Sau del Rosario, meanwhile, drops his version of sisig, with sous vide egg and toyo-mansi pearls next. Unctuous, devilishly satisfying, it is no wonder raves came a dime a dozen in San Sebastian, where he unveiled this dish.
This is followed by a kadios, baboy and langka from chef Margarita Fores of Grace Park, made richer with pureed pigeon peas and a slice of cotechino. The richness is brightened beautifully by candied calamansi — a brilliant stroke. Indeed, the meal, after that beautiful beginning, came into full bloom, showcasing its rich, full flavors, bold and unimpeachable.
After that fateful first Project Wheelchair dinner, Dedet has taken that success further than perhaps even she could have thought. In 2015, the first-time Project Wheelchair was held in the Champagne Room, she asked me to take the lead in the kitchen, to expedite all the dishes to make sure that each chef's plates would come out perfectly and in a timely manner. I agreed and asked her how many people would be coming. Her answer stunned me: 150 people. Last year, the number was over 200. Project Wheelchair took that beautiful beginning, built a massive momentum and is now in full bloom. It is no longer a small dinner with big dreams, but a big, bold undertaking with a mission so powerful it can only be matched by the flavors on its menu.
A familiar sight comes to the table in the form of Dedet's lechon stuffed with truffle rice. Fork-tender meat, wonderfully fragrant rice and crisp skin, it is the same dish that has wowed the likes of Martha Stewart and Adam Richman. Beyond the glory the dish has attained, it might be easy to overlook that the dish is a piece of edible history of her family. Dedet noticed how her daughters loved truffle risotto and decided to stuff her lechon with truffle rice. It is Dedet's love letter to her daughters.
Project Wheelchair dinners over the years have attracted the best chefs and the biggest of bigwigs as diners, so it may be easy to overlook that it, too, is Dedet's love letter to her daughter, Lauren. With Lauren using a wheelchair for mobility all her life, nobody knows how important wheelchairs are more than Dedet herself. This is her mission and her passion and I don't see her slowing down anytime soon.
The meal is not over as dessert is a plethora of ube kakanin from Tanya Dizon of Arroz Ecija, plus everyone gets to take home ube ensaymada from Baby Pat's and chocolates from Auro. It doesn't matter how full the diners are, this dinner is a gift that keeps on giving.
In the past couple of years, Project Wheelchair has grown so much more crucial, responding to the needs of people in the aftermath of the siege in Marawi. Hundreds of wheelchairs, canes and walkers have been donated to both the soldiers and citizens injured in the siege, most of which Dedet personally brought to Marawi herself. During tonight's dinner, one of the soldiers, a veteran of the siege, reminds us that the wheelchairs brought more than the gift of mobility. It has given him the hope that he could rise up and walk unassisted again in the future.
With the dinner over, Dedet finally gets a chance to sit and rest. She is physically tired and emotionally spent, but I also see that this is a mere temporary situation. I expect her to be back on her feet, planning for the next dinner. There are more wheelchairs to buy and people to help, and we will all be there to assist.
* * *
Sharwin's book, So, You Want To Be A Chef? is available in all National Book Stores and Powerbooks nationwide. Follow Sharwin's food adventures on Instagram @chefsharwin and for questions, reactions, recipe and column suggestions, you can contact him at www.sharwintee.com.