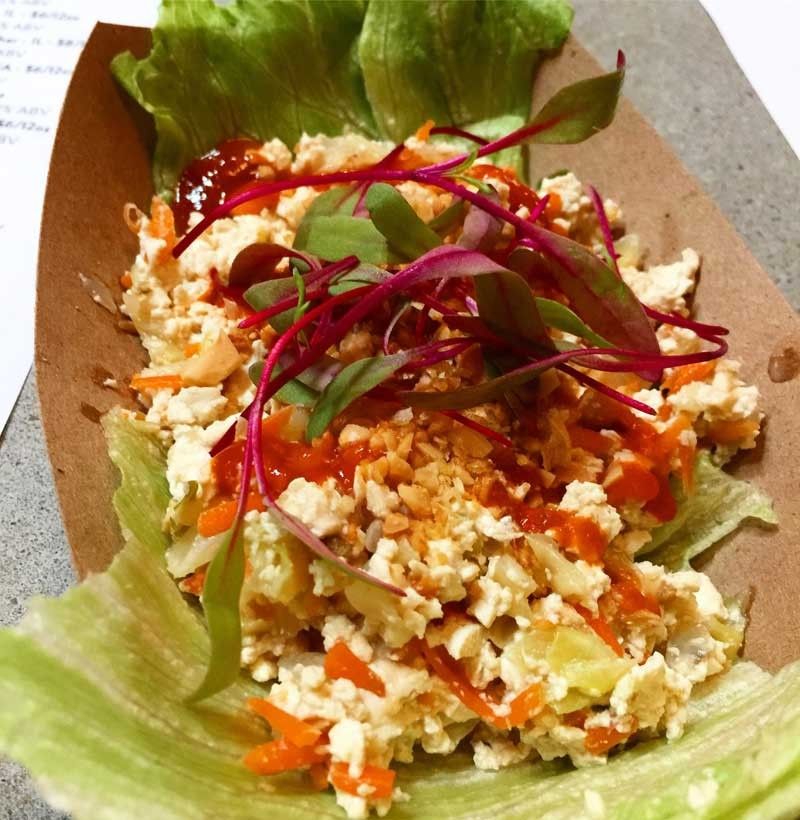 The vegan Chinoy Lumpia makes its return to Chicago.
Serving vegan Chinoy Lumpia & Maja Mais — in Chicago!
An American lady carefully studied my menu for minute, then turned to me and said, "Could you tell me more about your food?"
I smiled and began to tell the stories behind my two dishes. I was smiling on the inside, too. I was at the Kultura Festival in Chicago, the largest gathering of Filipino chefs, musicians, singers, artists and professionals in the American Midwest, produced by Filipino Kitchen. I was home.
The start of this year's trip to Chicago was not the most auspicious one. My flight to Chicago was pretty smooth, until the pilot informed us that a storm was right over Chicago airport, preventing our landing. We circled the air over Rockford for 45 minutes, which was most unwelcome for someone like me, who had just flown a total of 17 hours in two different planes.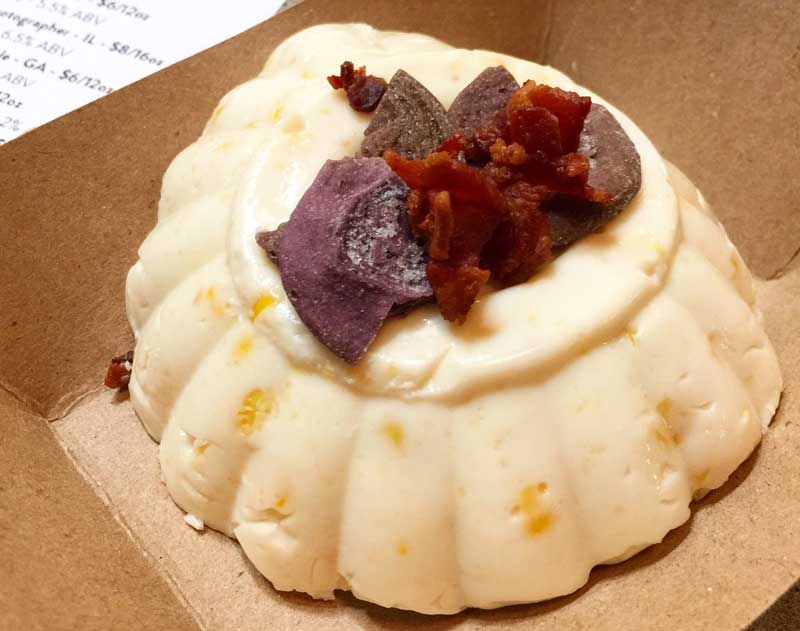 Cereal Milk Panna Cotta was a new recipe I served at the Kultura Festival in Chicago.
Once on the ground, though, it was all good. I was glad to see my old friends, the organizers and volunteers of Kultura, led by Natalia Roxas of Filipino Kitchen, deep into preparations. I settled into the house, an Airbnb we were staying at, and began my preparations.
I already knew what my first dish would be. Last year, in a moment of inspiration, I converted my grandmother's Chinoy Lumpia recipe into vegan, removing the pork and shrimp that flavored the vegetable filling and replacing them with a strong mushroom broth. Because of the festival's location in Logan Square, there were a lot of festival attendees who were vegan, and I promptly sold out. This year, I decided to make the dish again, this time adding in an extra layer of flavor by adding miso (doenjiang) into the vegetable filling to add some more umami flavors. Once again I would serve them in lettuce cups in lieu of flour wrappers (the way I enjoyed them as a kid), topped them with traditional elements of crushed peanuts and fried garlic. As a wink to my American location, I switched the hot sauce to Sriracha.
With the first dish ready, I moved on to my second. I had been working on a maja mais recipe for weeks and I knew Kultura Festival was the perfect place to unveil it. I intensified my traditional recipe with cereal milk, soaking corn flakes in evaporated milk. That gave the milk the toasted corn flavor of the cereal.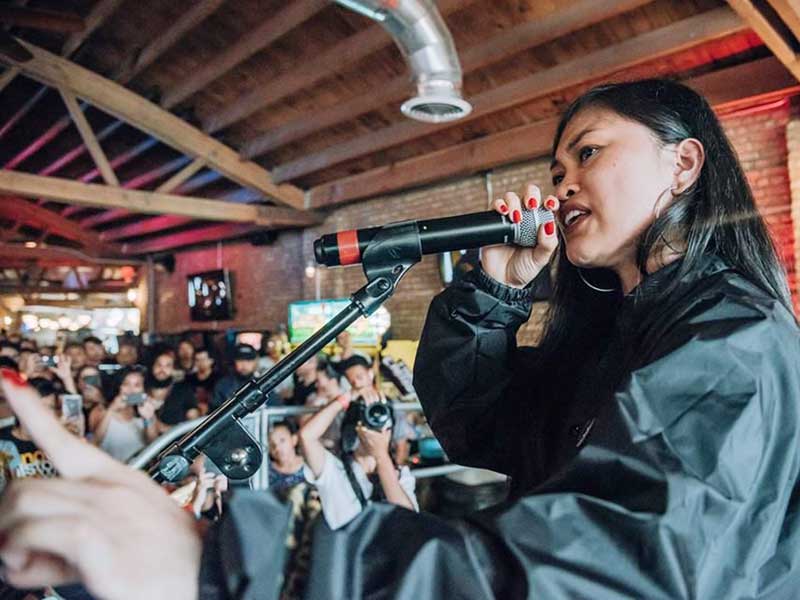 Billboard-charting artist Ruby Ibarra fires up the crowd at the Kultura Festival. Festival Photos by Kayla Delson
Meanwhile, I simmered the coconut milk with the fresh corncobs, hoping to add even more corn flavor. I added the freshly shredded corn and let the custard set. To provide a crunch on top, I crisped up some apple-wood-smoked bacon. Then, I spied some ube-flavored otap in Seafood City, and I crushed that as well. It was a tremendous discovery as the crunch of the otap was perfect with the maja mais custard.
As usual, I could not have done any of the preparations without my Chicago team of Mel Lamagna and Caitlin Preminger, while Rob Menor helped me set up the booth on the day itself and I remain forever grateful that they are always ready to help when I need them. They may live in Chicago, but the spirit of bayanihan lives in them as well.
Setting up early for the Kultura Festival, before the doors were officially opened, I got to trade stories with other Filipino chefs, most of whom are already old friends. Carlo Lamagna of Magna Kusina in Portland, Kristine Subido of Pecking Order in Chicago, Alexa Alfaro of Meat on the Street in Milwaukee, Gene Gutierrez of Big Ben's Kitchen in Cavite, and the duo of Joel Crespo and Brian Hardesty of Guerilla Street Food in St. Louis were all setting up. My favorite part of all this is that despite all of us selling food to the same group of customers in the festival, each one wished that every one would sell out and make a profit. The Filipino spirit of pakikisama was alive.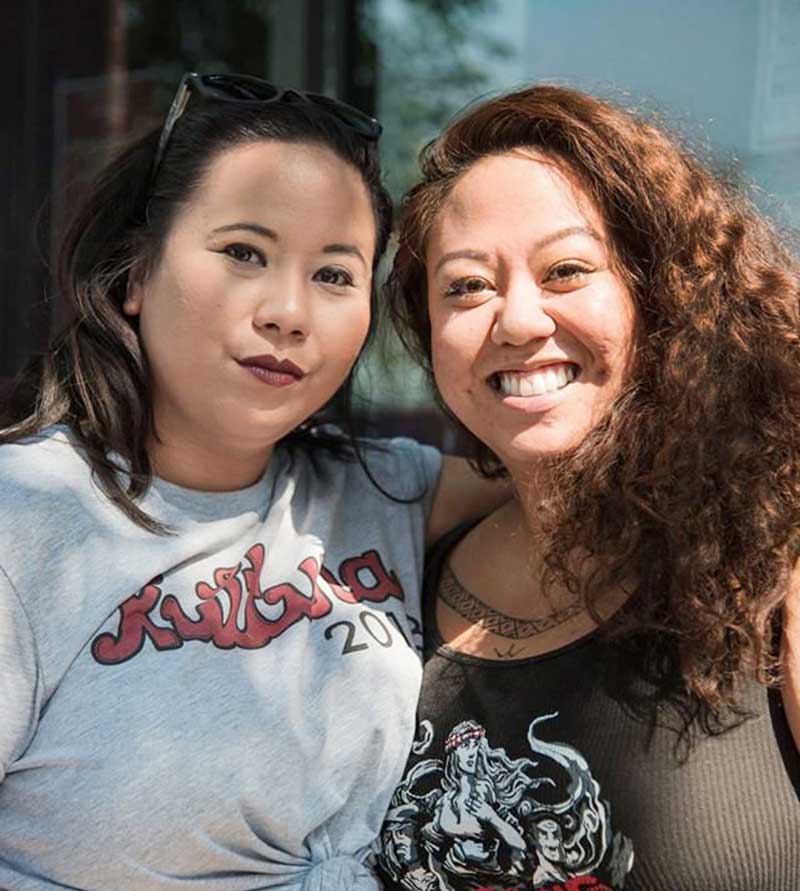 Filipino Kitchen cofounder Natalia Roxas (left) with one of over a thousand Kultura Festival attendees.
Meanwhile, I turned to the other booths. My friends from Bayani Art were back, selling their national heroes-themed art and apparel. Reppin Pins, Brwn Grlz and Sari Sari Store were all ready with theirs as well. My friends Lane Wilcken and Shane Bernardo were ready for their lectures in the afternoon and I was most excited to hear the live music performances scheduled throughout the day.
The waves of humanity that attended Kultura Festival warmed my heart. I estimated close to a thousand people of different races and nationalities walking around the full venue, and early on, it was clear that most of us vendors, both food and non-food, would sell well.
Beyond the dollar profits, though, it was the underlying theme that truly made Kultura a success. It provides a safe space for Filipinos to exhibit the rich culture that has lain dormant in this country. This was the space for chefs like Carlo to showcase his versions of pancit and tokwa't baboy, food he enjoyed in his teenage years in Manila. Here was where Billboard-charting Filipina rapper Ruby Ibarra performed her hit song Island Woman Rise. This was the venue for Lane, a Batok tattoo artist, to give insights on the tradition of drinking Kava, a tea made with roots from the Kava plant, which first grew in the Philippines and was later brought to the other Pacific islands. This was where Randy Gonzales of Pineapple Industries could measure you for a barong.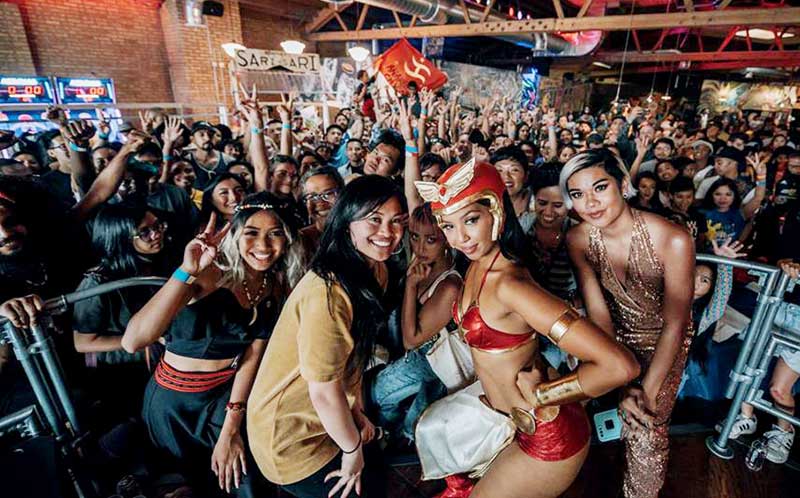 Serving up hundreds of orders of Chinoy Lumpia
You see, what Kultura truly is, beyond a vehicle for showcasing Filipino culture, is a chance for Filipinos and Filipino-Americans to either introduce themselves to a culture only their parents remember, or to strengthen the existing relationship they have with it. Whether it is through food, music, art or apparel, here is where someone can find a connection to Filipino culture, thereby moving themselves a step closer to truly identifying who they really are and who they want to be.
As the event wound down and volunteers and vendors started folding tables and packing their goods, I spied Natalia finally take a seat to rest. I'm not sure if she had any idea of the magnitude of the event she had just finished producing. Perhaps she knows, but my adopted sister has no plans of sitting down for too long (figuratively). She lit up a cigarette and revealed that maybe, just maybe, Kultura can be in not just one, but three cities next year. I have no reason to doubt her.
As Ruby Ibarra sings in her song, "Island woman rise, walang makakatigil."
* * *
Follow Sharwin's food adventures on Instagram @chefsharwin and for questions, reactions, recipe and column suggestions, you can contact him at www.sharwintee.com.