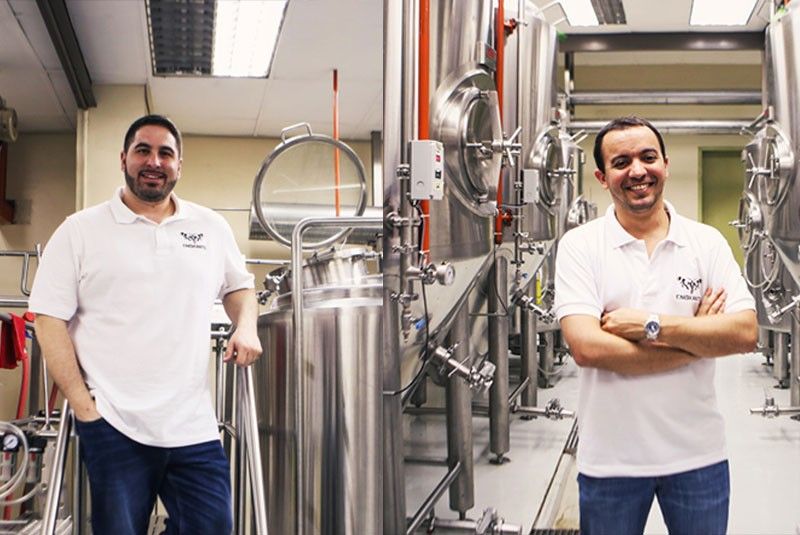 Partners in brew: Josh Karten and Ian Paradies of Engkanto Brewery, who affectionately refer to themselves as the "twins."
Craft beers get enchanting
The hot tropical sun is beating down on your forehead, the palm trees are rustling in the breeze, but even that is warm. The only true respite from the heat comes in the form of a golden glass against a bright blue sky.
I can't think of anything more thirst-quenching and refreshing than a tall, ice-cold draft beer. That frosty glass… the foamy head tickling your nose and upper lip… that first, lip-smacking sip… a few voracious gulps cooling your entire body… It makes you want to go, "Ahhhhh…." just like a commercial.
For all my wine loving, I can honestly say that there are moments where only a good, cold beer will do. And one of them is a during a hot summer afternoon. I learned how to really drink beer during a short summer program I did in London. After class we all headed down to the pub to have a pint. At one point I was shamefully up to four pints. Eeps. But it taught me what good beer should taste like. Flavorful, bold, mouth-filling and oh, so satisfying… not the usual watered-down bottled lagers.
I've always enjoyed the world of craft beer and find its flexibility fascinating. The abundance of variety you can come up with allows brewers to really showcase their creativity and can even make for more tailored and specific food pairings. I once went to dinner at NoMad in New York where the wine list was incredibly overpriced, so we took the craft beer pairing instead and were blown away by how complementary each sip was with each bite.
The past few years have seen a rise in the local craft-beer scene and just last April 7, an exciting new player arrived: Engkanto Brewery.
"Basically our culture is very superstitious, but that has changed over time. Our generation isn't as in tune to all the folklore, mysticism and enchantments, but one thing Filipinos still worshipped daily was beer. We felt that was a great representation of what was happening in the beer scene and what we were trying to do with beer locally," explains owner Ian Paradies. "We want to transform what people used to think beer was, to what beer can and should be."
When Paradies talks he has this childlike sparkle that emanates from him. It's the kind of enthusiastic energy that stems from people who are doing what they love. Paradies left a top managerial position at his family's multinational business after nine years of working the corporate ladder to pursue his dream of starting a brewery. "You should have seen her face when I told my wife I was quitting my job to start a brewery."
His wife, Sandra, is a close friend of mine and I'll never forget her telling me her reaction a year or so ago. "Steph, I almost fell out of my chair. We have two kids and a great life and he's going to make beer!"
Joking aside, she has in fact been one of the driving forces of the company. "This dream would have never become a reality if it weren't for my silent partner in this venture, my wife Sandra," shares Paradies. "From the beginning she has been my biggest supporter and fan, helping me realize I could do things even when I was doubting myself. And she played a huge role with our branding and marketing, as well as being the brains behind our launch party. She's just as much a part of Engkanto as I am!"
Good beer requires more than just passion. It also takes skill. In comes Josh Karten, Paradies' partner and brewer whom he met through a common college friend. "Do you want to tell the story or should I?" Karten laughingly asks Paradies. They're like an old married couple or, as they affectionately call themselves: twins. "Do you know that movie with Schwarzenegger and Danny De Vito? That's us!"
Their height difference is striking and truly makes for the odd couple, but their shared passion and friendly chemistry are unmistakable. Add that to a good balance of business acumen, technical knowledge and playful creativity, and it results in some incredible brews.
"The beers are very hoppy and flavorful," shares Karten. "We use a lot of hops in the beer so there's going to be a lot of flavor but it won't be bitter. I had to figure out what the Filipino palate was like and we technically took inspiration from the East Coast style in the United States, which worked out well."
After 50 or so batches they finally got things right, brewing a range of styles, from their easy drinking Lager working up in intensity to a Blond, Pale, IPA and Double IPA, and at their launch they also had a stout. Each beer will come with a unique personality from Philippine folklore: Kapre, Dwende, Diwata, representing a certain style and flavor profile.
They have also experimented with unique fruit beers, which they will issue as special editions and unique one-offs. "I made a Mango IPA before in the States," says Karten. "But I had to determine how to work better with the fruit here because so many were unfamiliar to me. We have worked with dalandan and calamansi, which are so unique, and we can use that to our advantage to make the beers much more local."
The one thing I love about the beer world is that it's all about throwing rules out the window and being plain old fun. There are no snooty tastings but just easy cheers and chug-a-lug protocol. There is no right or wrong and some may prefer an IPA, while others prefer a rich, dark stout. And gentlemen prefer blonds. Or at least my husband does, which he loves to say to annoy me. "I like blonds. The beer, not the women!"
The launch party of Engkanto was a crazy-fun, chic beer garden on the garden deck of Manila House. Gourmet bar chow was served with overflowing beer on tap to raucous '80s music by Juan Miguel Salvador's band, Authority. You were definitely footloose if you weren't caught up schmoozing with a crowd that literally ranged from childhood friends to distant cousins, past flings and tipsy titos and titas. Or perhaps playing beer pong and ring toss with a complete stranger. Everyone was drunk, or should I say, "enchanted" by the beer magic, turning even the most prim and proper of society It girls into dancing colegialas. And, just like a good frat party, the cops came to tell us to turn down the noise. Instead of calling your parents to get you out of trouble, in this case they could honestly deny and deflect blame: "It wasn't my fault officer, it was the Kapre!"
* * *
Get your own beer magic at your parties and events with Engkanto's keg delivery service starting at P2,800 for a 20L keg good for 55 glasses. Engkanto can also be a part of your events with their mobile pop up bars. For more information call 952-1164 or visit www.engkantobrewery.com and www.facebook.com/engkantobrewery. You can also email sales@napagapa.com. Bottles will be available starting in the fourth quarter of this year.