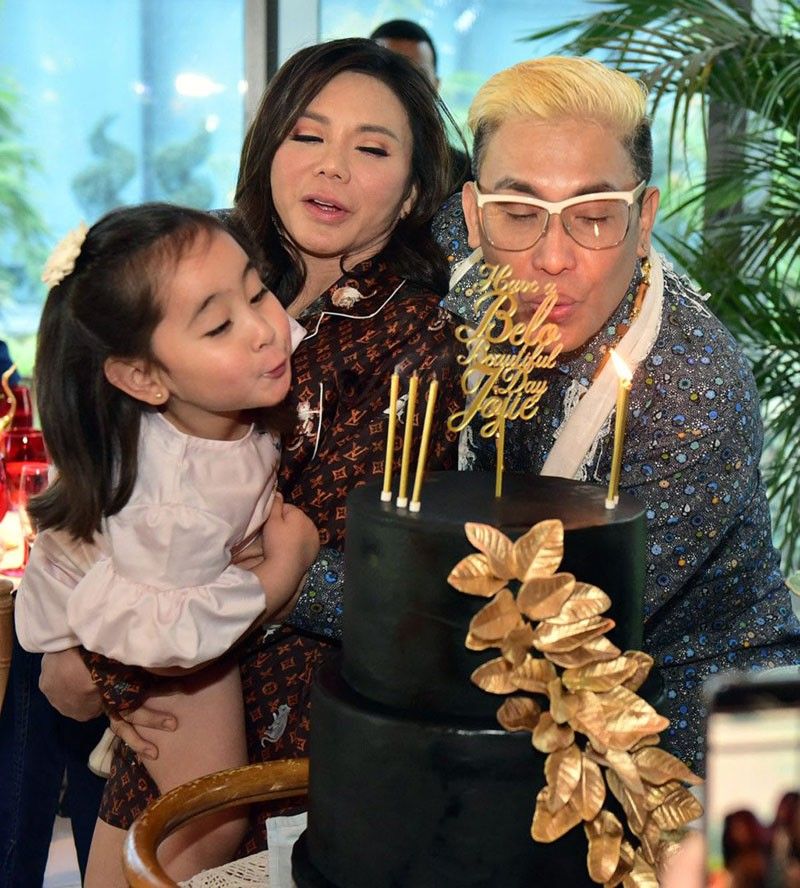 Jojie Dingcong blows his birthday cake with Scarlet Snow Belo and Dr. Vicki Belo.
Photos by Alex Van Hagen Powered by MAC Center
Vicki Belo hosts beautiful lunch for Jojie Dingcong
It was not that blue Monday feeling, but a happy fun day two weeks ago when a gorgeous array of society's high-powered men and women trooped to the exclusive Manila House to celebrate man for all seasons Jojie Dingcong's birthday. He is a beloved friend to so many, and so well liked that he can bring Manille's chic people together. Of course, his best friend Dr. Vicki Belo hosted the beautiful ladies' luncheon. Guests were serenaded by a Philharmonic quartet. Simply divine, palanggas!
That traveling gentleman and editor in chief Anton San Diego and his Manila House team made sure the lunch setting was superb in all aspects — from the floralscape, table settings and the bacchanalian buffet menu. Guests were served such sumptuous fiesta fare, consisting of the 16-hour roasted beef belly, the salt-crusted baked apahap, and cochinillo with liver sauce. Oops… there was also the adobo rice paellera and the pancit palabok bar.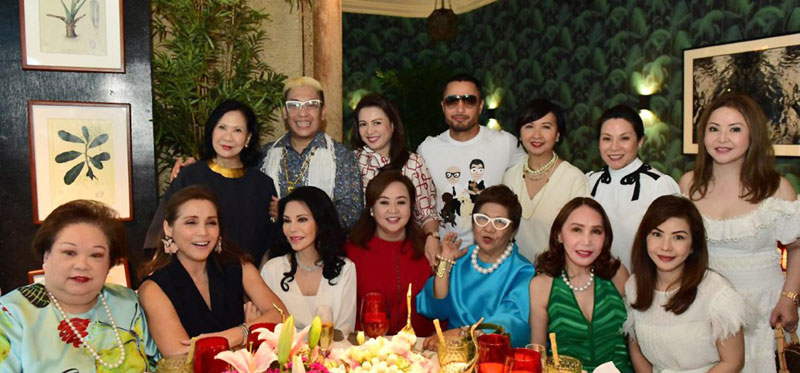 (Seated) Renna Angeles, Carol Garcia, Ching Cruz, Alice Eduardo, Susan Joven, Agnes Huibonhoa, Melba Solidum, (standing) Babette Aquino, Jojie Dingcong, Michelle Tiangco, Derek Ramsey, Fe Rodriguez, Ana Lorenzana de Ocampo, Small Laude
Women of substance Kathy de Guzman, Maricris Zobel, Menchu Katigbak, Gina Roxas, Sofia Elizalde, Philippine Tatler's Irene Francisco, Sharmila Hiranand, Karen Santos, Menchu Soriano, vivacious Junie Peña and Techie Hagedorn were among the so many invitees, dahlings.
Sigalit Djemal, who is now based in Tel-Aviv, was also spotted having a grand time. Sigalit was in town for a visit with 20 of her friends from Tel-Aviv. Sigalit's closest pal, eye-catcher and divine cook Carla Reyes Tengco made sure they had a great time in Manille.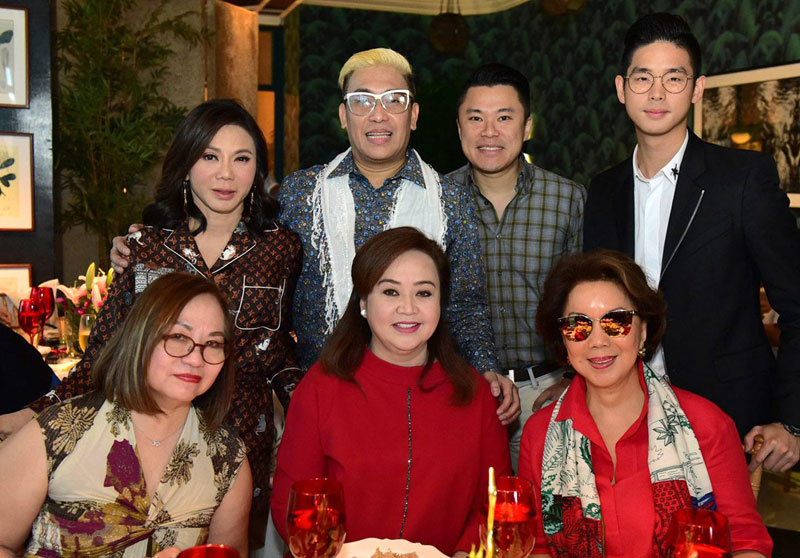 (Seated) Thelma San Juan, Alice Eduardo, and Menchu Katigbak, (standing) Dr. Vicki Belo-Kho, Jojie Dingcong, Kevin Tan, Jenry Liu
Vicki came with her super cute daughter Scarlet Snow, who is Jojie's goddaughter; and simpatico hubby Dr. Hayden Kho. The cutie pie helped blow out candles on the birthday cake! My friend banker Andrew Gan also came.
In true Jojie style, the giveaways were beautifully painted fans from Belo Medical Group.
Chateau 1771 is now at BGC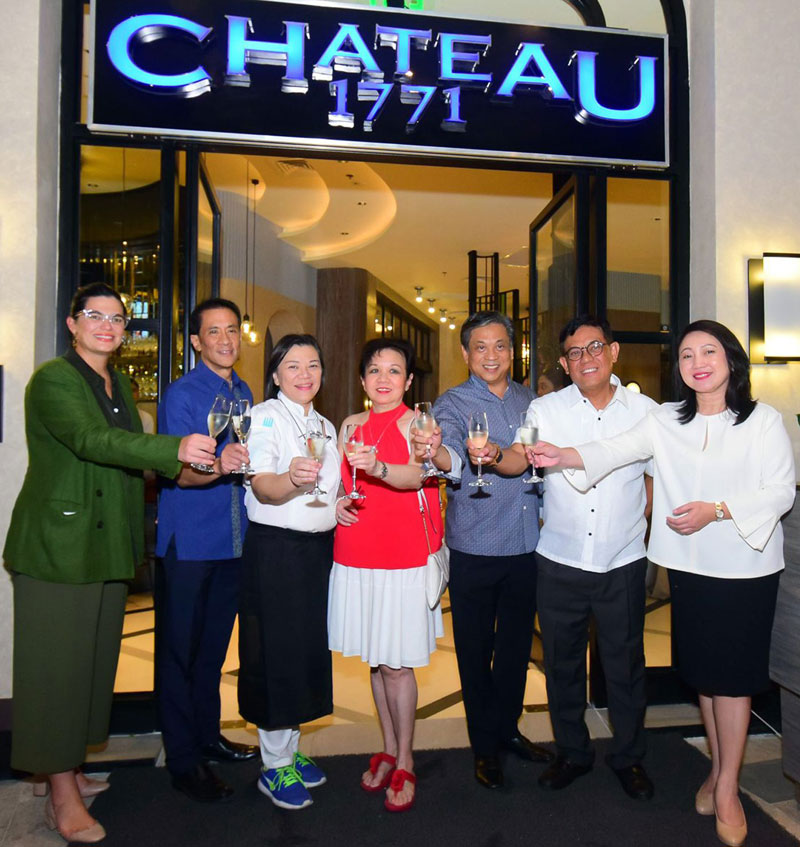 Ayala Malls deputy group head Mariana Zobel, 1771 Group of Restaurants shareholder Eckie Gonzales, executive chef and COO chef Vicky Pacheco, The Fookien Times Yearbook chairman and CEO Grace Glory Go, 1771 Group of Restaurants founder and Ricky Gutierrez, shareholder Atty. Francis Lim, Ayala Malls group head Yeng Tupaz
1771 Group of Restaurants founder and CEO Ricky Gutierrez welcomed loyal clients and friends at Chateau 1771's new home — at Bonifacio Global City.
Chateau 1771, which has been around for more than three decades, dahlings, started in Malate before it transferred to Ortigas and Makati.
Chateau 1771 is known for its "No Borders Cuisine." Executive chef Vicky Pacheco showcases this concept superbly, highlighting outstanding innovations on French and Swiss to Italian favorites. Her culinary imaginations constantly astonish diners.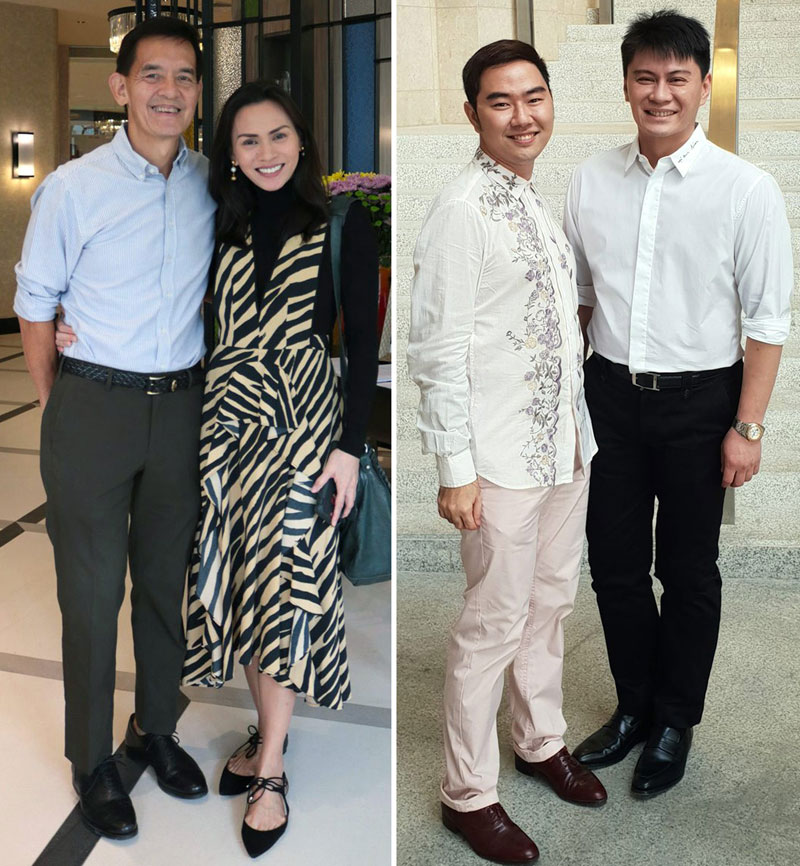 Philip Cu-Unjieng, Issa Litton, Tedrick Yau, Robbie Santos
For the launch, guests feasted on baked fresh Aklan oysters flavored with butter, which I loved; and Potence, grilled beef tenderloin flambéed with brandy. It's so yummy.
The relaunch gathered a number of prominent personalities who reminisced over the memorable dinners they have had at the resto.
Leading the toast and ribbon-snipping, palanggas, were Mariana Zobel, deputy group head of Ayala Malls; Eckie Gonzales, a shareholder of the 1771 Group of Restaurants; chef Vicky Pacheco, executive chef and COO of the 1771 Group of Restaurants; vivacious Grace Glory Go, chairman and CEO of The Fookien Times Yearbook; Ricky Gutierrez, founder and CEO of the 1771 Group of Restaurants; 1771 Group of Restaurants shareholder Atty. Francis Lim, and Ayala Malls group head Yeng Tupaz.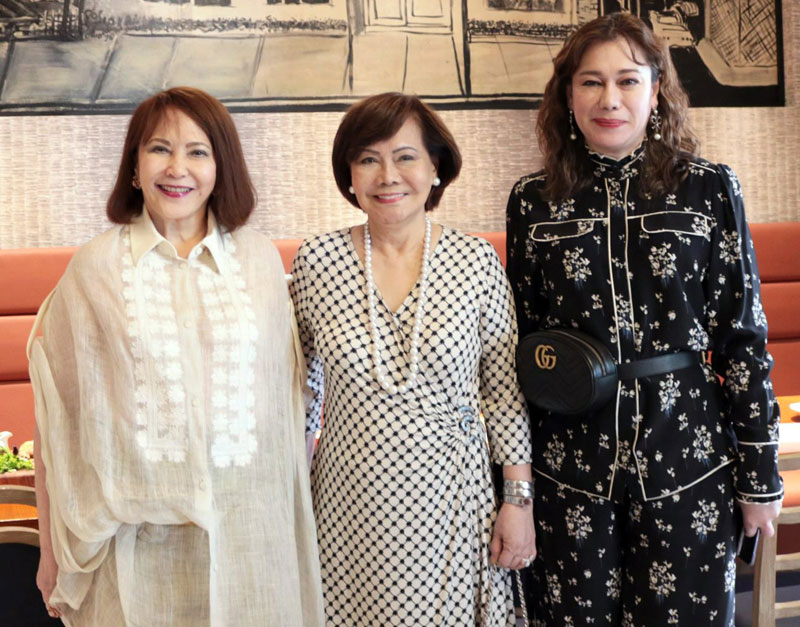 Mellie Ablaza, Evie Costa, Czarina Ablaza-Syquia
Chateau 1771 is located on the second floor, One Bonifacio High Street, 5th Avenue corner 28th St, BGC.
For reservations, call or SMS 0917-8626467 or visit the website www.chateau1771.com.ph. Like and follow @Chateau1771 on Facebook and Instagram.