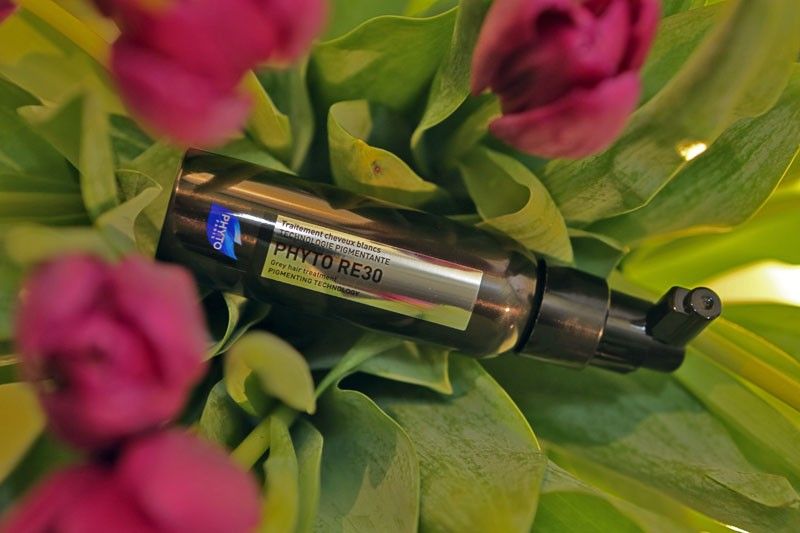 Anti-aging hair care: Phyto Re30 is a revolutionary spray-on serum that transforms hair back to its original color without any pigment, available at Rustan's the Beauty Source.
Photos by Ernie Penaredondo
This game-changer turns gray hair back to black… without dyes
I saw my first gray hair in my early thirties, and it was cause for concern. After all, my grandmother was completely gray in her sixties, and though she was a silver fox, she looked like what she was: a lovely, dignified lola. Looking like a tita is one thing but looking like a lola is quite another, so once my grays got too noticeable, I started coloring them at the ripe "old" age of 38. And have been doing so ever since.
So Phyto's latest product, Re30, sounds genius to people like myself who have to cover their grays at the cost of much time, effort and money. If it does what they say it does, it will be a game-changer in the industry.
What exactly is Phyto Re30? It's a clear liquid serum in spray form that is an anti-aging product for the hair. The result of six years of research, "We came up with a very revolutionary product because nothing like it exists on the market so far," says Myriam Welsh, Phyto's regional brand marketing director. "This is the first time we can go back to original color without any pigment."
The idea behind it is to re-pigment your hair with your own natural color. Welsh explained that gray hair is caused by a melanocyte deficiency. Melanocytes are the cells at the roots of our hair that create melanin, or our hair color. Graying hair is due to factors like age, genetics, too much sun exposure, stress, smoking, and other external factors. First we have a drop in melanin, which means less pigment in the hair. Second, there's also a decrease in melanin transfer to the hair fiber.
"At the same time there is another factor," Welsh says. "We have hydrogen peroxide in our hair that bleaches it. With age, hydrogen peroxide will increase and bleach the hair. So we have less pigmentation, and depigmentation."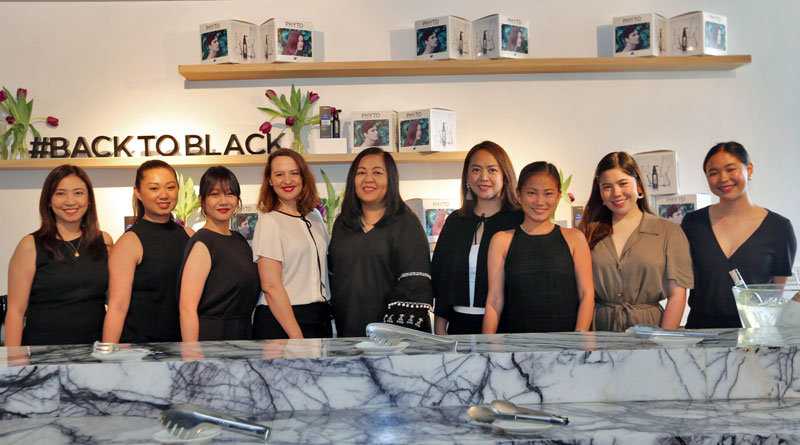 Rustan's the Beauty Source launches Phyto Re30: (from left) Reese Lubrin, Phyto merchandise manager; Kara Cabrera, Phyto associate merchandise manager; Jam Avelino, education officer; Myriam Welsh, Phyto regional brand and marketing director; Kaye Maclang, division manager; Jackie Avecilla, marketing communications manager; Mica Agdamag, advertising and PR manager; Gianina Soriano, advertising and PR specialist; and Denise Cerda, event specialist.
Re30 targets all these factors. "We are increasing melanin production, increasing its transfer into the hair fiber, and decreasing the activity of the hydrogen peroxide," she continues.
Gray and white hair also happens to frizz out faster, is brittle and difficult to tame, so Phyto added purple tulip to the serum, "which is a very good antioxidant, very good anti-aging, it will repair the keratin inside the hair to make it more supple and strong again."
Welsh answered the FAQs about Phyto Re30 so you can decide if it's right for you:
Is it dermatologically approved and safe for women and men of all ages, even pregnant women?
Yes. The product is 98 percent natural — it's a botanical product — so everyone can use it, even pregnant women.?
How long do we have to use the product to see results?
Usually we say three months, but it depends also on how fast your hair grows. ?
What if my hair is long and has a lot of gray? Will it still turn black?
It will turn black if you have black hair. The white hair you already have will not be colored again, because it's already white. But some people who color their hair showed us the hair, which is white on top and black at the bottom because it's re-pigmented again. It's the new, growing part that will grow black again.?
If your hair is completely gray already, can you use this product?
We have to manage consumer expectations. If you don't have white hair, you can use it as a preventive, because it will delay the production of white hair. If you already have white hair, you can use it but you have to make sure your melanocyte cells are not dead. If you have been all white for 10 years, for example, your pigmenting cells are dead and you cannot reverse the process. But if you are not fully white and it's reversible, then you can go back to your original color. I would insist to use it as a preventive because you can really delay the white hair.?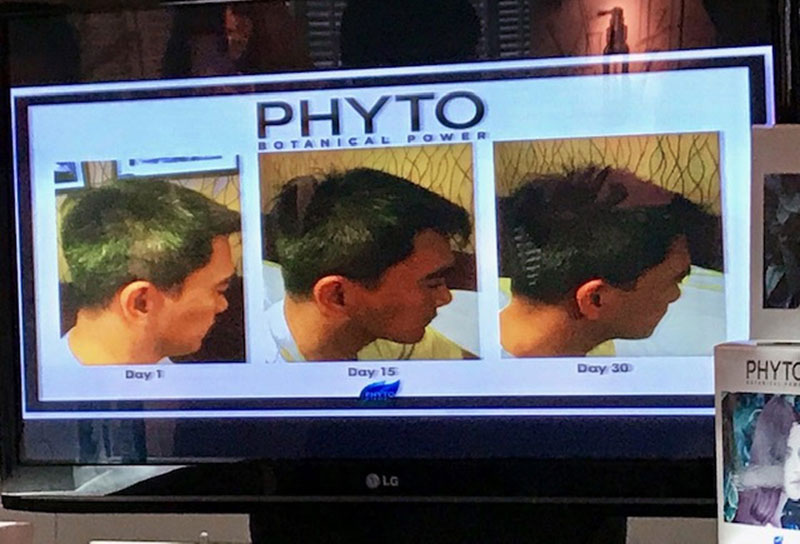 The true test: Phyto's Philippine team tested Re30 on a male with graying hair. From left, photos show the subject before use, after 15 days of use and after one month of use.
Can it also be used for facial hair?
A hair is a hair. We only tested it on the scalp, but it's worth a try.?
After three months and you see results, does that mean you have to continue using the product forever?
Yes, you have to continue because at some point, the natural process will come back because of aging, because the cells are lazy.
Is there an age limit for people who can use the product?
No age limit. Whitening hair is a very natural process that can start in your 20s, 40s, 60s or later, so there is no rule. You just use it when you think you might need it. If you have a very serious hair condition you have to consult your doctor, but otherwise it's a natural product so it's not harmful at all.?
What if I color my hair right now but want to stop because I want to try this product? Can I use it together with coloring products?
Yes. If you dye your hair to cover your grays and whites, we recommend using it at the same time, because you will see the results only in three months. Re30 can be used with hair color, hair-loss treatments and styling products, but always use Re30 first so you have very good results. ?
If after all this you're still not convinced, the Phyto team at Rustan's tested Re30 for a month on a male with short, graying hair, and the proof is in the un-retouched photos. After just one month, his hair became significantly darker. It was like magic.
* * *
Phyto Re30 is available at Rustan's the Beauty Source.
Follow me on Instagram @theresesbeautyworld for beauty news and reviews.