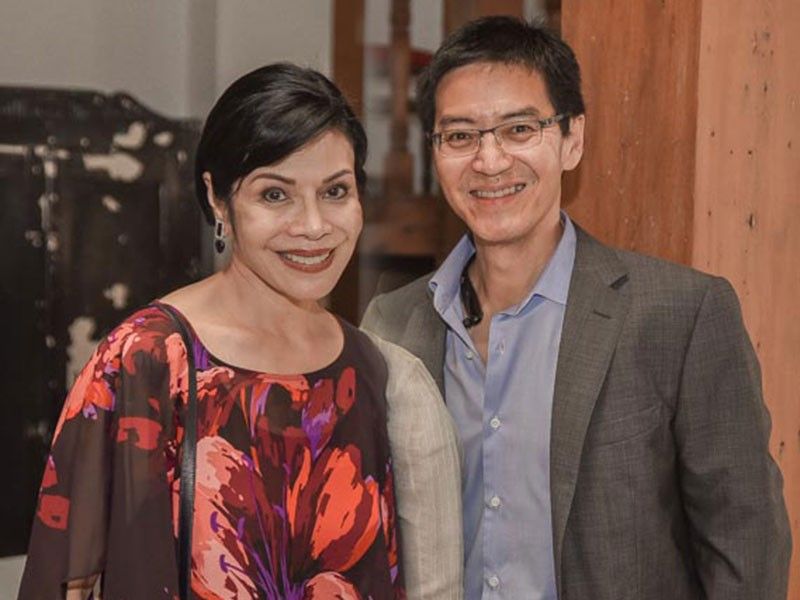 Gina Ongsiako-Reyes Mandanas and Edmund Ongsiako-Reyes
Photos by Alex Van Hagen Powered by MAC Center
Patio Pilar: A corner of Spain in Ermita
Amigas y Amigos, have you been to Spain lately and do you miss a bit of Sevilla, Zaragoza or Barcelona? Well, in Ermita, Manila, there is a new gem of a place on E. Reyes Street (formerly Arkansas), less than a block from the iconic Philamlife building, called the Patio Pilar, and this heritage special events place is "a corner of Spain in today's Ermita."
Patio Pilar is a Castilian-inspired cafe and events venue that features a pair of heritage structures right in the heart of Ermita. Once you see and pass through the recycled grill gates topped by an artsy, neon, colorful, art noveau lighted sign designed by top advertising firm BBDO Guerrero (scion of our late dear Ermita doyenne, the late Chitang Guerrero Nakpil), you are in for a charming surprise. Beyond that very cool logo, you are stepping back in time when entering the three-story Casa Ermita on the left, built in the 1930s and the white house/bungalow circa '60s.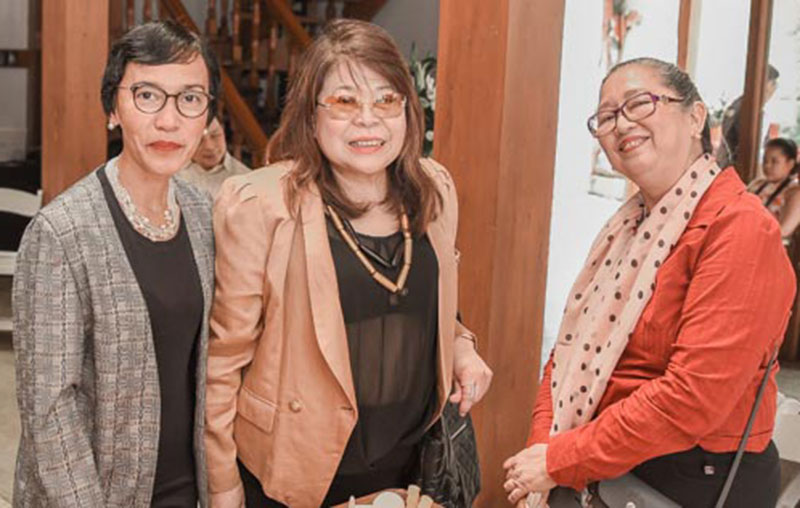 Tourism Assistant Secretary Rica Bueno and director Cynthia Lazo, with PCCI president Bing Sibal-Limjoco at center
The cobblestone walkway between the two wooden structures strikes the visitor immediately with a relaxing breeze of fresh air, scented flowers and a soothing sound of water trickling down a fountain. You are sandwiched between a Spanish and American vibe. A few steps later you are on Maria Orosa St. — cross the street and­ — oye! — there is the former Manila Hilton.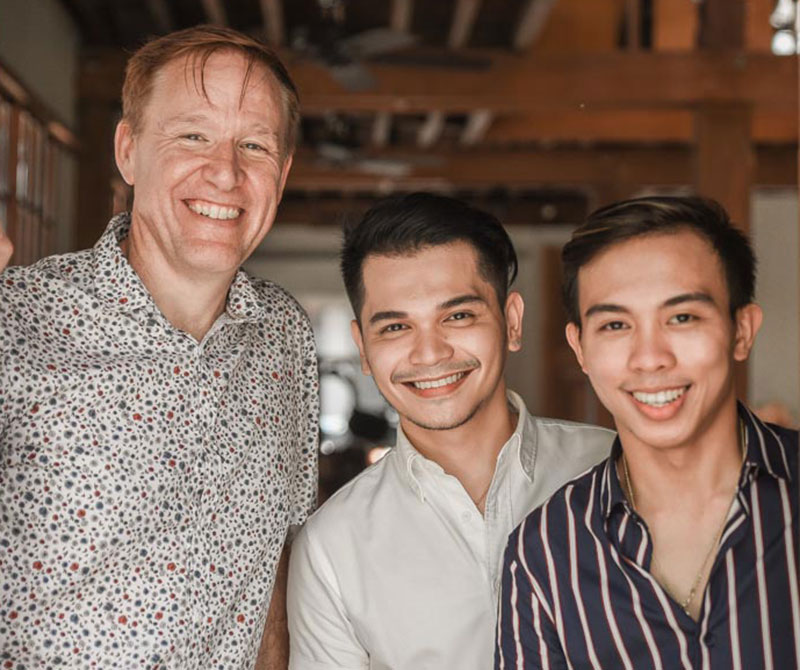 Rich Backstrom with his marketing team, Richard Martin and Mark Siscar
Lo sientos (I am sorry), back to the Patio Pilar… It is a really truly special place with a fully equipped state-of-the-art chef's kitchen available for short-term use. Right now, there is an available retail space fronting the street for a bakery. The facilities of the Patio are the courtyard area, which is an al fresco experience of peace and relaxation, a fresh flower market and the Casa Pilar Hall with its stylish interiors no less.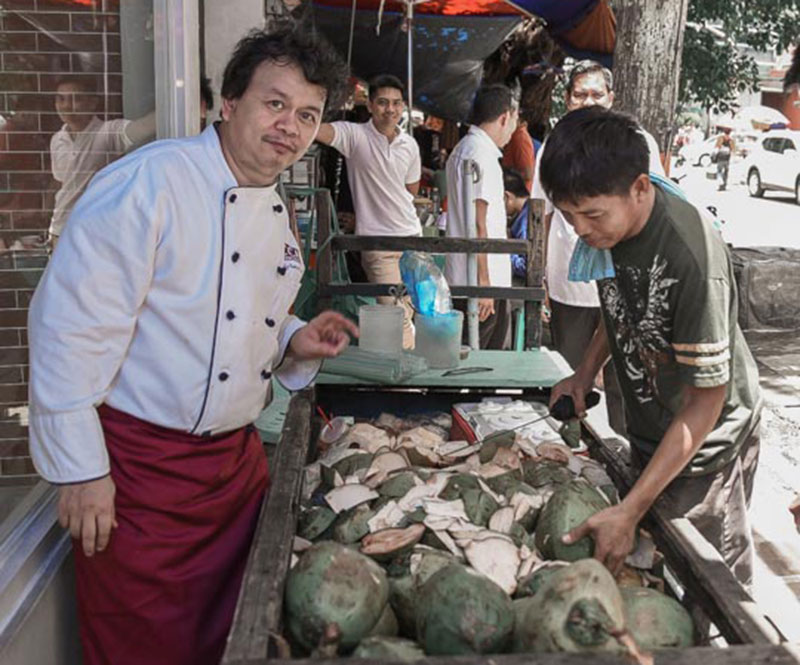 Chef Philip Doronila and fresh coconuts
The Gallery at the white house second level is perfect for training programs, special exhibits, meetings, book readings and special classes and can accommodate 50 persons in a classroom set-up. Perhaps you want to learn how to cook — well, guest chefs will be available for the theoretical and practice phases. The professional kitchen is located right below the Gallery via a bright turquoise blue spiral staircase.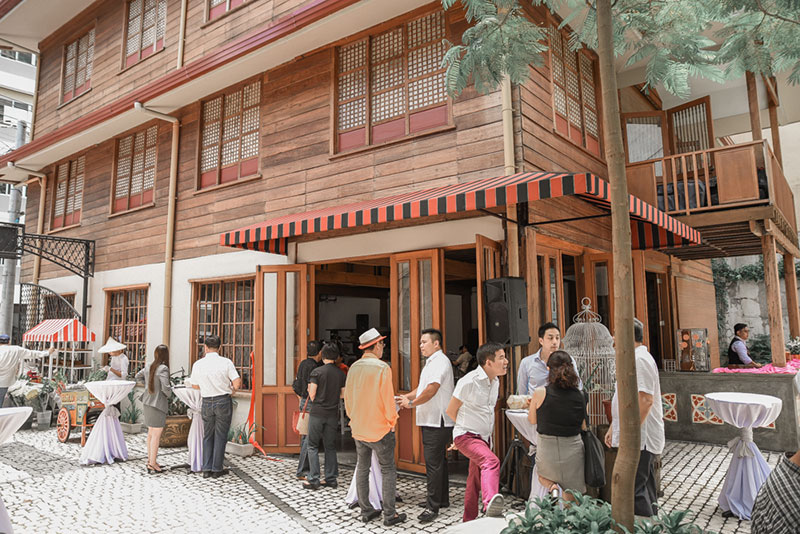 The Patio Pilar, at corner of Spain in Ermita
So, vamonos, mis amigos (so, let's go, my darlings). In case you need more info on leasing or scheduling your event, do call tall, muy guapo professional franchise expert, Señor Rich Backstrom (rich.j.backstrom@gmail.com). Hasta la vista en Patio Pilar (until we meet again in Patio Pilar).
You'll definitely be transported to a different world. What the glorious past was all about, palanggas.
Philippines-Australia Friendship Day at SM Lanang Premier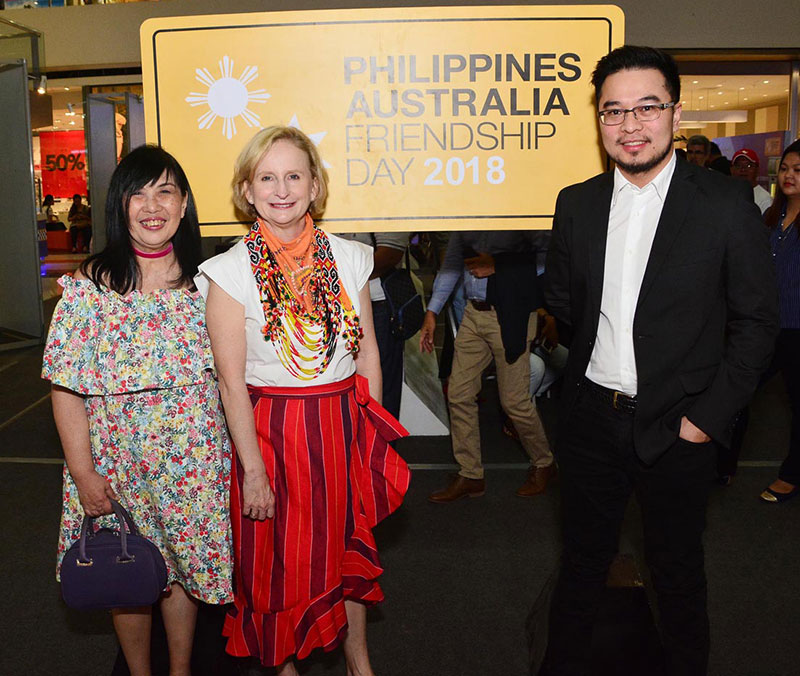 SM SVP for marketing communications Millie Dizon with Ambassador Amanda Gorely, and SM Lanang Premier mall manager Nick Santos during the launch of the Philippines–Australia Friendship Day 2018 at SM Lanang Premier.
Prominent Davaoeños, members of the diplomatic corps, Australian global alumni and art lovers recently took part in the three-day Philippines- Australia Friendship Day 2018 celebrations at SM Lanang Premier.
A joint project of the Australian Embassy and SM, the celebration was held in time to commemorate the 72nd year of diplomatic relationship between Australia and the Philippines.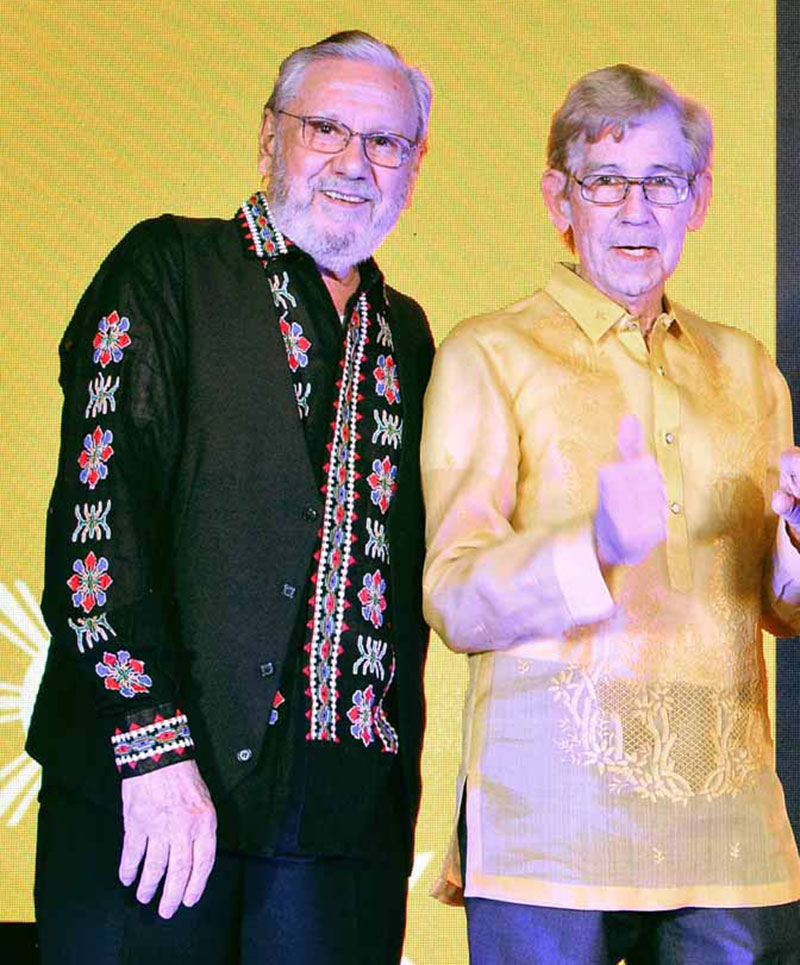 Australian authors Carlos Batuto Lopez Gracete and Jay Maclean during the launch of their book, Fart of a Fly
The incredible three-day festival at SM Lanang Premier included a food and retail fair, featuring alumni-owned businesses, professional development talks by Australia Global Alumni, an education fair, and visa information sessions. Mallgoers could also take part in a mall promotion sponsored by Australia's pride airline Qantas, naturellement!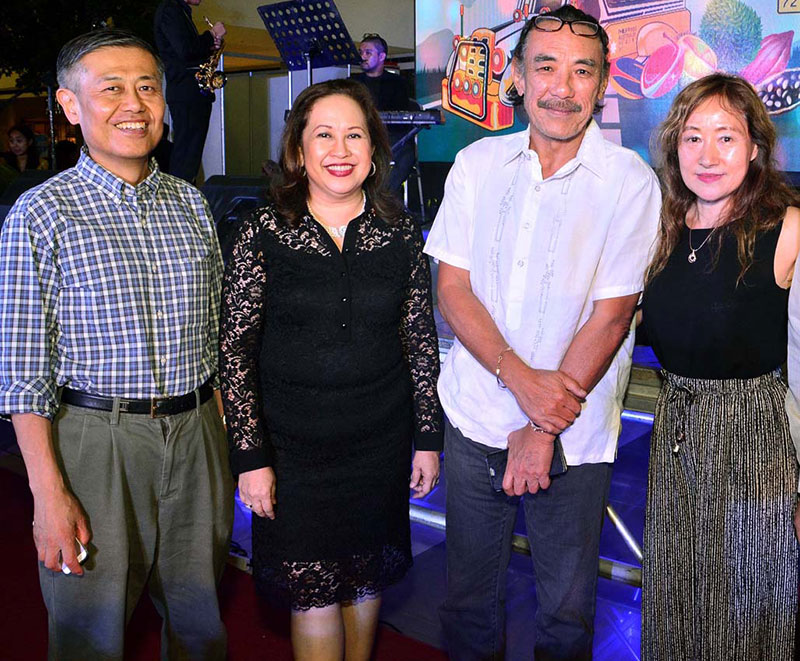 Japanese Consul Yoshiaki Miwa with Maria Lourdes Monteverde, Sonny Dizon and Tomoko Dodo
There was tons of cultural exchange during the event — an indigenous art exhibition, a book launch by Australian authors Jay MacLean and Carlos Batuto Lopez, and a mini-concert top-billed by Asia's Queen of Songs and Cebu's pride, the unmatchable Pilita Corrales and the indigenous didgeridoo player Jeremy Donovan from Northern Australia.
No less than Australian Ambassador to the Philippines Amanda Gorely, together with the ===embassy's political and public affairs counsellor Clare Duffield, Davao City Administrator Atty. Zuleika Lopez and Peace Adviser to Davao City Government Irene Santiago. SM senior VP for marketing Millie Dizon and SM Lanang Premier mall manager Nick Santos welcomed their invitees, palanggas.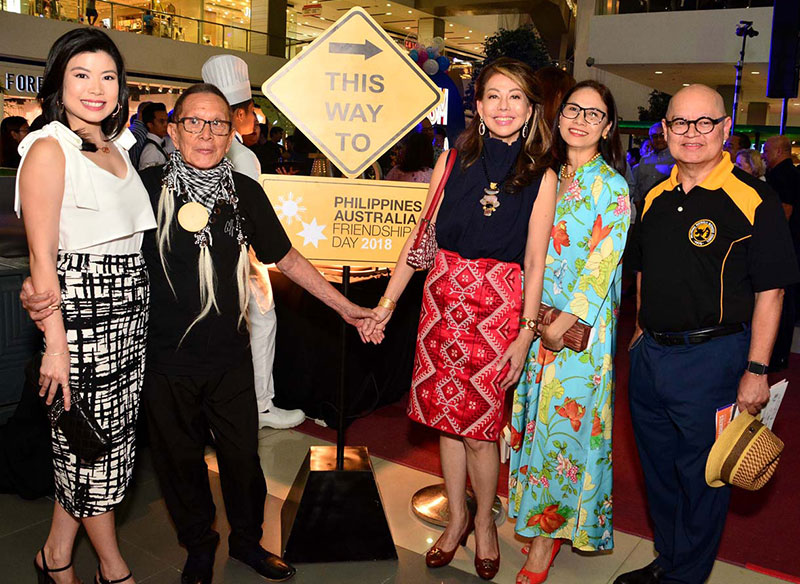 Nicole Hao Bian with designer Alfonso Boy Guinoo, Honorary Consul General of Bangladesh for Mindanao Joji Ilagan Bian, Marco Polo Davao GM Dottie Wurgler-Cronin, and Atty. Leo Dominguez
"The Philippines-Australia relationship has since grown to encompass people-to-people links, education partnership, trade and investment, development and humanitarian assistance, and defense and law enforcement cooperation. Over the years, Mindanao has been one of the priorities of Australia's development and security cooperation in the Philippines, and we continue to work closely together on programs in education, research, livelihood, and peace and stability,"according to the short speech by the Australian Ambassador. Applause and loads more applause.