Calling all microentrepreneurs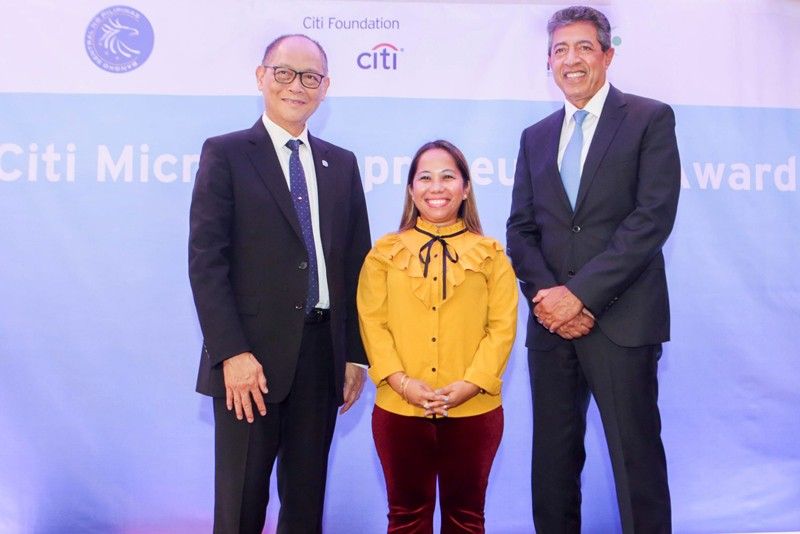 Citi Philippines and Bangko Sentral ng Pilipinas launch the 17th Citi Microentrepreneurship Awards search. Past winners include a fish-ball maker, midwife and nata de coco manufacturer.
Mary Grace Bayalas, a young midwife working at a birthing clinic in Cebu, was not happy. Her employer treated her badly — "I'll never treat my employees the way she treated me," Bayalas says — and she was appalled at the lack of quality healthcare in her hometown of San Fernando, Cebu, which resulted in a high mortality rate when babies were delivered at home. She dreamed of opening her own birthing clinic that would provide compassionate, quality healthcare to pregnant women.
Bayalas applied to five banks for P100,000, but even if she submitted all the requirements proving her capacity to pay the loan back, she was always declined. So she turned to a microfinance institution in Cebu (RAFI) that finally loaned her the money.
In just two months, the self-described "passionate midwife" turned the first floor of a two-story apartment into her dream clinic, the Bayalas Birthing Home & Family Planning Services, which is now in its seventh year of delivering babies safely, as well as providing free family-planning counseling.
Her story of determination and entrepreneurial spirit won Bayalas Citi's Youth Microentrepreneur of the Year Award in 2018. The 4'10" Cebuana received a cash prize of P100,000, entrepreneurship training at the Citi Microenterprise Development Center, a laptop and basic computer training, among other prizes.
On June 18, Citi launched the 17th nationwide search for its annual Citi Microentrepreneurship Awards (CMA), a partnership among Citi Philippines, Bangko Sentral ng Pilipinas (BSP) and the Microfinance Council of the Philippines (MCPI) that recognizes outstanding micro-entrepreneurs who have partnered with microfinance institutions to start their businesses.
"This program was started in 2002 on the 100th anniversary of the franchise in the Philippines," noted Aftab Ahmed, CEO of Citi Philippines. "This is one of the key initiatives we have on the financial-inclusion front. It's important because it expands the ability of entrepreneurs to do better for their families and their communities."
BSP Governor Benjamin Diokno mentioned notable past winners of CMA, like an innovative fish-ball maker from Bulacan who won the grand prize last year, and before him a Bicolana who found her fortune in pili oil, as well as a public school teacher from Davao who turned into a nata de coco manufacturer.
"With microfinance we give these people opportunities for success, and the possibilities are endless," Diokno says.
CMA is open to microenterprises with assets of less than P3 million. A national winner will be named (who will receive P200,000 and other prizes), as well as regional awardees from the three major island groups (Luzon, Visayas and Mindanao), Youth Microentrepreneur of the Year and three special awards open to different categories, including agriculture, green/sustainable business, community leadership, startup micro-business, persons with disabilities, social innovation, financial technology/digital enterprise, and preservation of traditions (P100,000 each).
Heading this year's National Selection Committee are Ahmed, Diokno and notable industry and community leaders such as Trade Secretary Ramon Lopez, SM Investments Corporation vice chair Tessie Sy-Coson, Ayala Corporation president Fernando Zobel de Ayala, JG Summit Holdings, Inc. president and CEO Lance Gokongwei, and RFM Corporation president and CEO Jose Ma. Concepcion III.
"It's also important to us to see diversity in play, and when you look at many of the award winners, they've been women," says Ahmed. "And through being empowered they've gone on to improve the lives of their families, and made a strong contribution to their communities."
Since Citi founded the CMA in the Philippines 17 years ago, over 30 countries within Citibank have adopted the program, which has recognized 6,300 winners worldwide.
"We've given about US$25 million to support the program, and the prize money has been about $12 million," notes Ahmed.
Adds Diokno, "Poor and low-income households have always been one of my thrusts, and here at the BSP I'm glad to be able to contribute to that in a tangible way."
He says the BSP is Citi's partner in formulating and promoting regulations that enable banks and other financial-service providers to reach out to un-served and underserved markets.
"As part of its advocacy work, the BSP launched the Credit Surety Fund in 2008. CSFs have been established in 54 provinces and cities all over the country to increase the credit worthiness of cooperatives, businessmen and MSMEs. The BSP believes these initiatives will accelerate financial inclusion, ensuring products and services that are affordable and accessible to key sectors."
Last year, for instance, the BSP partnered with the Department of Trade and Industry, the MCPI and the Alliance for Philippine Partners for Enterprise Development to expand the financing ecosystems of the Negosyo centers nationwide.
"These one-stop shops play a critical role in shepherding fledgling MSMEs," Diokno says. "Complementing this is our collaboration with institutions on financial education. The BSP has partnered with the private sector on the development of financial literacy programs for the Philippine Army, the Department of Education and the Overseas Workers Welfare Administration."
In the Philippines in the last 17 years, CMA has recognized 133 outstanding entrepreneurs: "People with passion, people with puso, people who have the ability and conviction to pursue their dreams," Ahmed says.
People like Mary Grace Bayalas, who has invested her CMA prize money into other businesses, and who says the training she received made her a better clinic owner and manager.
"I tell myself that these are the fruits of my hard work," she says.
* * *
Entries should be submitted to MCPI, and the deadline for submission is July 19. The National Selection Committee will award the winners on Nov. 26.
Follow the author on Instagram @theresejamoragarceau and Facebook at Therese Jamora-Garceau.