How can small businesses & professionals prepare for disasters?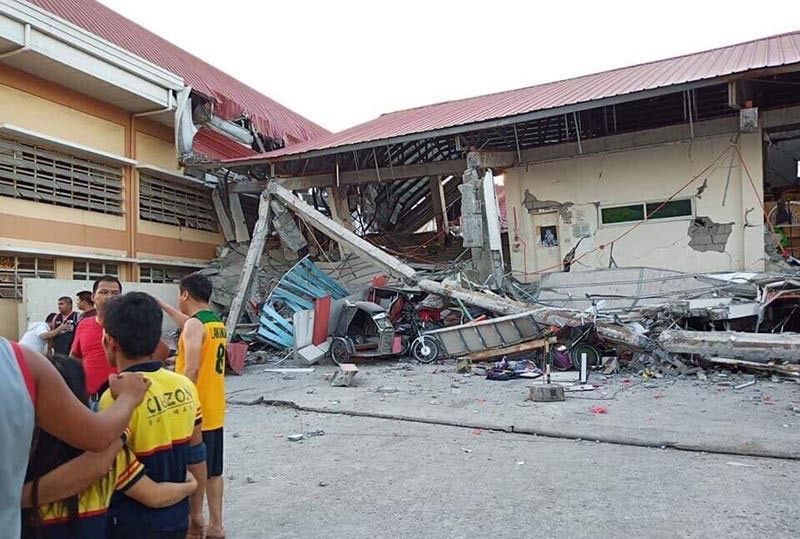 The beautiful, sun-kissed islands of our tourism paradise of the Philippines have the mixed blessings of abundant natural resources, fertile volcanic soil and also lots of natural disasters once in a while, such as earthquakes, volcanoes erupting, typhoons, and others.
How can businesses — most especially the numerous micro, small and medium-scale enterprises (SMEs) — be prepared for any natural or manmade disasters? How can small enterprises and professionals survive calamities and accidents?
The following is not based just on textbook research or interviews, but I personally suffered a destructive accidental fire in one of my businesses and it was caused by the fire from a next-door neighbor's business (which had mysteriously been allowed to operate by the fire department without any fire extinguishers, while my staff had to use up to 13 units of 10-kilo and 20-kilo fire extinguishers).
Here are suggestions for all of us:
Review and be sure to update your insurance! I regret scrimping or trying to pay the lowest possible insurance coverage, because I thought I had to pay non-life insurance for my various real estate properties every year and nothing was happening, anyway. Don't scrimp on essentials like insurance, do a yearly review of the coverage package, and seek expert advice.
Apart from adequate insurance for accidental fires and other problems, I recommend double checking the integrity and servicing track records of the companies. Among the blue-chip reliable insurers in the Philippines include Oriental Assurance, Prudential Guarantee, Malayan Insurance, Pioneer Insurance, and Cibeles Insurance.
Research and post all emergency numbers. Compile all disaster relief centers and post their contact numbers, addresses and other details in key areas of your business. These emergency contact numbers should include governmental fire departments, the nearest Filipino-Chinese volunteer fire brigades, hospitals and clinics, doctors and medics, and police stations.
Prepare and practice emergency plans. I think all businesses, schools, churches, offices, establishments and even homes should prepare and regularly practice emergency response plans for fires, earthquakes, floods, even for crimes. Preparations can minimize losses in property and human lives, and can reduce panic and fear. Where are the fire, earthquake and crime exit doors, routes and standard procedures?
Do first-aid training and have kits. I recommend that employees and other people should be given basic training in first aid, plus have simple but complete first-aid kits.
Inform the public and clientele. Whenever a disaster happens, I believe it's important to inform our own team members, staff, management, clientele, suppliers, and the public in a timely and accurate manner about what is happening. Nowadays, the fastest way to disseminate information and updates is via social media.
That's what I did when a fire hit my business last year in the late afternoon. My establishment was saved, but the fire department personnel didn't stay the whole night and another fire seemed to have reignited from remaining embers, thus exploding in a much bigger fire. I kept communicating sad updates via my Facebook, Twitter and Instagram, and various newspapers, TV networks, blogs and others quoted my statements and updates.
Safeguard business systems and files. If our cars have spare tires, our businesses should also study and prepare contingencies to safeguard our business records, files, documents, and systems. Can we utilize the high-tech "cloud"? Can we buy fireproof filing cabinets? Can we always have extra photocopies of important files and store them in separate places? Who are the information technology, computer, legal and other service firms we can consult on these?
Have "spare tire" backup operations or facilities. Why did the operations of my now 80-year-old Kamuning Bakery Café never stop a single day after the fire?
Ever since I was seven years old and our late father died, thus reversing our family fortunes, I always told myself to uphold this rule: "Never trust anyone." So this is nothing personal, but when I bought and revived this old business, I immediately invested funds into opening a smaller yet parallel baking operation at a townhouse in a nearby location. I separated some of the bakers so they could work there, in order to prevent any future labor or operational problems. True enough, disaster beyond my wildest imaginings indeed struck, via a fire. Now we're smaller in production capacity but at least this venerable bakery has never stopped operations since 1939.
Be honorable and fulfill all commitments. In the Hokkien dialect, the Chinese concept for "trustworthiness" is called "shinyong." This is actually one of the not-so-secret keys to Chinese entrepreneurial success through the ages. This is considered more important than just money; it is priceless and invisible capital. Build a steady and consistent track record for honoring your word and obligations at all times, whether during good times, bad times or unpredictable disasters. Like in all tribes or races, there are also some "bad eggs" or unethical business people in the ethnic Chinese community, but generally most entrepreneurs treasure and safeguard their shinyong.
Regularly review and evaluate facilities. It was tragic for me to read about that four-story business in Pampanga that the earthquake destroyed, causing accidental deaths. No business people in conscience would allow or want that to happen to their own business, endangering their own lives as well as their staff and customers.
Let us take these two recent earthquake incidents as a wakeup call to check on the quality of our facilities, the strength of construction, the adequacy of fire extinguishers and fire escapes, etc. Are we prepared for any and all kinds of emergencies? Let us pray, be optimistic, hope for the best and be realistic enough to always plan and prepare for the worst.
* * *
Thanks for your feedback at willsoonflourish@gmail.com! Follow @wilsonleeflores on Instagram, Twitter, and Facebook. Buy PhilSTAR's Tagalog tabloid Pilipino STAR Ngayon every Friday and read my column "Kuwentong Panadero." Read also https://investment.fwd.com.ph/experts/asia-s-business-leaders-and-what- we-can-learn-from-them.