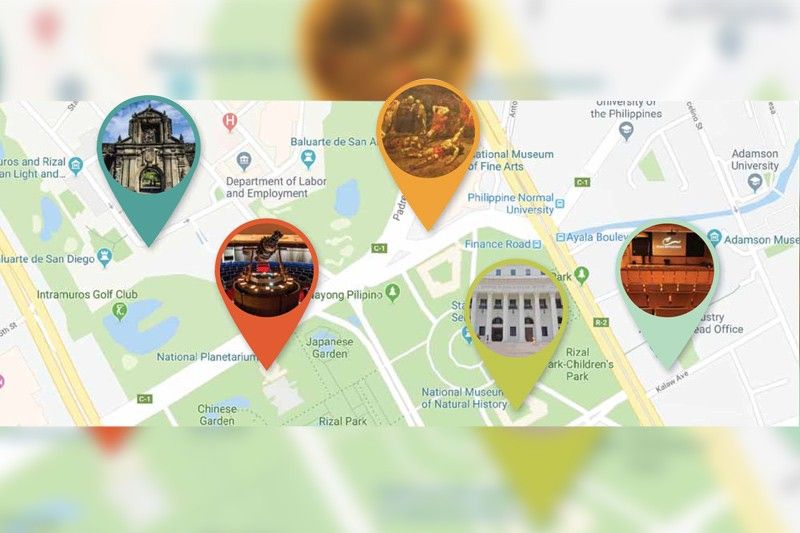 Manila is a hotspot for local history and culture.
Photo Release
Fun things to do in Manila
MANILA, Philippines — While our country is popular for its picturesque beaches and landscapes, Manila is often overlooked by locals and tourists alike. But did you know that Manila is blessed with a rich history?
This summer, discover more of Manila. Go on a historical immersion and embark on a journey back in time starting with our country's capital.
Here are some famous attractions that you can visit:
1. Intramuros
The walled city of Manila was the capital of the Spanish East Indies for three centuries. Inside the city are numerous attractions to explore and visitors have the option to either tour by foot, ride a kalesa, or pedal by bike.
Things to do in Intramuros:
Ride a kalesa or a bike inside the fort
Visit the Lights and Sound Museum
Visit the Destileria Limtuaco Museum
Book a tour group from any of the following: Bambike Ecotours Intramuros, Manila for a Day Tours, White Knight E-Chariot Tours Manila and Don't Skip Manila.
To know more about Intramuros, check out their website. To book tours, visit their social media accounts on Facebook and Instagram.
2. Planetarium
The Planetarium reopened with upgraded facilities, a new version of its 1975 analog projector and a new digital system developed by a Japanese company.
What to do in the Planetarium? Watch any of three shows:
Hayabusa: Home Sweet Home
A Planet for Goldilocks
Journey to a Billion Suns.
Shows run from Tuesday to Sunday from 9 a.m. to 5 p.m. Admission fee for regular entrance is P50, P30 for students, and P40 for senior citizens and PWDs.
For more information about the Planetarium, go to www.nationalmuseum.gov.ph. Or visit their Facebook page.
3. National Museum of Fine Arts
The National Museum of Fine Arts is home to 19th and 20th century paintings and sculptures made by the most prominent Filipino artists such as Juan Luna, Fernando Zobel and Felix Hidalgo.
Things to do in the museum:
View the Spoliarium, Assassination of Governor Bustamante and His Son, The Parisian Life
Look for the "cursed" painting of Juan Luna
Admission is free.
For more information about the National Museum of Fine Arts, visit their website or check out their Facebook page.
4. National Museum of Natural History
The glass-domed museum showcases the country's fauna, flora and natural history through exhibits featuring various "stuffed" or taxidermied specimens, replicas and illustrations.
Things to do in the Museum:
View the skeleton and remains of Lolong, the world's largest crocodile in captivity
Take an instagrammable photo with the "Tree of Life" elevator
Marvel at the life-size replicas of a whale shark and manta ray
Walk through the mangrove diorama, located on the third floor, and see the different creatures that thrive in them
Admission is free.
To know more about the National Museum of Natural History, visit the website here.
5. Cinematheque Centre Manila
This is a 101-seater theater where you can watch award-winning indie films and restored classics.
Things to do in the Cinematheque:
Visit the Museo ng Pelikulang Pilipino and see the diverse film exhibits and statues of famous Filipino filmmakers such as Lino Brocka and Manuel Conde
Attend workshops on filmmaking and scriptwriting
Watch Filipino movies
For film viewing, the admission fee is at P100.
For more information on the Cinematheque and their ticketing details, visit them on Facebook.
Our country's history and culture are housed in these establishments – and our government is making sure that these places are well-maintained so that we may have a better appreciation of our heritage.
That National Museum and Planetarium are placed under the responsibility of the Department of Education under EO No. 610.
Intramuros, on the other hand, is under the Department of Tourism under the Tourism Act f 2009.
Meanwhile, the Cinematheque Center is run by the Film Development Council of the Philippines under RA No. 9167.
Aside from the government, did you also know that we all have a part to play in preserving these attractions? These places are kept up and running by the government using our tax payments.
Tax revenue collections keep these buildings and establishments in operation, and our contributions help fund the preservation. So let's help by paying our taxes on time!
Luckily, tax payments have now been made easier with Landbank Link.Biz Portal, an online payment platform that provides an easier and more convenient way to pay our taxes.
Fast, easy, convenient. Visit www.landbank.com for more details.