How an ex-stock analyst turned his passion into profit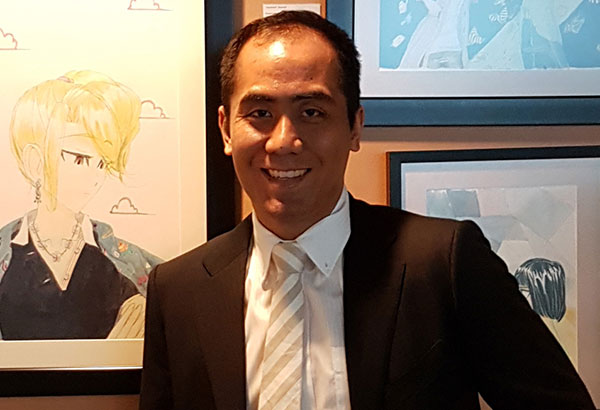 MANILA, Philippines - At the age of 33, while the rest of his peers were enjoying the experience and salary increases of their chosen professions, Ramon Rodrigo Cuenca decided to start from scratch to build a totally new empire.
"I'm originally from the finance industry in a private bank in Singapore," Cuenca says. "I was there for seven years, but I wanted to do something more."
Now he spends his days working on his newfound enterprise, Artandfinance.net, a website that aims to merge those once-irreconcilable worlds. And he does it using the Japanese comic art of manga.
"The idea was to create content for working professionals, people in their 20s to 40s, but using mediums normally associated with kids," Cuenca notes of his unlikely business formula. "I've always liked manga — Japanese artwork and their sensibilities. Comics, in general, are a very unused medium, but it's very visually impactful and its low-cost compared to film and television. There's a lot you can do with it — all you need is a pen and paper, and you're only limited by your imagination."
In a world of disruptive economies, where standard, brick-and-mortar business structures are slowly crumbling, his makes for a promising proposition.
"The problem with upstarts right now is they're not really making money," Cuenca says. "They're burning money for market share. But there's so much money around the world right now that all these companies can be continually funded for not making money. Coming from a financial background, it's not ideal. Everything that becomes digitized or goes into the Internet, the economics are really bad. It's good to use it to raise your profile, that people are aware of you. But I don't know about selling stuff just over the Internet."
So, despite his website's consistently growing traction, Cuenca recently held a physical exhibition of his manga paintings, based on select panes of his long-running comic book series called "Illusion," in Makati's WeCube, Inc. The exhibition's first day was a sold-out success, earning the former stock analyst a 36-percent profit margin after selling all of his 20 featured artworks.
Not bad for a two-year-old start-up company. We ask Cuenca how to turn one's passion into profit.
• "The first step is to gain a following." Cuenca's debut exhibition is entitled "Manga for Urban Professionals," which is a playful jab at the world he once inhabited. "When I was in the corporate world, I always felt like they're not always the happiest people," he reveals. "We kind of forget to have fun, enjoy, laugh and smile."
He also realized that adult comic books — not the explicit ones — were an underserved industry, so he went on to create "Illusion," a fictional, illustrated account of a female financial analyst's life a couple of years ago. Set in an alternate world or distant future, Cuenca tends to add some business analogies that paint the current state of the global economy. As a result, his website gained an almost cult-like following from a certain tribe of the global elite — those who also blur the lines between corporate and creative.
"Art and finance are like polar opposites, but even then, there are a lot of things that really go together," he observes. "Even Warren Buffett says valuation is an art. The way stocks move are based on future expectations, so it's really an art. In terms of visual art, if you draw properly or technically, there are certain rules that you have to follow."
Yet he knows that he can't bank on pure aesthetics alone. "The idea is instead of providing art, there is a story that goes along so people keep following me. I'm using story to articulate a certain lifestyle and also sell it to make a business out of the entire thing."
• "You can't decide what the market wants." Cuenca talks about his target market: "Urban professionals tend to be very cosmopolitan, they live, travel abroad, maybe even work abroad. They go to the best schools, interact with other people from different countries, they all have a certain level of culture and education." This market of career-consumed individuals in their 20s to 40s may have huge disposable incomes, but they can be largely discerning as well.
"For me, since I want to do something that's different and targeting a different audience, I have to find out what they like to buy," he says. Faced with a consumer culture obsessed with material property, Cuenca realized that "to start hitting the demographic I want to in a major way is to have something physical, so the first step for monetization is selling fine art and merchandise."
He went on diversifying his products based on the values of his Artandfinance.net brand, but catering to his wide demographic. "For people in their 20s, I probably get eyeballs from them, and get buzz," he says. "The 30s, they'd probably start buying the (digital) prints. But for the fine art, I think it's going to be the older ones, like 40s and 50s. The kind of pitch for people to buy my stuff is that 'Hey, you're investing in my brand.' Ideally, if I do well and people know me more, the value of the artwork goes up."
However, being a part of this consumer core as well, Cuenca understands that it takes more than selling a concept, a lifestyle, or an ideal. "When people make a purchase, it's an emotional decision. It's not always a rational decision. As we get more and more competitive in this world, being able to tell a story that drives people's emotions is going to be really important. Content is getting more and more important due to this emotional appeal," he stresses.
• "You have to differentiate yourself." According to Cuenca, if you create the same stuff all the time, people are going to get bored after a while. "So for me, I always want to keep going and evolving." He boosts his content by creating vlogs (video blogs) that offer his unconventional analyses on the global economy.
"I want people to be educated about what the issues are, like regulation, or competition. Social issues are important, but even if people are educated, they don't always have a full grasp of what's going on with economic issues."
He says that because so much is thrown at consumers over the Internet, it's getting harder and harder to stick out. "To differentiate yourself, you have to build your brand, and a lot of times, to increase your brand, you have to create content for it. It's becoming a content-driven economy."
But Cuenca says that his company won't stop at mere content creation. "For my own business model, I want to sell a physical product, sell merchandise, and collaborate with brands to help sell their products. I plan to work with other established economies and brands to articulate stuff that will work for my niche."
• "If you have an advantage, use it." Cuenca says he works harder now than he did in the past. "When you're in a corporate job, you work hard and you get a promotion. When you actually are running a business, it's a totally different beast."
But, despite it being an individual enterprise, the young entrepreneur, who came from a line of industrialists and public servants, doesn't discount the extra nudge having the right connections entails in business. "My advantage is that my parents are well off, and they're fairly well-connected," he admits. "I really believe no one makes it completely on their own. I'm leveraging on a lot of what's already given to me. It's an opportunity most people don't have, so I'm always grateful. How I feel about making your way in the world is that nothing is fair and if you have an advantage, use it."
While still high off his first solo exhibition — with another one already in the pipeline — Cuenca feels it's way too early to call his startup a success. After all, it took him two long years to start making a profit. The ex-stock analyst has this to say about his own brand: "It is what it is. I've committed to it, and seeing people buy stuff from me is a good indication. I just have to keep doing it and keep making sure that I keep going."