Will MVP buy an NBA team?
Despite having led the valiant Philippine effort to win the 2019 FIBA Basketball World Cup to be held here, which we lost to China due to their clear infrastructure advantages, PLDT/Smart and First Pacific boss Manuel "Manny" V. Pangilinan shared some possible good news.
Two NBA teams offered for sale to MVP
I heard from reliable sources that a team from America's world-famous National Basketball Association (NBA) is being offered for sale to Pangilinan. During the grand launch of Bloomberg TV Philippines at the Makati Shangri-La, I asked MVP if it's true, adding that it would not only be good for him and the Philippines but could be profitable as well, like when billionaire politico Thaksin Shinawatra bought and later sold an English football team for a big profit.
MVP smiled and confirmed, adding that he has been offered, not just one, but two NBA teams to choose from! By the way, don't forget that last year, the NBA's LA Clippers team was sold for US$2 billion.
Apart from MVP and MediaQuest Holdings CEO Noel Lorenzana, I was surprised to see Meralco CEO Oscar Reyes beaming with joy at the Bloomberg TV Philippines event. No wonder: his son and namesake, Oscar Reyes Jr., is the chief operating officer of Cignal TV, the country's leading direct-to-home satellite provider.
By the way, another MVP business under PLDT EVP and Consumer Business Group head Ariel P. Fermin has recently supported another sport: volleyball. PLDTmyDSL head Gary Dujali said they've enlisted several rising stars of Philippine volleyball to be their LTE Internet signal brand ambassadors in line with their help for sports and youth development. Kudos. I think businesses should support more sports!
* * *
LTFRB should not go into 'Premium Taxi' business!
Are there politicos or bureaucrats at the Land Transportation Franchising and Regulatory Board (LTFRB) trying to sabotage the Noynoy C. Aquino presidency or playing a bad joke on us?
The LTFRB announced that, starting Aug. 21, it would start apprehending unregistered Uber and GrabTaxi vehicles, claiming this would "make their operations compliant with public service laws." LTFRB ignited a social-media firestorm when it also released plans for its so-called "Premium Taxi" service. What kind of bull is this?
Aren't there enough problems for the DOTC, LTFRB, and MMDA like our horrendous traffic jams, the chaos of colorum public utility vehicles like buses and jeepneys, smoke-belching and dangerous rickety old vehicles, the LTO's incomprehensible supply of driver's licenses and car plates, our still woeful airports and seaports, the antediluvian trains of the PNR, the old, overly congested MRT and LRT, and now, some bureaucrats are dreaming of an LTFRB-approved "Premium Taxi"?
* * *
The untapped potential of Dental Tourism for the Philippines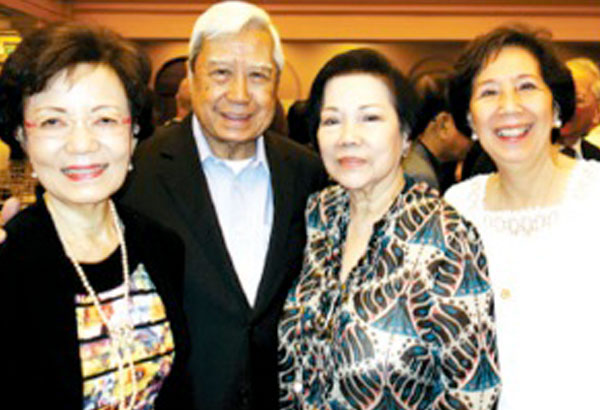 Allied Metals founder Rem Silayan, Glenda Barretto (center) and wife Felici Silayan
Congratulations to actor and sportsman Richard Gomez and his co-star Dawn Zulueta for the box office success of their new Star Cinema movie, The Love Affair. I noticed that a top supporter of their movie premiere was GAOC founder Dr. Steve Mark Gan, who sponsored a special block screening for VIPs at Rockwell's Power Plant Cinema.
Gan said that the Philippines should promote "dental tourism" since we have natural advantages in tourism, our service culture, plus many good dentists here. He said that right now in ASEAN, Thailand and Singapore are ahead of us in dental tourism and we are tied with Malaysia. In Asia, another leader in dental tourism is South Korea.
How can we boost dental tourism? Dr. Gan urges us to "invest more in modern technologies and in constant training of people so that we can leverage the good skills and artistic nature of our dentists in the Philippines."
Dr. Gan has gained a reputation as the "dentist of the stars" due to his meticulous attention to detail, high-quality standards, constant reinvestment in new technologies and the training of his staff, and excellent service. His newest GAOC dental center is in Robinsons Magnolia mall in Quezon City. "I want GAOC to be the Ritz-Carlton and Four Seasons of dental clinics," Gan said.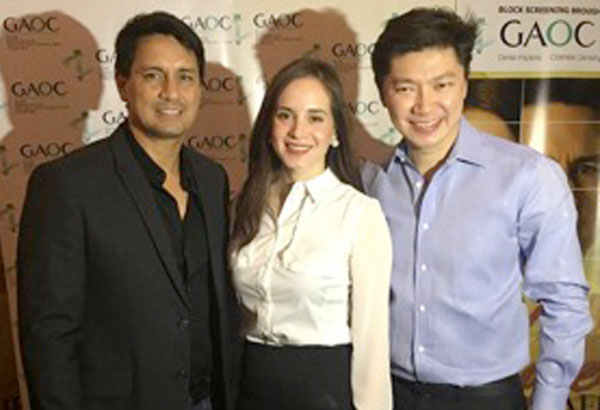 Actor Richard Gomez and wife, Rep. Lucy Torres Gomez, with their dentist, Dr. Steve Mark Gan of GAOC
* * *
One of the secrets of the most successful food businesses and hotels in the Philippines, from Jollibee and McDonald's to City of Dreams Manila and the Shangri-La Hotels, is their stainless-steel kitchen fabricator, Ren Silayan and his wife Felici Singian Silayan of Allied Metals, Inc. (who are Philippine STAR subscriber, by the way).
On Aug. 18, low-profile, self-made tycoon Silayan will celebrate his 82nd birthday and also the 50th anniversary of his firm, which started in their two-car garage at their home in Potrero, Malabon.
Even when Jollibee was just starting its first outlet in the Coronet Theater on Aurora Boulevard, they bought their good-quality kitchen from Allied Metals. Ren said that almost a thousand outlets of the Jollibee group use their stainless-steel kitchens.
When asked what are the secrets of his long life and robust health at 82, this younger brother of actor Vic Silayan replied: "My good wife Felici and one word: 'moderation.' That is the key to a healthy life — moderation in everything you're doing."
On success secrets, he shared, "First, focus on your business or vocation; second, dedication in whatever you're doing; third, luck (his wife Felici added, "We need prayers always for luck."); fourth, quality in your products or services; fifth, relationships should be nurtured and cherished."
* * *
Kris Aquino says no to 2016 Election
When Kris TV host Kris Aquino recently interviewed me at my Kamuning Bakery Café in Quezon City, I asked her if she is running for election in 2016 because I heard that people want her to run either for senator or Tarlac governor. She told me that she cannot run because she has celebrity endorsement deals beyond 2016 and it would be costly for her to pay off these existing contracts.
I asked her whom she would publicly endorse or campaign for in the 2016 presidential polls, and she replied that she wouldn't endorse anyone in this election.
Congrats to football enthusiast and patron Santiago "Santi" Araneta of LBC Express, Inc. for getting Kris Aquino as their first-ever celebrity endorser. Some bankers tell me that this marketing move by this well-managed industry leader is possibly part of a plan to do an initial public offering in the Philippine Stock Exchange. A branch of the Sy-Gaisano clan from Cebu is planning an IPO soon.
When I asked accounting-educated top restaurateur Margarita "Gaita" Araneta Fores of Cibo if Santi of LBC Express is related to her and her first cousin, Secretary Mar Araneta Roxas, she joked, "They're the richer Spanish mestizo Aranetas." When I asked whether she was related to Senator Bongbong Marcos' very capable wife, Atty. Lisa Araneta Marcos, Gaita said they're second cousins.
* * *
Thanks for your feedback! E-mail willsoonflourish@gmail.com. or follow WilsonLeeFlores on Instagram, Twitter, Facebook and http://willsoonflourish.blogspot.com/.