Must-haves for book lovers
December 27, 2021 | 12:00am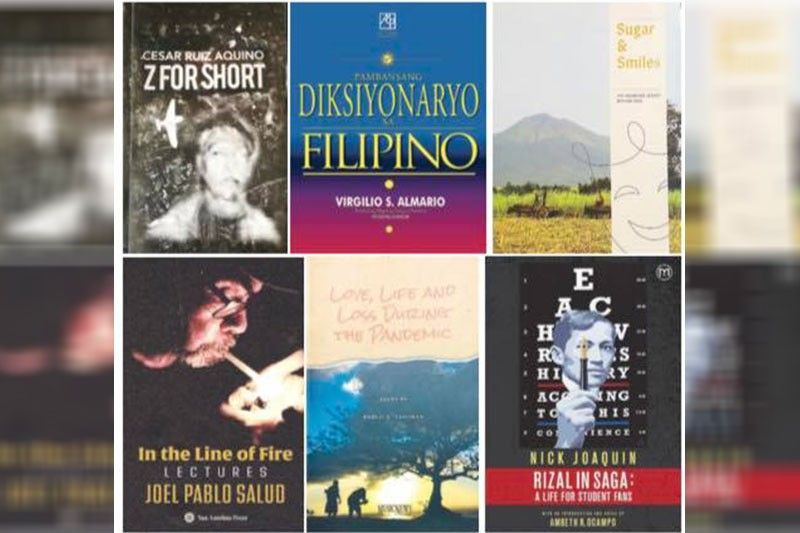 As recent releases, the following are must-haves for book lovers.
Pambansang Diksiyonaryo sa Filipino from Ateneo University Press, with National Artist for Literature Virgilio S. Almario as Punong Editor, had its virtual launch on Dec. 2. Journalist and television host Kara David emceed the event that featured an interview with the executive editor. The coffee-table book went on sale till Dec.14, with the price slashed down from P2,600 to P2,080. After the holiday break, copies will be made available again on Jan. 3 at all e-platforms, including Shopee and Lazada.
Sugar & Smiles: The Negrense Legacy Beyond 2020 is the first coffee-table book about premier province Negros Occidental. Published by an all-Negrense editorial board headed by BusinessWorld columnist J. Albert Gamboa, this 320-page volume includes chapters written by award-winning authors Dr. Cecilia Locsin-Nava and Atty. Rayboy Pandan; historians Modesto Sa-onoy and Roque Hofileña; social media influencers Atty. Eli Gatanela and Lloyd Tronco; chefs Richard Ynayan and Mia Lizares-Gonzaga; advertising executive Nikki Golez; and Department of Tourism regional director Christine Mansinares.
An heirloom collectible, the book commemorates milestone events such as the short-lived Republic of Negros and the world-famous MassKara Festival, as well as the rich heritage handed down from past centuries to the present and future generations of Negrenses. It was launched last Nov. 30 at Ayala Malls Capitol Central in Bacolod City. Copies are available through www.sugarandsmiles.ph.
Milflores publisher Andrea Pasion-Flores recounts that she read Rizal in Saga: A Life for Student Fans in photocopied form when it was produced by the Rizal Centennial Commission in 1996. National Artist Nick Joaquin was commissioned to write the national hero's biography, and the book given out to VIPs during the celebration. But it was not circulated beyond the small circle of guests. As Ambeth Ocampo said, "It went out of print the moment it was published."
The rights to the manuscript marked Andrea's first acquisition as Miflores publisher. To create a digital copy, she had to type the manuscript herself. When she asked Ambeth if he would do the introduction, he went beyond that assignment and annotated the book. He also shared his collection of Rizaliana photographs, which replaced what were mostly illustrations used in the first publication.
"If you read the book with Ambeth's annotations and captions," Andrea says, "it feels like he's having a conversation with NJ. So, in a way, it's Ambeth's book, too."
Carlo Tanseco did the cover painting for this 308-page hardcover edition of RIS that's dedicated to new student fans. Copies are available at milflorespublishing.com and eventually though Shopee and Lazada.
The first 300 presold copies of Love, Life and Loss: Poems During The Pandemic, the first poetry collection of Pablo Tariman, have been delivered nationwide over the past three weeks.
Here is Pablo addressing his youngest grandson:
"In time/ You will push my stroller./ We can walk in the nearby park/ And watch another morning/ Transform sadness/ Into a day of infinite grace."
He says that he endeavored to finish this first book of poems in honor of his second daughter Kerima, who authored her own poetry book earlier, and whose recent tragic loss was mourned by many.
"What can I say on the fourth month of Kerima's death?" Pablo muses. "Well, we lived and breathed poetry. She happens to be the better poet and a revolutionary in the true sense of the word."
The surviving father may be too hard in his regard for his own literary worth. Two of his poems gained inclusion in the Singapore-published anthology, The Great Asian Poetry 2021, which came out in mid-December.
And now his own collection, published by Music News & Features, is available at P1,000 a copy, including delivery in Metro Manila and the provinces, To reserve copies, text 09065104270 or email [email protected] or [email protected]
In the Line of Fire: Lectures from San Anselmo Press collects 15 of journalist, editor and author Joel Pablo Salud's lectures delivered in prestigious universities over the last six years. Topics range from journalism ethics and the role of journalists under authoritarian regimes to the function of literature in the age of fake news.
Author of several books of fiction and political nonfiction, Salud is a columnist for LiCAS News Philippines and contributing writer (Opinion) for Philstar Life. He was the former chair of the Writers in Prison Committee of the Philippine Center of International PEN and former editor-in-chief of the Philippines Graphic magazine.
The first 50 copies have been signed by the author. It's at P330 per copy plus shipping, through the San Anselmo Press website.
Z for Short by Cesar Ruiz Aquino, published by Pawn Press of Cebu, is the Dumaguete-based literary guru's long-awaited autobionovel — well, actually an autobiography or lyrical memoir morphing into an anti-novel cum critical discourse that spans the poet-fictionist-professor's similarly hopscotch minstrelsy from Padagian to Zamboanga, Dumaguete, Manila, Baguio and back à la "always comes back another."
A doorstop at nearly 700 pages, the tome had its virtual launch on Dec. 11, and is now available at P666 a copy through Pawn Press on Shopee (https://shopee.ph/pawnpress).
It opens with the chapter "A Calendar in Paradise, A Clock in Heaven." Here are the first lines as a teaser:
"The novel is dead. I am the resurrection.

"To those who see atheist, let me clarify that the man need not be the one, not even the borderline. He could be a closet mystic, for all we know. And really the second clause need neither be irreverent nor non sequitur nor megalomaniacal. The novel is dead, I is the resurrection. There. Read that way, as intended, a manifesto perfectly innocent because impersonal. I did not even write it — I merely spliced two familiar-sounding sentences that are not mine into one. A collage, yes. A Cubist sentence. The I in the sentence is not necessarily the author.

"At any rate, the I in that sentence is not necessarily not the author either!"