Poetry of selective evasion
February 22, 2021 | 12:00am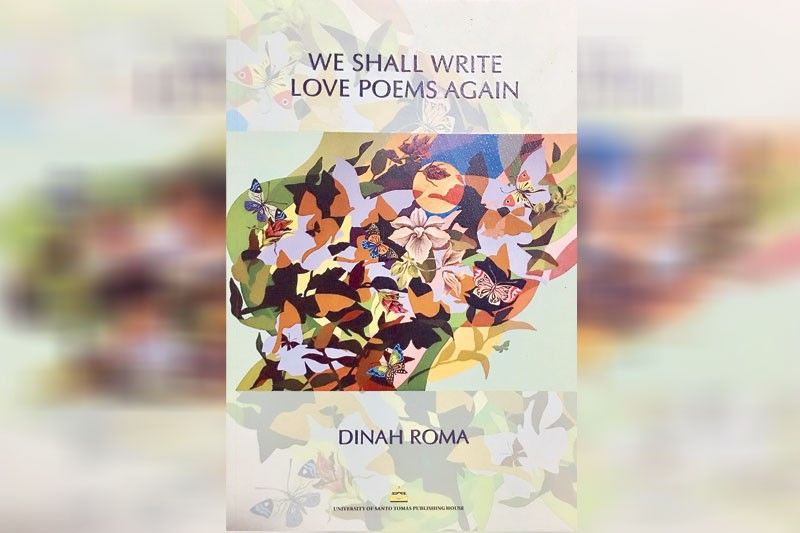 We Shall Write Love Poems Again by Dinah Roma, published by UST Publishing House, is her fourth collection, after A Feast of Origins (2004), Geographies of Light (2011) both from the same publisher and Naming the Ruins (2014), published by Vagabond Press Sydney.
Her first book won the National Book Award for Poetry in English. A University Fellow and Professor of Literature and Creative Writing at De La Salle University, Roma was awarded UMPIL's Gawad Balagtas in 2019.
A back-cover blurb for this collection of 45 poems in four sections is offered by Lily Rose Tope: "Her poetry is social history, global commentary, poetics and personal pain. With a deft touch, she examines the contradictions of our times. The expanse of content and breadth of craft are enormous yet the poems remain accessible and honest."
The very first poem, "State of the Nation," is quietly powerful. The epigraph sets the tone: "If you destroy my country, I will kill you" — President Rodrigo Duterte.
Here's the poem in full, all of five quatrains: "Repeat it enough and you will learn the force/ the words carry beyond the boom microphones/ numbing the multitude into assent to a life/ anointed for days of cleansing and ecstasy,// nestled in their leather sofas at gated enclaves/ kept through prompt monthly dues to cordon off/ their cool viewing of the nightly killing spree,/ the hours muffled by all that could be slayed.// Repeat it enough and you will learn how shooting/ tallies bodies, swiftly. How the people you see before/ you turn your back on them can turn up elsewhere,/ in momentous ways—in the gutter down at the street's end,// in the plaza, rehearsing an all too familiar cradle,/ faces taped in anonymity. Repeat it enough/ and you will learn how bodies fall even before bullets / reach them, how easily they step into the nightfall.// Repeat it enough and learn how they embrace you too./ Deeply, to tell you how you must look these men and women,/ who wage war against the world, in the eye. Repeat/ until you see what they see. Until enough is enough. And learn."
Back-cover blurbist Joel M. Toledo, himself as fine a poet as they come, observes correctly that "A somber ambience pervades the book, complementing the sureness in diction and cadence."
Yes, both prosodic features claim superiority in this first poem, where the lines gild discipline with a stately rhythm effected by anapests and trochees that spike the predominant iambs.
The sentiment or persona's judgment can only be subtle to a point, since the poem's dismal picture is loaded, with images and activities we have become familiar with and inured to. From the safe perch of "sofas at gated enclaves" to "the gutter at the street's end,/ in the plaza..." is a universe more than just a nation, one that is circumscribed when you "learn how bodies fall even before bullets/ reach them…."
The adroit handling of themes is carried through the four sections, which as Toledo points out, "do not segregate her subjects in quaint, little boxes so much as try to layer grief."
That unfolding grief remains quiet throughout, an ikebana done in such silent tribute despite all the intricate creasing — whether it has to do with tyrants, sorry evening news, or a ship disaster, as in the poem "Basey, 300": "...There is not one way an island/ is singed on soul. Not one way to praise/ the affection of water, rock, and salt./ Only the prayers circled the sun,/ as all came through to the small curve/ of earth that survived...."
Some poems map the imagined and private confines of Asia, from "Kabul" to the Bay Gardens in Singapore, "Nagashima Sanatorium," and "Biri Island." Another poem on a ship going down, "Doña Paz, 1987," becomes decidedly personal however strangely peripheral. "Absence before the grief, impenetrable/ as the sea that honors no boundaries/ among the hearts in drowning."
I particularly appreciate two poems for their references to fellow writers who also happen to be dear friends — "Stellar" which is dedicated to poet Bimboy Peñaranda and "Rereading 'Distance to Andromeda'" on Gregorio Brillantes' classic short story. Both deal with constellations, what Bimboy pointed out in the night sky on a break from a writers' discussion. From the curtsey to Greg: "... loss and lust woven/ into the wide fabric of galaxies. Andromeda/ or the willingness to make sense of nothingness."
Even Dinah Roma's love poems hover in that amorphous dreamscape between seas and stars. Their resolutions remain undefined, not bashfully or coyly, but as a wistful tracing of the silhouettes and interiors within.
The title poem begins: "When you pointed out the tree/ and the moonllght as you recalled her hand/ soft in yours like the first time/ you held her close to you, I wanted/ to comfort you before your voice/ trailed off into the burden of images/ choking you to tears…."
It ends with these two stanzas: "Speak of love again/ after grieving its truth and you can/ breathe more deeply, rise and/ desire for that one again.// And your eyes that once could not bear/ the empty night skies will see anew/ the faint outline of star-crossed lovers,/ and wish for the wisdom of those/ adrift in their own realm of the heavens."
We may say that this is poetry that invades deserts and other landscapes, yet chooses to evade no, make that limn inscapes.