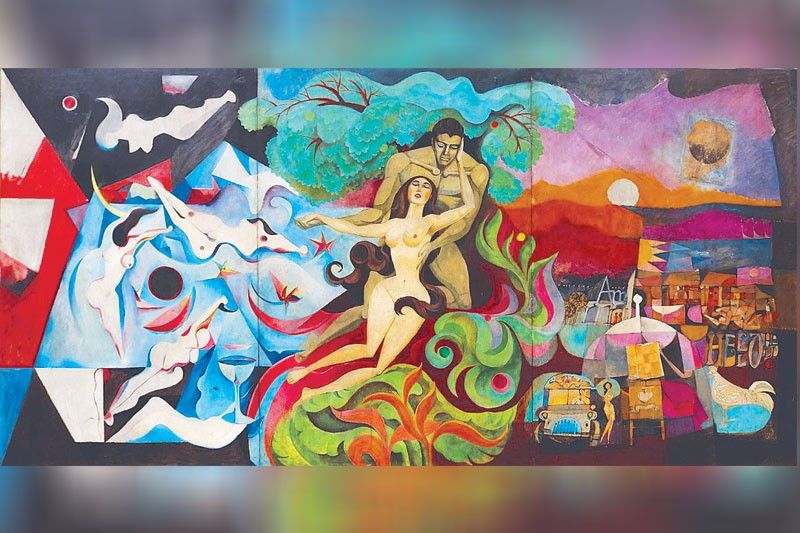 An astonishing collaboration depicting "Goddesses" by Ang Kiukok, Hugo Yonzon, and Mauro "Malang" Santos (1974).
Beauty Queens, Hometown Belles, and Boys' Nights Out
An unexpected discovery will be revealed at the upcoming Spectacular Mid-Year Auction at León Gallery on Saturday, June 20. "It's always the thrill of the chase that makes each sale exciting," says its director, Jaime Ponce de Leon. "Collabs are always fantastic — but the combination of Ang Kiukok, Mauro 'Malang' Santos and Hugo Yonzon is extraordinary."
The trio work in question was created against the backdrop of the Miss Universe pageant of 1974, the first time the contest would be held in the Philippines. The artwork is a three-part masterpiece orchestrated by publishing patriarch Pablo Bustamante Jr. His son Pablo III recalls the raucous poker nights, on which occasions the three artists would work on their paintings in between hands, joshing and gossiping till the early morning.
The result is a work that can only be described as "Goddesses." Ang Kiukok's instantly recognizable but unusual female avatars begin the sweep of this astonishing work.
Hugo Yonzon, the journeyman artist in the great tradition of Carlos "Botong" V. Francisco, is at the center, creating a flamboyant "Adam and Eve" tableau amid Maranao "okir" motifs (a riff, perhaps, on the Sarimanok logo of the pageant that dotted the city at the time). Yonzon is the underrated master of heroic Filipino iconography such as this.
Finally, Malang Santos creates a nostalgic view of Roxas Boulevard in the 1970s, from the colorful Sarao jeepney to a favorite hangout, the "Amihan," for these boys' nights out. The work is full of shapely femmes, reminiscent of the famous beauty queens of the era — Margie Moran, Guada Sanchez and Amparo Muñoz (who arrived in Manila as Miss Spain but departed as Miss Universe). The work is worthy of those larger-than-life times and measures six by 12 feet, since it was designed to fit an entire wall in the Bustamante residence.
Ang Kiukok is present in other pieces in the auction; he is, after all, among the most sought-after artists today. One painting features a window looking out to the future and is a highlight: Ang's masterworks are often filled with mysterious symbols such as these — a red sun and a red table, green fruit and a glowering cactus — that leave clues to his enduring messages.
Not bad for an immigrant from then far-off Davao. Ang was the son of a family originally from Fookien. He would come to Manila and wind up as an art student in the University of Sto. Tomas, where his professor — who just happened to be Vicente Manansala — would take him under his wing. It was Manansala who helped set him up with his premier show of watercolors and also probably arranged that it be given a splashy spread in a leading Sunday magazine. The next year, Ang would be illustrating the poems of Lyd Arguilla, doyenne of Manila's only gallery that supported abstract art exclusively. His work in this period, however, continued to resonate with Manansala's themes, colors and cubist fragmentations. It was also Manansala who took him on his first trip abroad, a pivotal experience that put him face-to-face with Pablo Picasso's breathtaking "Guernica," which at the time had been transferred to the Met for safekeeping. This mural's angular anguish would leave its stamp on Ang's works thereafter.
Thus, according to Jaime, the most poignant work is a gift to Ang from his mentor and best friend, Vicente Manansala. It is officially billed as a "Still Life" but is no doubt a fond memory of many a meal, perhaps even a hangover breakfast, shared by the two newspaper men — a pot of hot coffee and a plate of daing (dried fish). This, along with the massive collaboration, cements the role of the great publishers in shaping the Philippines' political life as well as its artistic and cultural direction. Manansala, Ang Kiukok, Malang and Yonzon had backgrounds as illustrators and editorial cartoonists on some of the most influential papers in the country.
There are plenty of women in the June auction, too, says Ponce de Leon. Chief among them, he notes, is a Fabian de la Rosa's titled "Penny for Your Thoughts," a study of the modern Filipina. It was "once in the collection of the bon vivant and architect Don Luis Ma. Zaragoza Araneta, a sophisticated taste-maker of his time."
Other highlights include country maidens and bathing beauties that fill Fernando Amorsolo's beloved canvases, celebrating the eternal summers of Filipino life.
Anita Magsaysay Ho, painting in 1950, goes in an entirely different direction with the nucleus of a Filipino family. She still had not created her kerchief-wearing female universe. "Nevertheless, this is a masterwork," says Ponce de Leon, "of a family captured perhaps on a day of rest, under a canopy of trees in their backyard. Father, son, daughter and mother each play a seemingly equal role in the composition."
Diametrically opposite — and singularly individualistic — is Danilo Dalena's witty panorama of American women heaving flesh in the new fangled gyms. Dalena, incidentally, was also part of the newspaperman's cabal of the late 20th century. A romantic figure, he was the subject of praise from the likes of Nick Joaquin for his piquant chronicling of Manila's underbelly, from the Jai Alai to the beer-garden Alibangbang. It brings us full circle to the company of women that makes boys always be boys.
View these delights in The Spectacular Mid-Year Auction 2020 catalogue as well as register to bid now at www.leon-gallery.com. This much-awaited sale is co-presented by ANCX.ph, the urban man's guide to culture and style and is the online lifestyle website of the ABS-CBN News Channel.