Humanity, Diversity & resistance in the arts
October 21, 2019 | 12:00am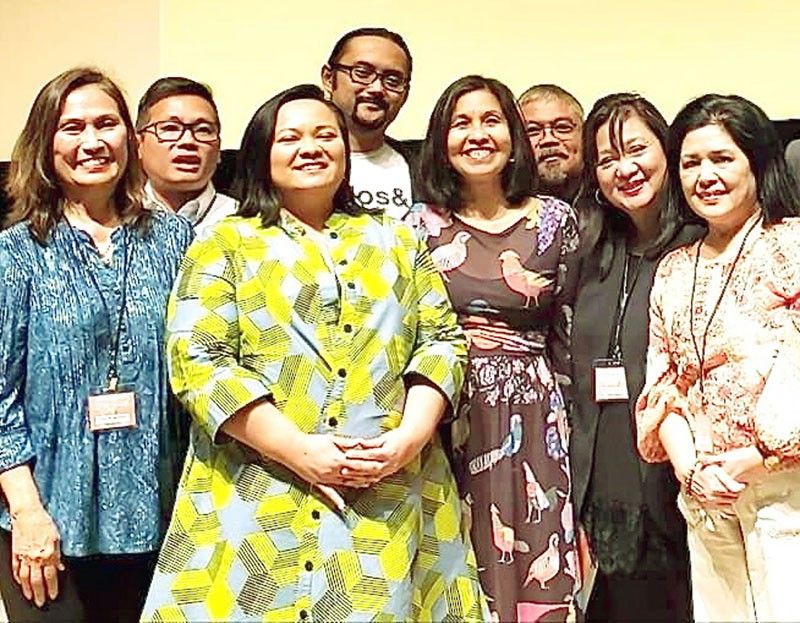 So many books, so little time.
Once again, this disproportion came into sorry focus during my brief participation at the 5th Filipino American International Book Festival held at the San Francisco Main Library from Oct. 11 to 13. Organized biennially by the Philippine American Artists & Writers Inc. (PAWA), this year's fest had the theme "Isang Mundó: Humanity, Diversity, and Resistance in the Arts" — with over 80 writers from several countries and all over the USA converging for readings, panel discussions and book signings.
From Manila, invited were novelist-journalist Criselda Yabes, poet Mookie Katigbak-Lacuesta, fictionist Angelo "Sarge" Lacuesta, and this writer. I was giddy to meet up too with my godson Lucas Lacuesta at the opening gala reception, as well as old Fil-Am friends: poet Eugene Gloria, poet-novelist R. Zamora "Zack" Linmark, poet Elmer Omar Pizo (a Silliman University National Writers Workshop alumnus now based in Honolulu), journalist-author Benjamin "Boying" Pimentel, photographer-author Rick Rocamora, Ricco Siasoco, journalist-author Walter Ang, and artist Mel Vera Cruz. Also shook hands for the first time with Paloma Press publisher and poet Aileen Cassinetto.
The next few days would feature more meet-ups with old friends and erstwhile unseen correspondents. On Day 2, I joined the first of the "Hot Off the Press" author readings at Koret Auditorium, moderated by novelist Cecilia Brainard. The other readers were Walter Ang, Betty Ann Quirino, E.J. Ramos David, Cindy Fazzi, Grace Talusan, Cassinetto, Pizo, Yabes, and Brainard. San Francisco's hotshot poet Tony Robles live-streamed this event on FB, where it may still be found.
A second reading session also moderated by Brainard had Siosoco, Rocamora, Sarge Lacuesta, Ted Cayobit Visaya, Melinda Luisa de Jesus, Arlene Biala, Jacqueline Chio-Lauri, Rin Chupeco and Yves Lamson.
Between these reading programs was a plenary session where I also participated, together with Yabes, Pimentel and Henni Espinosa, with Rene Ciria Cruz, editor in chief of the US Inquirer.net, serving as moderator. The panel theme was "The Role of Journalists in the Resistance in the Age of Lies, Alternative Facts, and Runaway Social Media."
Other panels were: "If You Want to Know What We Are" with the Lacuestas, Linmark, Lamson, Alvarez and Randy Ribay, moderated by Lily Ann Villaraza, and "Young Adult Authors" with Linmark, Ribay, and Chupeco, moderated by Joshua Paras, while "Filipinx Diasporic Poetry" moderated by Llagas had readings by Mookie, Alvarez, Querrer, Pizo, Gloria, Jason Bayani and Jan Henry Grey.
The documentary film The Al Robles Express, shot, directed and produced by Chet Canlas, was screened in the evening at The Philippine Center to honor the late San Francisco Manilatown poet Robles (Tony's legendary uncle), but I missed out on this since my siblings and their partners, from Los Angeles and Chicago, had motored north from LA for a bonding weekend with their much-missed kuya.
On Sunday noon, the keynote address was delivered by superstar Fil-Am author Jose Antonio Vargas, whose best-selling Dear America, Notes of An Undocumented Citizen is still taking the Pulitzer Prize winner on an extended book tour. He was serially introduced by Abraham Ignacio Jr., Librarian of the Filipino American Center, and Edwin Lozada, PAWA president and festival director.
My siblings Victoria and Alan, with their respective partners Didit and Filma, joined me for the closing party at the International Hotel Manilatown Center, where a group exhibit billed as "Benny's Altars" featured the artworks, photographs and installations by England Hidalgo, Tony Remington and Mel Vera Cruz.
My customary SF host, old buddy Oscar Peñaranda, the notable poet-writer and Gawad Balagtas awardeee, was on a European jaunt. But that didn't stop me from privileging myself, courtesy of the young artist Jibril Alvarez, with experiencing Oscar's room at the reconstructed I Hotel. This entitlement, among 105 lucky occupants, was due to his having been an original resident at the historic building from which Filipino immigrants were evicted when it was torn down three decades ago.
A poetry jam ensued, with Tony Robles, Jason Bayani, Mike Gonzalez (NVM Gonzales' son), Almira Astudillo Gilles, and PAWA member Beverly Parayno among the readers. But I missed seeing new friends Cristina Querrer, Aileen Cassinetto, Grace Talusan and dear old amiga Reme Grefalda. Cris, Mookie, Zack, Eugene and Ricco were also unfortunate no-shows.
I did come away with several book gifts from earlier meet-ups: Cassinetto's poetry collection The Pork House of People Yam Preserves, Ivy Alvarez' Diaspora: Poems, Jason Bayani's Locus (he had so impressed me with a poem he read that I asked for a copy), and i come from, a poetry chapbook by Leila Francesca Quiamco Maligalig, a precocious 11th-grader granddaughter of NVM Gonzalez and a former Creative Writing scholar at the Philippine High School for the Arts.
Other takeaways included an MP4 video transfer of the Super 8 15-minute film Shaman Wars (starring Kidlat Tahimik, Pepito Bosch and Boy Yuchengco), which had won an Experimental Cinema of the Philippines award in 1983. Throwback buddy Reuben Domingo had driven up from LA to hand it over, along with the original for possible Mowelfund archiving back home.
Then there was a marina lunch at Alameda with fellow Bedan septuagenarians Ruben Alfonso and Basti Baldasarre with their partners Imelda and Carol, plus the usual generous gifts of two pairs of Levi's Originals and a 12-year The Balvenie single malt.
And of course, the special bonding with blood kin, inclusive of a Thanh Long dinner of roasted Dungeness crabs, brunch at Sam's Diner, lunch at Sausalito's Fred's Place and SF's Chinatown, clam chowder at Fisherman's Wharf, a visit to Chase Center, and photo ops on both sides of Golden Gate Bridge, the Palace of Fine Arts, and Ghirardelli Square with hot choco and coffee (the latter also at Peet's, 85 Degrees and Peerless).
All within a tight four days and nights in Herb Caen's "Baghdad by the Bay." Not bad. Should do it again, without leaving any hearts.