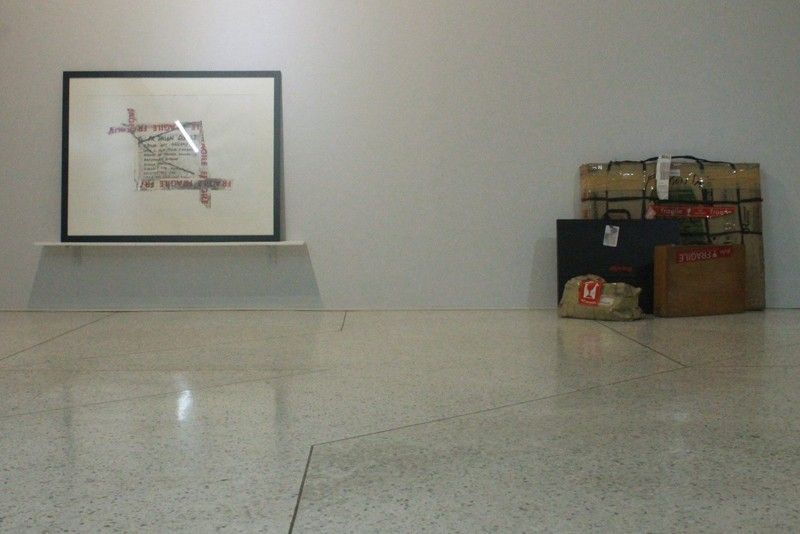 "Studio Studies" by Fr. Jason Dy, SJ.
Photos courtesy of Vargas Museum
Love letters to the unseen: Works by Fr. Jason Dy & Costantino Zicarelli at Vargas Museum
Poems from the Wind" by Costantino Zicarelli and "Studio Studies" by Fr. Jason Dy, SJ at Vargas Museum are delicate parallel love letters addressed to the operations that run the art museum.
Both Zicarelli and Dy reference, note, and gather detritus in their works. Dy's exhibition on the third floor galleries are an amalgamation of his own collected material including shipment labels, terrariums, and papers. Zicarelli's work, on the other hand, serve to glorify the dust that we sweep away.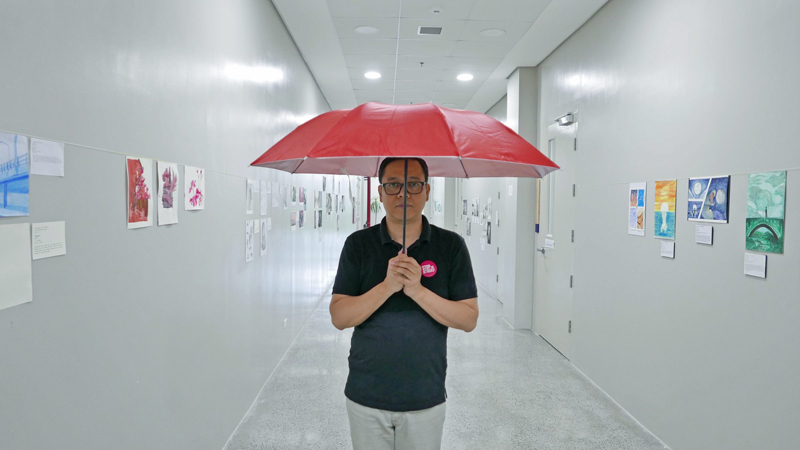 Fr. Jason Dy. Photo by Avee Navarro Tan
In "Poems from the Wind," Zicarelli investigates dust as a witness and a marker of time. Making use of found museum glass, Zicarelli glazes over the dust and the imprints that are left, somehow making permanent the ephemeral, leaving us with a snapshot of an unknown time. In another work, Zicarelli accumulates and encases dust found within the museum, in a strange inversion encouraging us to perceive dust as precious.
Dy's "Studio Studies" reflects on the function of an artist's studio and what happens when it is brought outside an intimate context and into a place as public as a museum. In his exhibition, Dy installs items found in his own studio, photographs of his workspaces, and video works of his pets, giving us a glimpse of his fixations and thoughts.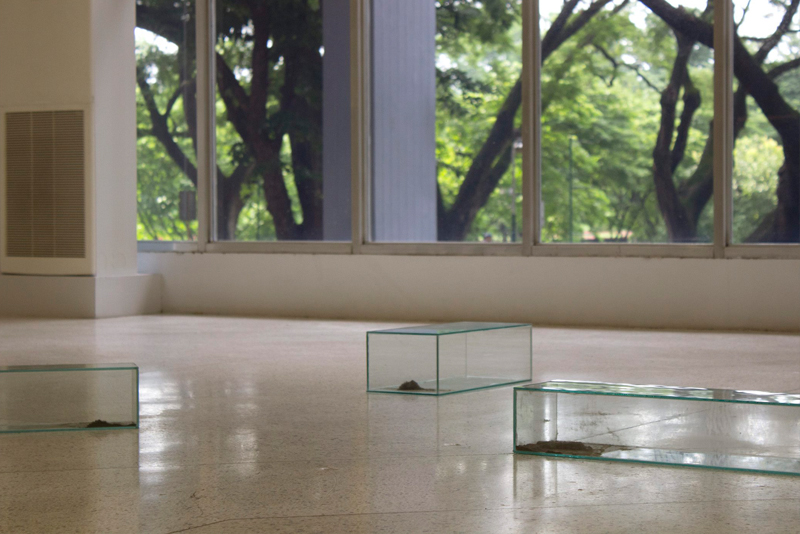 "Poems from the Wind" by Costantino Zicarelli
Alongside his personal items and photographs, Dy also exhibits the works of Cebuano artists, whom he had collaborated with through his participatory art project, Alternative Contemporary Art Studio. Through his work, Dy charts the artistic process of conceptualization to implementation from exhibiting blueprints and actual artworks, but also re-contextualizes these inner thoughts as displaced from their origins and into public venues with an entirely different architecture and atmosphere.
In both of their works, Zicarelli and Dy lead us into thinking about the context and physicality of the museum. Zicarelli's collected dust is a reminder of the nature of the building — that despite all our efforts to make it pristine, dust will still continue to gather. Zicarelli's work in "Poems from the Wind" both accepts and denies the fragility of objects, states, and time, showing us works that are thought of as easy to be blown away, yet have been secured, such as dust and cobwebs constructed from gold chain. In the same way, Dy's "Studio Studies" displays his own deteriorating paraphernalia found in his office and studio, showing us a glimpse of his day-to-day life as an artist, priest, and educator.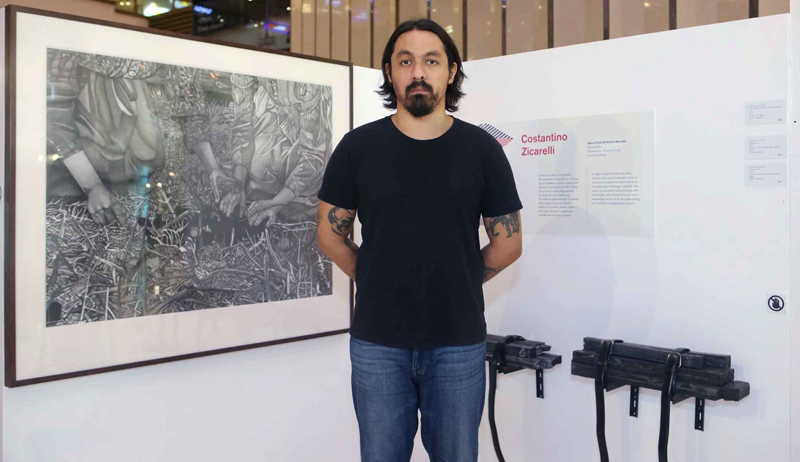 Costantino Zicarelli. Photo by Ernie Peñaredondo
It is interesting to see two exhibitions in conversation with each other, speaking towards similar ideas with very different approaches. Both Zicarelli and Dy's work in Vargas express two sides of the same coin of working with and within the arts: that much of it is ordinary and habitual, without the glamour we often make it out to have. While Dy fixates his work on the unseen labor of working in a studio, Zicarelli's work turns towards the quiet passing of time within an institution built to last.
The artists we follow are known by name, yet their intimate thoughts and studies are something we are not usually privileged to see. Similarly, the operations that go on to maintain exhibitions and archival work is often purposefully invisible to viewers. Both Dy and Zicarelli eloquently invert our expectations of what is viewed in a museum by putting on a pedestal the unpolished and stained, unearthing aspects of life we easily pass by and ignore.