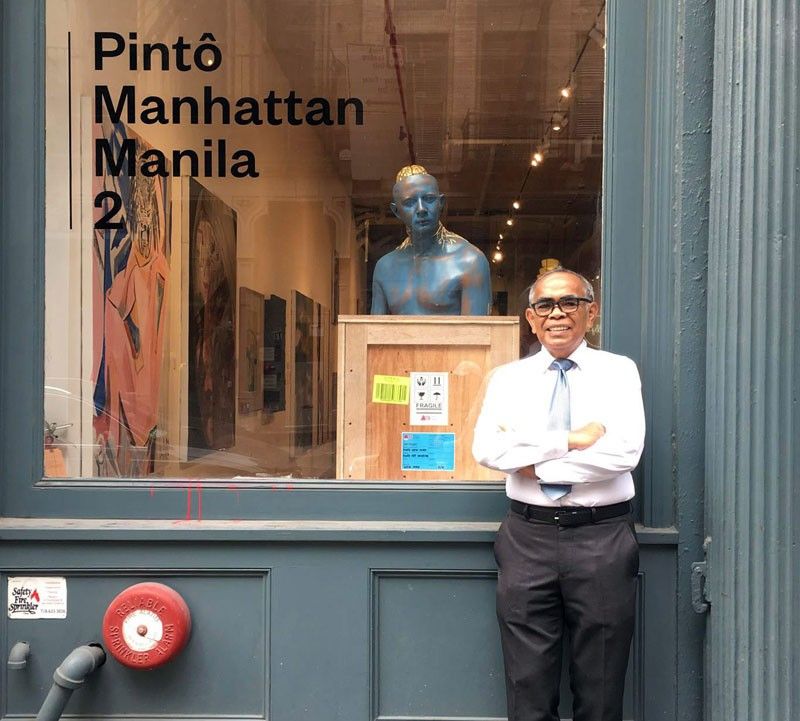 The (Renaissance) man who started it all: Dr. Joven Cuanang, president and director of Pintô International
'Pintô Manhattan Manila 2': A door that leads to artful alliances
A sprawling, two-level space located in a building with good bones along a gentrified block in Tribeca, New York became an epicenter of Philippine art with the second iteration of "Pintô Manhattan Manila." Formally opened on the night of Oct. 4, the exhibition drew a record number of attendees from the art world, philanthropy, government, business, and science and medicine, among other fields, during its almost two-week run, exposing them to the works of more than 40 Filipino artists.
Amid the atmosphere crackling with conversation, music, and dazzling energy during the opening night was Dr. Joven Cuanang who, in his gray suit and a crisp white shirt, anchored by a silver blue tie, welcomed guests, led by philanthropists and art patrons David and Susan Rockefeller, who "showed genuine appreciation of the high quality of the pieces."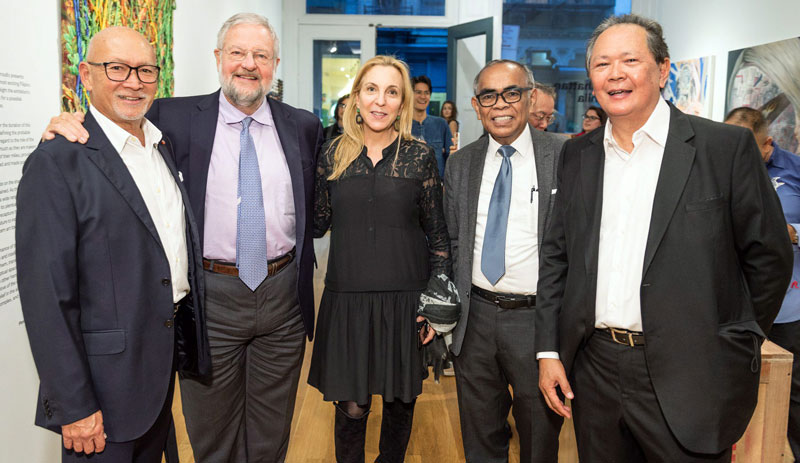 Ernest Escaler, guests of honor David and Susan Rockefeller, Dr. Cuanang, and Dr. Amado San Luis.
Gracing the event was the then Philippine Ambassador to the United Nations, Teodoro "Teddyboy" Locsin Jr., with wife Lourdes "Louie" Barcelon-Locsin, who interacted with other top-level diplomats. (Days later, Locsin would be appointed as the Secretary of Department of Foreign Affairs.) Officers of Asian Cultural Council (ACC) came in full force, with Ernest Escaler, the Philippine chairman, in attendance, together with some of the ACC trustees.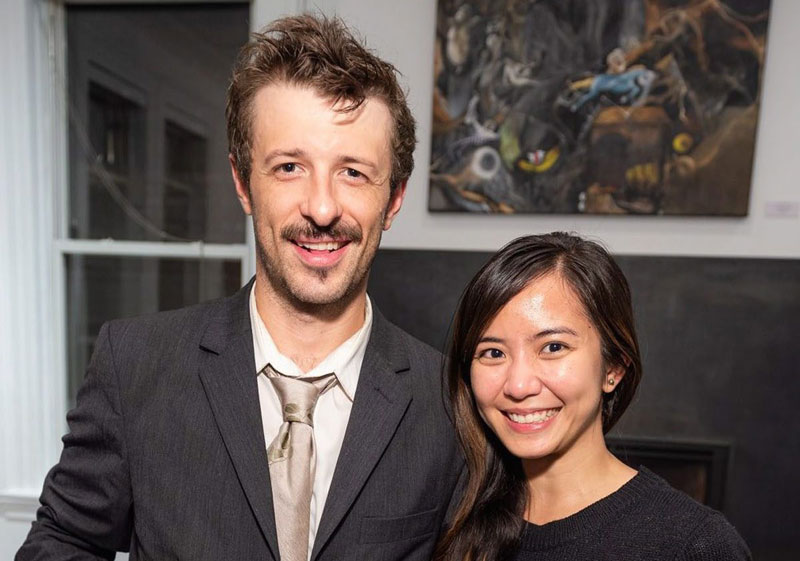 Guests Casey Cashman and Chen Aligno with Igan D'Bayan's painting
The New York crowd, mostly composed of "young intellectuals in the cusp of science and business in Manhattan" and regulars in the every-other-Wednesday salon at the Pintô Home Gallery presided over by Dr. Luca Parolari," co-director of Pintô International, were represented. Some of them would also be present in the closing event on Oct. 13, where Dr. Cuanang and Dr. Parolari gave an overview of what they hoped to achieve through Pintô's international presence.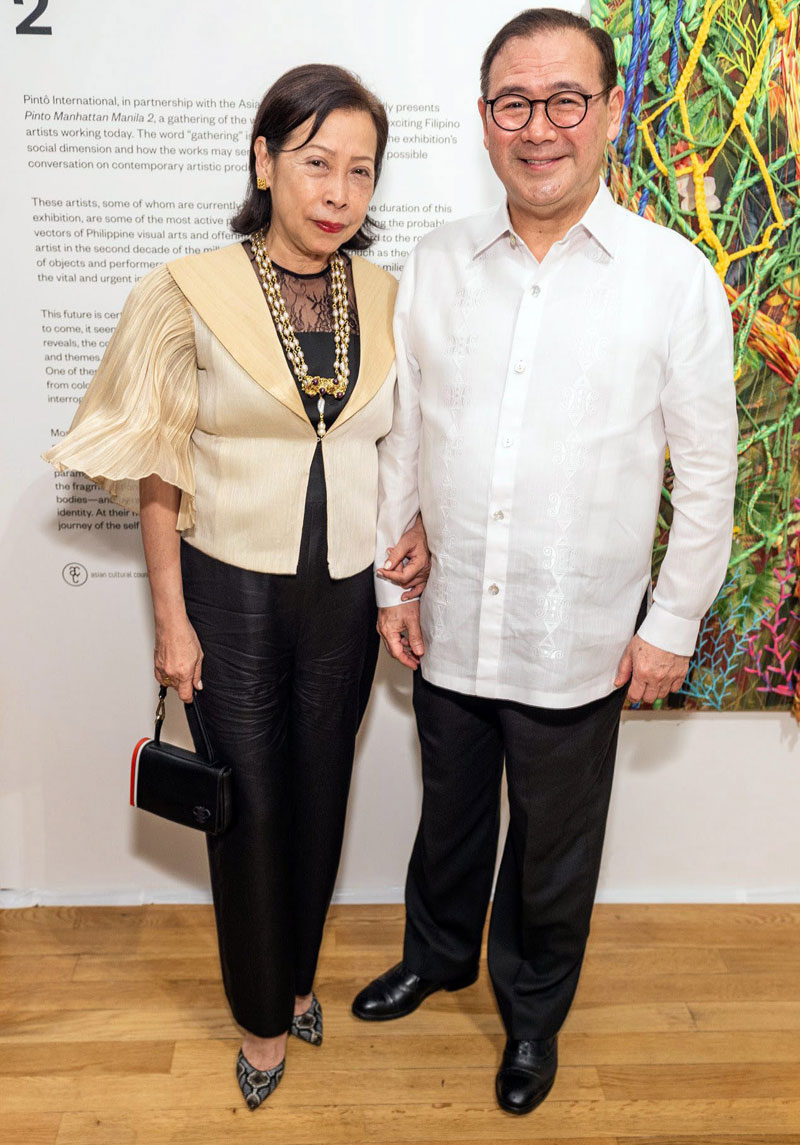 Former Philippine Ambassador to the United Nations and now Secretary of Foreign Affairs Tedoro Locsin with wife Lourdes Barcelon-Locsin.
And, of course, there were the artists who attended the show, getting a taste of the art scene of the Big Apple. Led by Antonio Leaño, who served as the exhibition curator, they were Eleanor Giron, Johanna Helmuth, Winner Jumalon, Ian Quirante, Cris Villanueva Jr., and Miles Villanueva. Representing Pintô Art Museum were Jenny Villanueva and Angelika Leaño.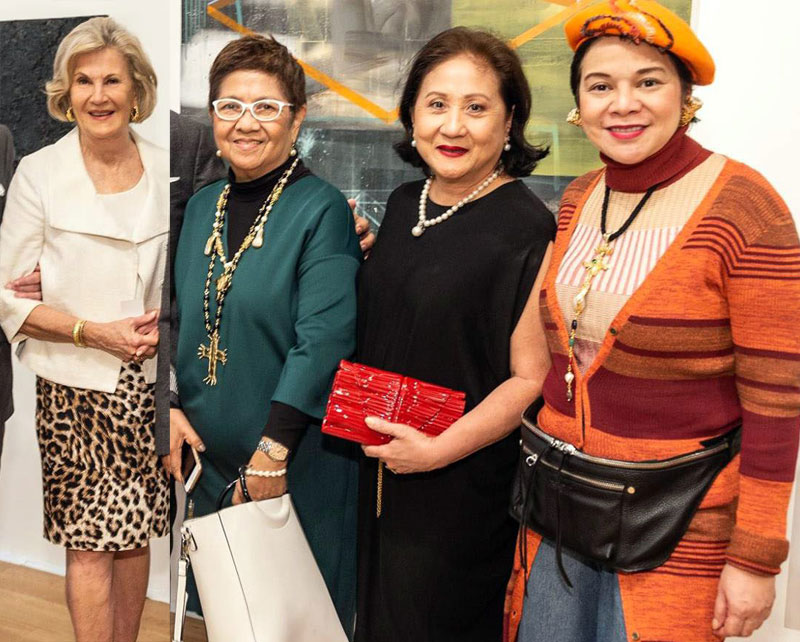 Judy Cormier-Wisner, PR executive Susan Joven, New York-based entrepreneur Joanne de Asis Benitez, and designer Ann Ong.
Aside from Tokyo and New York City, Pintô International is poised to bring its pop-up exhibitions in Europe next year, particularly in Milan, Italy and San Sebastian, Spain. The learnings that they have gained from the exhibition in New York — still the world's art center — would very much guide them in their other international forays as they continue to shine a spotlight on Filipino art and creativity.
"In my assessment, the Filipinos in New York were full of pride for our country," states Dr. Cuanang. "I feel what we are doing in Pintô, the 'door' to many possibilities for cultural upliftment, is slowly being realized…People connected because of humanities' shared affirmation of the power of art in spite of our diversities. It gives me a quiet joy that is immeasurable."