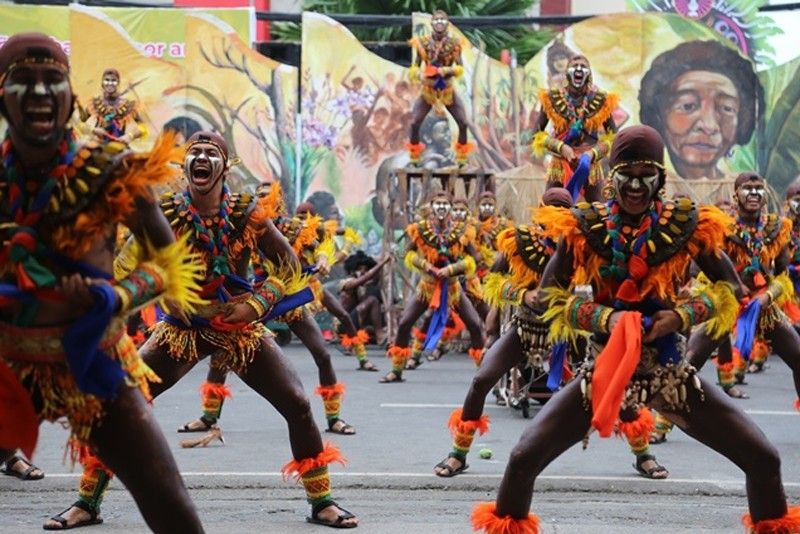 Iloilo's Dinagyang is one of the festivals featured in this year's Aliwan Fiesta, which is set to hit the streets of Manila from April 26 to 28.
Once in these festive islands
MANILA, Philippines — Long before organized religion came to Philippine shores, local folk indulged in nature worship, seeing themselves as guardians of the earth. Much like today's eco-warriors, they connected with the seasons, the planet, plants, and animals to ensure a balanced life for the community. Dance rituals for fertility and abundance, to call forth the wind and the rain, or to appease mother nature herself following some tragic occurrence or natural disaster, also became part and parcel of community life.
When the annual Aliwan Fiesta takes to the streets of Manila and Pasay anew on April 26 to 28, a diverse array of festivals will serve as a visual treat for both tourists and locals, audience and participant, in a grand convergence geared toward heightening a sense of kinship amid competitive regionalistic fervor. Seventeen contingents from various cities and municipalities all over the country will engage in a grand national showdown of festival champions in the streetdance competition. Quite a number of them will be marked by folkloric inspiration contemporized by theatrical nuances.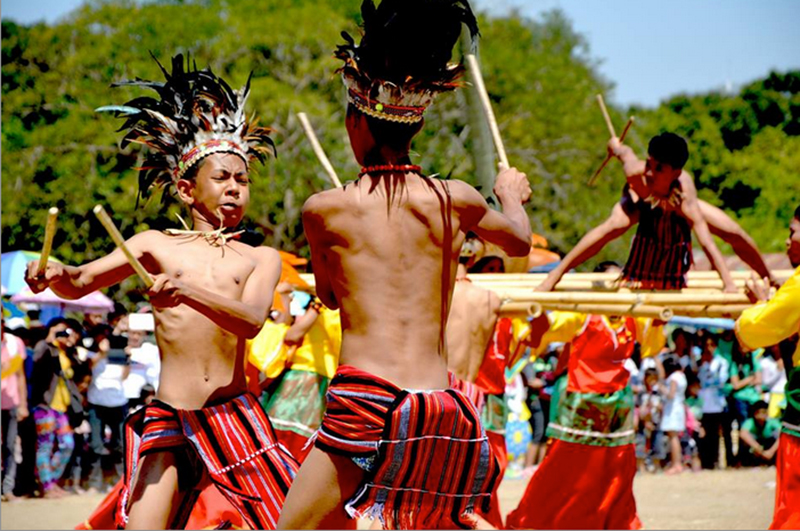 Abrenian
Kawayan
With Iloilo Dinagyang's Tribu Panayanon returning following a five-year hiatus since winning the Aliwan Fiesta championship in 2013, the rivalry among the country's top festivals will intensify. Confirmed entries from Luzon include the Baguio's Panagbenga, the Abrenian Kawayan festival of Bangued, Abra; the Pandan festival of Mapandan, Pangsinan; Bato Art festival of Luna, Isabela; Fiesta Republica of Malolos, Bulacan; Halamanan festival of Guiguinto, Bulacan; Bakood festival of Bacoor, Cavite; the Tagultol festival of Atimonan, Quezon; the Dumagat festival of Rodriguez, Rizal; the Niyogyugan festival of Quezon Province, and the Pangumagat festival of Balud, Masbate.
From the Visayas will come the Manggahan festival of Guimaras; the Binirayan festival of Caluya, Antique; the Kasadyaan festival of Leyte; and Iloilo Dinagyang. Finally, from Mindanao, there will be representatives of the Meguyaya festival of Upi, and the Inaul festival of Datu Piang, both from the province of Maguindanao.
Aliwan Fiesta 2018 kicks off on April 26 with the opening of the Shoppers Bazaar along Sotto Street featuring products from regional trade initiatives of the different participating towns. At 6 p.m., the Pasakalye concert and variety show featuring X-Battalion, Darren Espanto, Mocha Babes, the Go Girls, and Rocksteddy takes place at the outdoor stage in front of the Aliw Theater. And at 8 p.m., BBC World Service Radio mounts a live recording of their program "The Arts Hour on Tour in Manila" at the Star Theater, with special guests led by master rapper Abra, filmmaker Treb Monteras, comedian GB Labrador, spoken word specialists Louise Meets and Juan Miguel Severo, photographer Hannah Reyes Morales, visual artist Nikki Luna, and broadcast journalist Atom Araullo.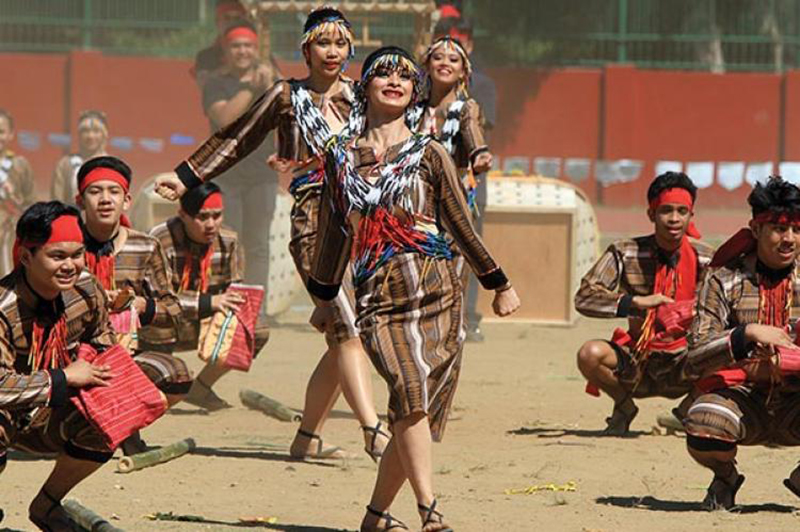 Saint Louis University's
Panagbenga
On April 27, the lovely ladies vying for the title of festival queen will have their pageant night at the Aliw Outdoor stage at 7 p.m, to be hosted by 101.1 Yes The Best's Raki Terra and DJ Nick of 96.3 Easy Rock, with special guests TJ Monterde and Ronnie Alonte.
On Saturday, April 28, the grand parade and streetdance showdown will commence at Quirino Grandstand at 3:30 p.m., making its way to the Aliw Theater at the CCP Complex, where the awarding ceremonies immediately follow. This will be hosted by Nicole Hyala and Chris Tsuper of 90.7 Love Radio, with special guest performances by Gloc 9 and Ebe Dancel.
* * *
For details about this year's participants and lineup of activities, email siouxstar@gmail.net, call 832-6125 and 555-3477, follow Aliwan Fiesta 2018's official Facebook page or visit www.aliwanfiesta.com.ph.