Justin Nuyda and Eduardo Castrillo at Rockwell's 'Focus on the Arts'
(The Philippine Star) - July 27, 2015 - 12:00am
MANILA, Philippines - Currently on view until July 30 at the Rockwell Power Plant Mall is "Focus on the Arts" featuring "Search Mindscapes," a collaborative exhibition featuring works by painter Justin Nuyda and sculptor Eduardo Castrillo.
A consummate amateur naturalist, Justin Nuyda combines his expansive knowledge of butterflies and nature with a visual art practice that is both geometrically logical yet organic. His canvases flow with dynamism and energy — a characteristic that suites the personal temperament of the artist himself. Eduardo Castrillo, on the other hand, is famous for his large and prolific monuments: particularly the People's Power Monument along EDSA. His decades-long artistic career has seen him become the face of Philippine sculpture, reaching numerous milestones throughout his career.
Both Nuyda and Castrillo are founding members of the renowned Saturday Group — along with the likes of National Artists Cesar Legaspi and Jose Joya. Friends since the '60s, this exhibit represents the first time the two have collaborated for an exhibition of new works of paintings and sculptures.
At the basement concourse until July 30 are nostalgic works of old Manila, Filipino pastimes, and family. Joining works by younger artists Richard Arimado, Jovan Benito, and Aljo Pingol is a special exhibition of original prints by National Artist BenCab and renowned Moderist Anita Magsaysay-Ho, who recently broke auction records for a painting sold at the Leon Gallery Auctions for P51 million.
At the South Court is a special exhibition of works by contemporary artists Aileen Lanuza and Mimi Salibio. Aileen Lanuza's career trajectory has seen a level of critical attention, her paintings have been included the auctions of Larasati and Borobudur, as well as featured in publications such as A Treasury of Philippine Nudes; Larasati, Pictures of Asia; and 100 Years, 100 Nudes by the UP Alumni Centennial celebration. Mimi Salibio, on the other hand has exhibited previously at Secret Fresh and Vinyl on Vinyl.
Power Plant Mall's "Focus on the Arts: Celebrating Filipino Art" done in partnership with Galerie Joaquin showcases the best in Philippine Modern and Contemporary Art.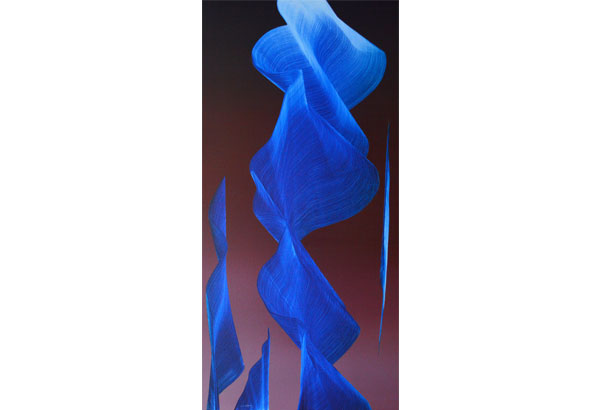 "Lightfall" by Justin Nuyda
For informaiton, call Galerie Joaquin at 723-9418 or email info@galeriejoaquin.com.