MTRCB goes to Davao and Bohol
A recent editorial in a reputable national broadsheet lauded the MTRCB for its continuing advocacy of children's rights and protection where it comes to entertainment by way of television and movies screened for public consumption.
Indeed, this has been one of the stalwart programs instituted by the board since chair Atty. Toto Villareal took over from former chair Grace Llamanzares Poe, now Senator of the Republic. It was Ma'am Grace who initiated the expansion of MTRCB activities well beyond the essential function of previewing all public entertainment materials for ratings and classification.
But under her successor's term, it has become an even more hyper-activist board, with all BMs or board members participating in various committees, from those involved in a more streamlined adjudication process to strengthening "best practices," as well as the conduct of various forums.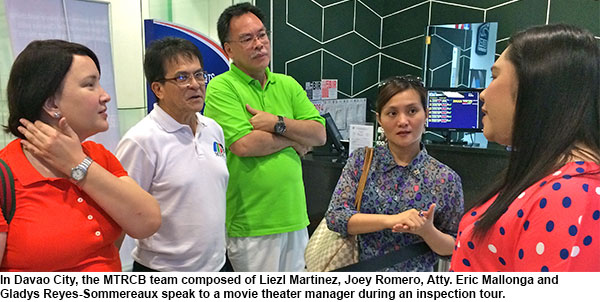 The well-received First Child Summit held last year will see a follow-up soon, with a Children's Film Festival set in October, and the 2nd Child Summit on Nov. 8, with BMs Ces Nubla and Pat Binungcal in the forefront at planning sessions.
Last month, the first forum on Senior Citizens' protection was spearheaded by committee co-chairs Marra PL Lanot and Mario Hernando, with actors Boots Anson-Rodrigo and Rustica Carpio, among the special guests who spoke during the activity.
Then too, soon the pilot episode of the TV program MTRCB Uncut will be launched on a Sunday evening on PTV-4, with hosts Jackie Aquino-Gavino and Bobby Andrews inviting the audience to partake of the meaty "infotainment" that will not only explain the board's functions and programs, but also dwell on topical issues related to public entertainment.
The lovely commedienne Gladys Reyes-Sommereaux will interview celebrities as well as the man-on-the-street to uncover degrees of awareness of the Board's fresh thrust that is "Matalinong Panonood para kay Juan at Juana." A light and ludic segment will feature the irrepressible Keats Musngi. The show is directed by filmmaker Joey Romero and scripted by Palanca Hall-of-Famer Manny Buising, with Chit Guerrero and yours truly helping out in the production in coordination with PTV-4 staff.
I can't recall ever being involved in so much committee work with any institution. But hey, can't complain, either, as every single activity only manifests the terrific camaraderie among BMs. We have become such a family, ever supportive of each one's engagements.
And nowhere is this more true than in the regional forums that seek to inculcate the board's advocacies outside Metro Manila. Last May, I signed up for the forums held in Masbate, where members of the newly formed Regional Coordinating Councils also took their oaths as our supportive arm in the regions.
The past two months, revolving MTRCB teams visited other southern cities to undertake more forums and workshop sessions in schools and universities, interviews at local radio stations, and inspection tours of cinema houses, bus depots and when possible, port ferry services. We make sure that DVDs shown onboard public transport units are also classified, again to protect young children onboard.
The team that went to Davao City in late June was composed of Liezl Martinez, Gladys Reyes Sommereaux, Joey Romero, Atty. Eric Mallonga and this writer. Guestings at local ABS-CBN and GMA TV stations as well as over radio were followed by a lively forum at the University of Mindanao, where over 500 students packed the auditorium to listen to each of us speak on designated topics, among these the Magna Carta for Women and protection of PWDs or Persons With Disabilities, senior citizens, and cultural and religious communities.
Atty. Eric kept everyone entertained with salient info peppered with wholesome humor, while also showing brief video clips in support of the points being made. More or less, the rest of us told the assembly that it's become un-PC to keep relying on the hoary jokes on, say, harelip articulation, or how the elderly are "amoy-lupa."
At the Ateneo de Davao University, the students couldn't contain their excitement when the oh-so-popular Gladys — known today to be a classic contravida in more than one TV series, when she's not all sunshiney in morning programs — asked for volunteer participation in a situation skit with extemporaneous dialogue and actions determining what sort of rating it should get if it were public fare on TV or movie screen. This part of the forum always brings the house down, followed by half an hour of group photo ops requested by studentry and faculty both.
When we inspected a mall's cinematheque, team leader Liezl had to speak with a theater manager regarding certain minor irregularities, such as incorrect signage (an announced "G" when it should have been "PG"); failure to display the permits so that ticket buyers could first read the advisories on particular films; and standees not following specifications or the color-coding system the Board has implemented for easy referral — pertaining to the levels of classification, such as G (no more GP for General Patronage), PG for Parental Guidance, R-13, R-16 and R-18.
For our efforts over two or three days out of town, we are usually rewarded with a day trip to an R&R destination. In Davao it was at the idyllic Pearl Farm Resort on Samal Island where we unwound for lunch and took dips in the sea (off a white-sand beach!) and one of several swimming pools. Getting back to town as the sun set, of course we had a shopping spree for durian yema, candies and ice cream at a popular outlet.
Just over a week ago, I joined another team for three days in Tagbilaran City. This time it was with fellow-BMs Jackie Aquino-Gavino, Cheche Camacho Conrado, Mario Hernando and Atty. Tony Veloso.
At the Holy Name University, we faced over 500 students in a "panoramic" lecture hall of steeply tiered seating, so that team leader Jackie quipped that it was like watching a tennis game whenever we had to establish eye contact with the audience, from left to right and back.
Loay Mayor Rosemarie Lim Imboy was most gracious in hosting us for snacks and dinner at her office in City Hall. In between, she also joined and introduced us before we spoke to some 600 high school students at a nearby gym. They were from the Holy Trinity Academy in Loay.
The lady Mayor also made sure that we'd be toured around in between our scheduled sessions, so that we managed to enjoy the Loboc River Cruise over lunch, followed by a road trip to the Chocolate Hills in Carmen, and on the way, the regular tourist pit stops at the tarsier viewing station near Loboc and the man-made forest in Bilar.
We inspected the Dao Bus Terminal and provided posters for DVD viewing, ditto Tagbilarion Tourist Port where we boarded Oceanjet 6 of the Ocean Fast Ferries (which was then disgorging hundreds of passengers from Cebu, most of them touring couples from South Korea and Taiwan), guested at radio station DYTR, and inspected the movie theaters at DQ Mall.
On our first two days, we lodged at a lovely place, Ocean Suites boutique hotel, spanking new, mid-rise on a hillock overlooking the bay, and right beside the tourist stop that is the sculptural tableau depicting the Sandugo or Blood Compact (although I understand that this was not exactly the correct historical site).
For our R&R extra day, we had a fab lunch at Bohol Bee Farm before checking out Dauis Church and the enticing Café Lawis with its souvenir shop and paved, tree-sheltered terrace by the sea.
Then we were fortunate to be so privileged with an invite from the young Ralph Miguel Lim, VP for Marketing of the highly touted Eskaya Beach Resort and Spa on Panglao Island.
Even more to our luck, our team of five was gifted an overnight stay at the Balai Datu or Presidential Villa, top of the line among 15 exclusive villas, most of them with their own infinity pools and jacuzzis. Ours had two splendidly appointed bedrooms, each with a capacious bath and toilet set in a mini-garden, with a large sala and dining room that led out to an extensive terrace cum viewdeck featuring the private pool and jacuzzi — all that overlooking the Bohol Sea a sloping green hill below.
A foot path amidst lush foliage led to a lower viewdeck just above a strip of white-sand beach at low tide. Farther to the east, one could espy the 600-meter-long main white-sand beach that lay below the almost equally spectacular Family Villa.
No time for the Handuraw Spa, but enough for dining at the elegant and excellent Lantawan Restaurant. Golf carts ferry guests all over this paradise for relaxation, meditation and spiritual enhancement — like, say, a bottle of Chilean cabernet sauvignon sipped while soaking in the jacuzzi or infinity pool, and later, a JW Double Black as the moon rose even if mostly obscured by rainclouds.
It wasn't all sunshine in Bohol, but I felt giddy over returning to a fave island I hadn't visited for nearly a decade. Memories of the motorcycle jaunts all over the island in the mid-'80s with poet Clovis Nazareno (since sadly departed) of Moto Sur, Loon came flooding back, even as Eskaya provided the ideal escape from Big City tedium.
Soothing water lends itself to infinity. Take it from me: Eskaya is an experience in near (and far) fantasy.
* * *
For a similar idyll, e-mail reservations@eskayaresort.com or inquiries@eskayaresort.com. Or visit www. eskayaresort.com.