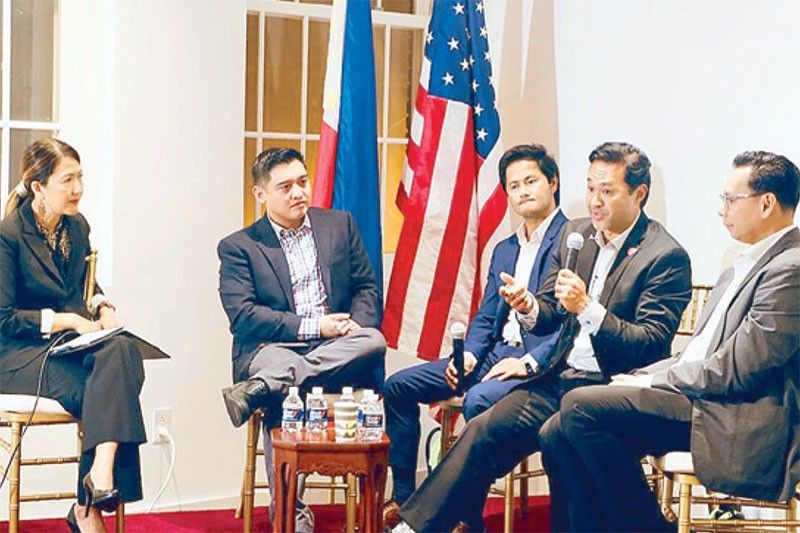 (From left) Moderator Marie Valmonte with panelists Ron Sayco, James Mata, Jebo Lopez and Amante Bustamante.
Big dreams from Fil-Am businessmen
Success is never final; failure is never fatal. It is the courage to continue that counts."
This popular saying attributed to Winston Churchill could very well describe the stories of four young Fil-American businessmen who were featured during an event organized by the Philippine Embassy in Washington, DC and the Philippine American Chamber of Commerce Metro DC (PACC-DC).
Dubbed "Fil-Am Men in Business: Dreaming Big," the event held at the Philippine Embassy Chancery Annex had Ron Sayco, James Mata, Amante Bustamante and Jebo Lopez sharing the lessons they have learned — and continue to learn — when they took on the challenge of starting their own business.
The discussions centered on the young entrepreneurs' individual journeys from the time they realized that they wanted to strike out on their own, assessing their strengths and focusing on what they are good at, what inspires them, how they grew the business and excelled in the industry they are currently in.
Ron Sayco, the CFO of cybersecurity solutions provider Merlin International, started his career in investment banking and moved on to several other companies that include a Paris-based defense and security company before starting on his own. Keeping a positive attitude and remaining calm during challenging situations are essential, he shared to the audience composed of the members of the Fil-Am community in the DMV (DC, Maryland and Virginia) area.
James Mata, the president and founder of Maryland Premier Exteriors and Ruuf Roofing (a home remodeling and restoration company) and co-owner of Sunset Ridge Assisted Living, underscored the impact of having faith in yourself, never forgetting where you came from and most importantly, looking at the needs of the clients.
The chief technology officer and part owner of Ashburn Consulting that specializes in providing network and network security solutions in complex environments, Amante Bustamante started out as an installer and customer support network engineer for a broadband services company. He reminded the audience having the right attitude and giving back to charity and to the community are essential to growth.
The CEO and founder of local courier Wheel Up and the dock-less electric scooters business Boltz Up, Jebo Lopez — who happens to be the son of my good friend, hotelier Arthur Lopez — stressed the importance of living life more, working on your passion and planning ahead. Wheelz Up was recently named one of the "Best Entrepreneurial Companies in America" in Entrepreneur magazine's Entrepreneur360TM list for being a well-rounded company that has "mastered a balance of impact, innovation growth leadership and value."
"Our mission is to be a relevant, meaningful and dynamic force in pursuing business development activities for the Filipino-American community," remarked PACC-DC president Cristina Sison, adding that they will continue to "change and challenge the way its members do business and help them find ways to contribute to their respective communities."
Serving as moderator for the panel discussion was KayaRoo COO Marie Valmonte, while lawyer Olma Inocentes of the OMLLI group served as host during the event. *