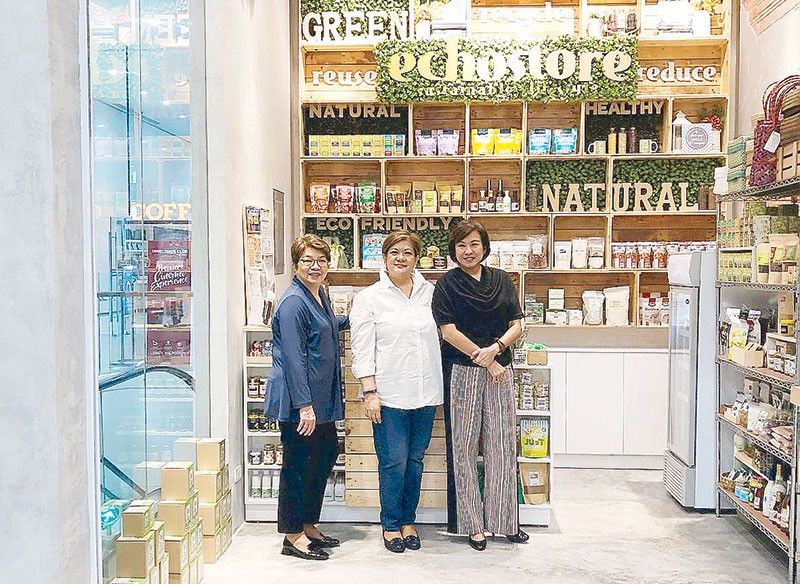 The ECHOtrio. Chit Juan, Reena Francisco and the author.
We said we would remain small when we opened our first ECHOstore doors at Serendra in Bonifacio Global City, Taguig all of 11 years ago. How fast time has gone!
When Chit Juan, Reena Francisco and myself collectively known as the ECHOtrio decided to come together in this crazy green journey, we didn't know then how defining this would be in our own lives as we steered it to living as sustainable as we could define the word. Time has gone so fast that it's so good today to see all that we continue to stand for, advocate, work and live by are already mainstream. When we launched the brand, we always said that we wanted everyone to echo all the things we were doing or: #ECHOeffect!
Our tag phrase "Sustainable Lifestyle" was to be achieved by supporting the environment by going green in a time when no one else was selling green products in a retail mall; and community by giving small producers hope (our customers' health through clean products); by bringing strengths of organizations together. These were the words of our acronym ECHO, the DNA of our green brand's battlecry then... 11 years ago.
I believe we silence many a naysayer saying that our social enterprise will not survive. That what we were doing was crazy. In the past 11 years, we lived out the DNA of this sustainable lifestyle by creating ECHOstores where products by small producers made its way to our shelves. Through the ECHOcafe, we served an unpretentious delicious menu that used ingredients from our shelves. In our ECHOmarket section, we sold fresh produce straight from the farms and always traceable to source. In our ECHOfarms, we till the soil to plant vegetables we sell. Each is a business concept by itself that revolved to support the other. We created new products, repackaged some from our community suppliers, too. But what has made ECHOstore unique as a social enterprise is the behind-the-scenes ECHOsi Foundation. (Again, here goes the meaning of our acronym: Empowering Communities with Hope and Opportunities through Sustainable Initiatives.) It is through this non-profit vehicle that we have forged partnerships both local and international. With our institutional, government and corporate partners, we collaborate to maximize the impact of this #ECHOeffect through development programs that help level up products to the market and green the supply chain of coffee, food, textiles that we collectively work on.
Eleven years after, we are nationwide in key cities, recognized in the ASEAN region and identified as one of the Top 50 women-led companies in APEC. Eleven years after, sustainable lifestyle and community-artisan-farmer support are buzzwords in mainstream market and media. Eleven years after, ECHOstore remains "small" in our continuous effort to live healthy and do business still guided by those same principles.
Today, as effects of climate change are seen in our wild weather patterns, in unhealthy products that continue to bring disease, obesity and illnesses; in our toxic production practices and over-consumptive behaviors in the fast food and fast-fashion textile industries, plus our world's overdrive through technology driven lifestyles... now more than ever, we know our #ECHOeffect is needed.
Eleven years ago, academe and aid groups were studying us trying to understand our business format and calling us a social enterprise. The ECHOtrio kept studying ourselves through every business decision we made, every new direction we pivoted to. As a social enterprise then, we grew as we bridged small producers to market, built a conscious green consumer base, and created new products traceable to its source. We moved with a changing market understanding provincial needs and international trends, even as new green players and brands moved into the green market space we helped start.
In a recent discussion with a friend who asked how our business was doing, I managed to redefine ECHOstore, with the strength of its foundation's development work behind it. We have morphed beyond a social enterprise, always an inclusive business, and now, behind that brand is the #ECHOeffect of so many other people and communities coming together as social innovators through the advocacies we collectively support: sustainability, green living, slow food, slow fashion, gender inclusiveness, inclusive business, several UN Sustainable Development Goals — all aimed at constantly looking to meet social and environmental needs in better ways than existing solutions.
I like this definition of the Leeds Forum on Social Innovations: "The key distinction is that social innovation deals with improving the welfare of individuals and community through employment, consumption or participation, its expressed purpose being therefore to provide solutions for individual and community problems. It seems therefore that social innovation and local development can be considered as intertwined."
With Mother Earth in crisis, we are out to strengthen the #ECHOeffect even more.
Yes, ECHOstore will continue to be around in the next several decades. Because sustainability is not a trend, it is now an utmost necessity. *