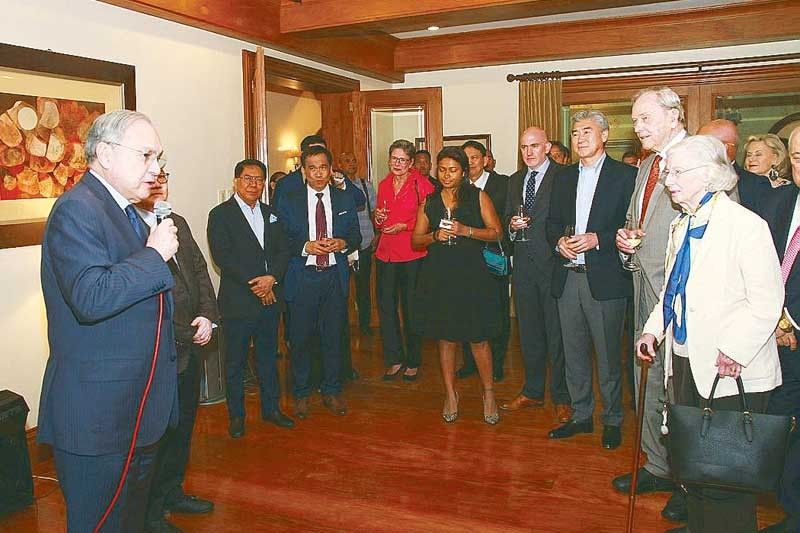 Welcoming the US-Philippines Society executive board to Manila.
Promoting new opportunities with US-Philippines Society
The executive board of the US-Philippines Society (USPS) was in Manila recently for its annual board of directors meeting, with the high-level delegation led by Ambassador John Negroponte who is the society's co-chair with Manny V. Pangilinan.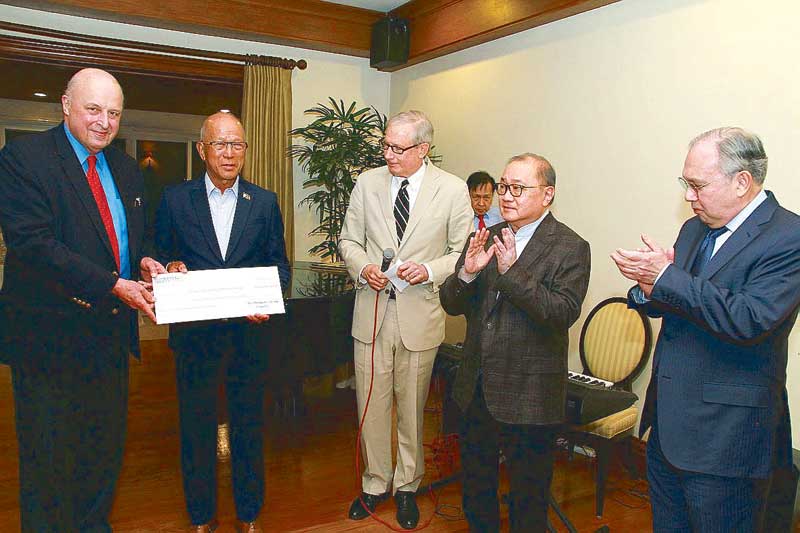 With Defense Secretary Delfin Lorenzana (second, from left) as he receives a check donation from USPS co-chairmen John Negroponte (extreme left) and Manny V. Pangilinan (fourth from left) with executive director Hank Hendrickson (center).
The three-day program also brought together private sector leaders who were committed to deepen ties between the Philippines and the US, explore new opportunities for business, and reinforce support for new trade and investment ties through a bilateral Free Trade Agreement that would redound to the benefit of both nations and its people by enhancing commercial ties and fostering job creation, among others.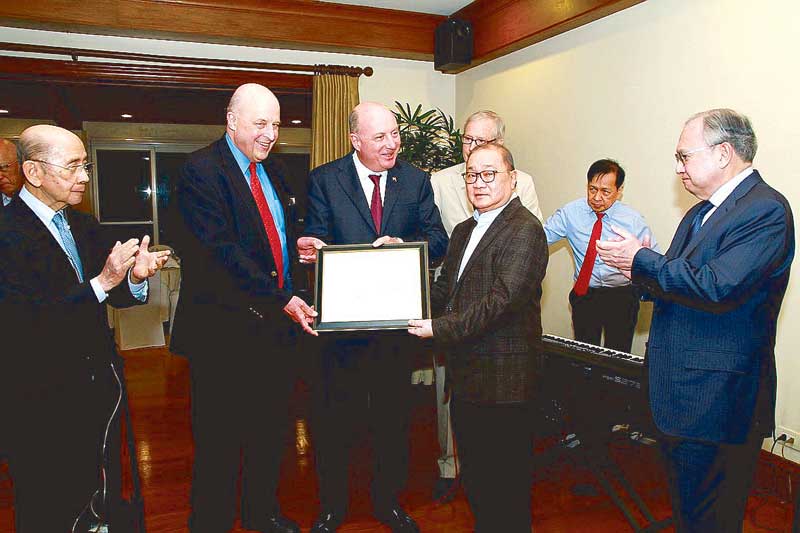 Consul Henry Howard (center) receives the Carlos P. Romulo Award from John Negroponte and MVP, while former Ambassador Bobby Romulo (extreme left) looks on.
The welcome reception that I hosted for the USPS delegation was graced by US Ambassador Sung Kim, USPS president Ambassador John Maisto, executive director Hank Hendrickson and former US Ambassadors to the Philippines Frank Wisner, Richard Murphy and Tom Hubbard. They were seen engaging with Cabinet members including Executive Secretary Bingbong Medialdea, Finance Secretary Sonny Dominguez, Defense Secretary Delfin Lorenzana and Foreign Affairs Undersecretary Enrique Manalo.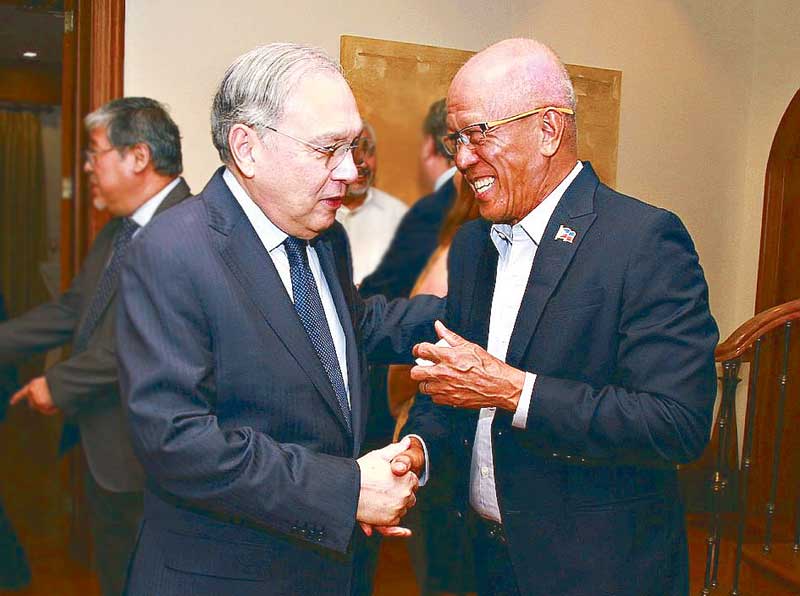 With Secretary Lorenzana.
We were also joined by Philippine Airlines president Jimmy Bautista, LT Group president Michael Tan and USPS directors that include ICTSI chairman Ricky Razon, Century Properties chairman Joey Antonio, Philippine Transmarine Carriers CEO Gerry Borromeo and Alpha Technologies vice president Paul Shmotolokha, among others.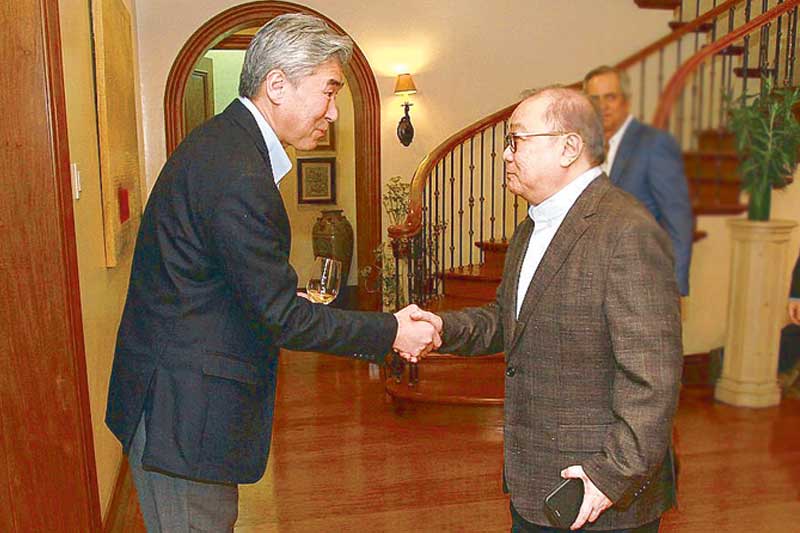 Ambassador Sung Kim and MVP.
The reception was also an opportunity to thank the US-Philippines Society for the support it has been giving me in my work as Philippine Ambassador to the US. The USPS has been very instrumental in the return of the Balangiga bells to Samar — a milestone event that further cements the deep ties between the US and the Philippines.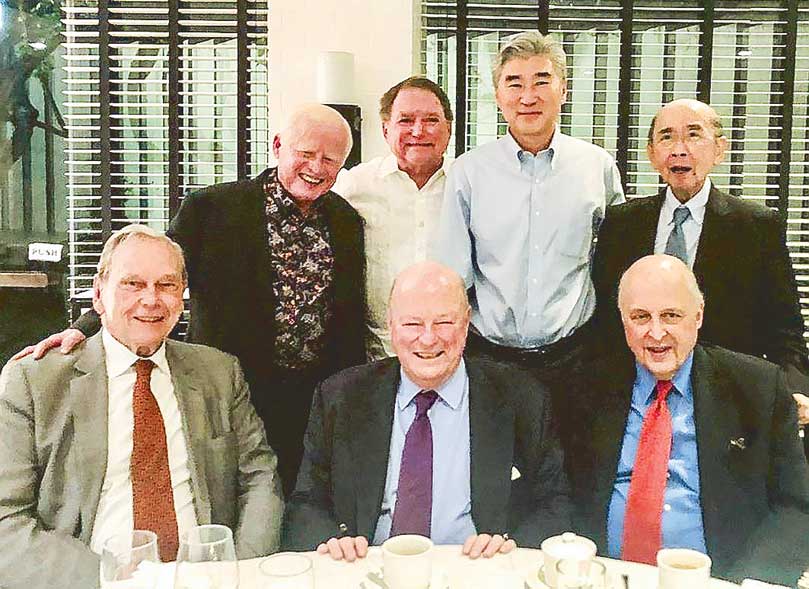 (Seated) Former US Ambassadors to the Philippines Richard Murphy, Frank Wisner and John Negroponte; (standing, from left) former Philippine Ambassador to the US Joey Cuisia, Ambassador Tom Hubbard, US Ambassador Sung Kim and Ambassador Bobby Romulo.
Businessman Henry Howard, who is also the Philippine honorary consul in Florida, was totally surprised to receive the Carlos P. Romulo Award in recognition of his invaluable support and leadership in bringing the Balangiga bells home to the Philippines, his generosity in providing scholarships to students in Mindanao — all of which go a long way in fostering stronger relations between the two nations and the people.
A check was also presented to Secretary Lorenzana, with a modest amount raised by a Filipino-American group in Memphis, Tennessee as a show of sincere support for the families of Filipino soldiers who are working to restore peace in Mindanao.