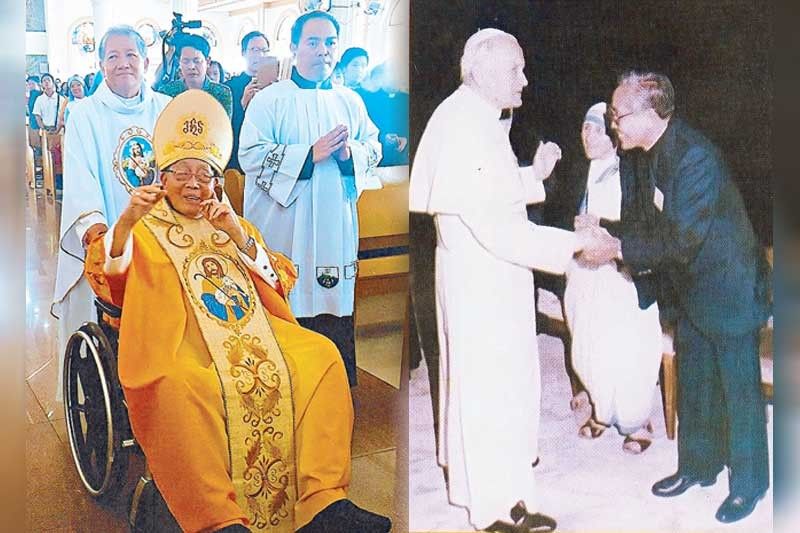 (Left) Bishop Jesus Varela (seated) with Fr. Gerard Deveza and Fr. RJ Piñero. (Right) With two saints: Teresa of Calcutta and John Paul II.
A tribute to beloved Bishop Jesus Varela
Bishop Jesus Varela was born just seven days from Christmas on Dec. 18, 1927. The proximity of his birth to that of the birth of Jesus inspired his parents Judge Vicente Varela of Negros Occidental and Maria Ybiernas of Iloilo to decide on the name "Jesus" for their son. Bishop Jes, as he was fondly called, was the third in a brood of nine children.
I was extremely impressed with his family when I learned that four Varela siblings answered the call to religious life. Imagine having two priests and two nuns in one family! Aside from Bishop Jes, there is his eldest brother Mariano, a Jesuit in Ateneo de Manila, plus two female siblings, Consuelo and Catalina, who are Missionary Sisters of the Immaculate Heart of Mary.
I had the privilege of meeting Bishop Varela in Sorsogon where he was assigned and eventually retired. He was introduced to me by Father Gerard Deveza whom he loved and treated as his own spiritual son. I was immediately charmed by his wit, humor, his well-groomed appearance and genteel ways. Bishop Jes' salt-and-pepper hair was well-cut, neatly combed and he always smelled so good. So endearing to me was the way he liked to sing his graces before and after meals in the refectory with all the Sister Servants of the Divine Healer to the tune of Edelweiss from the famous movie The Sound of Music. All the students of the nearby Divine Healer Academy of Sorsogon would gravitate to greet him each time he walked by under the full-grown pili trees he himself planted in the retreat compound. They lovingly called him "Lolo Bishop."
Sadly, Bishop Jes died quietly early morning of Feb. 23 at the age of 90. He was laid to rest in the Cathedral of Sorsogon, in the province where he served as Bishop for 22 years, leaving a legacy that is so rich and so beautiful.
He was the good shepherd with a vision, a sense of direction, a strong conviction and an organization, who exercised his leadership with compassion, understanding, patience and love. He is remembered as a faithful friend and father. Above all, he was a very forgiving bishop.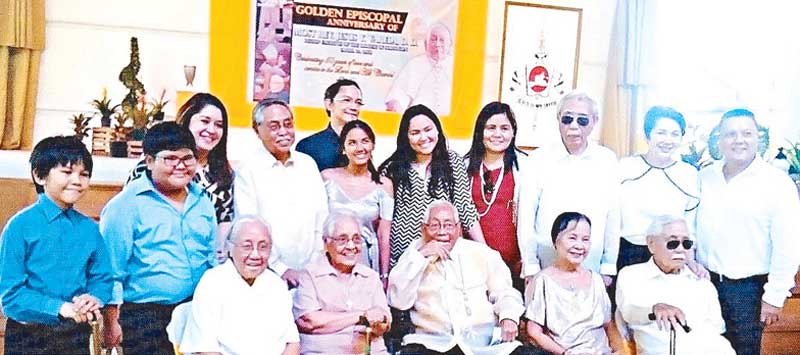 (Seated, from left) Sr. Catalina Varela, ICM, Sr. Consuelo Varela, ICM, Bishop Jes and Luz and Frank Varela; (standing, from left) Josh Demorito, Rafa Varela, Rowena Varela, Dr. Pablo Varela, Sam Varela, Jenil and Jade Demorito, Joanna Demorito and Pedro Varela with Tabee and Bobby Varela.
His vocation story comes with a multitude of highlights. Here are a few of them.
First of all was the day Julio R. Rosales, Archbishop of Cebu, not yet then a cardinal, conferred on him the sacred order of the priesthood on March 17, 1956 at the Metropolitan Cathedral of Cebu.
In 1958 he was dispatched to Rome as a scholar of the Archdiocese of Caceres. In 1961, he was conferred the degree of Doctorate of Sacred Theology at the University of the Angelicum in Rome.
He taught at the Minor seminary, the Ateneo de Naga and the Colegio de Sta. Isabel in 1962 till 1966, forming the minds and hearts of countless students.
From Caceres, he was cajoled into the episcopate and assigned as auxiliary bishop of Zamboanga in 1967 to 1971.
Bishop Jes was transferred to Ozamiz as its first residential bishop and remained there for 10 1/2 years.
Most memorable to him was when Ozamiz City became the host for tens of thousands of refugees fleeing from the bloody war between the Barracudas and the IIagas in 1971. When Ozamiz was chosen as the venue of the second Mindanao-Sulu Pastoral Conference (MSPC) despite the devastation caused by a fire that razed 90 percent of the city's commercial district, he rose to meet the challenge.
When Ozamiz became the hub of ecclesiastical aggrupation known as DOPIM (Dipolog, Ozamiz, Pagadian, Iligan and Marawi), his first significant project was the establishment of a regional Theological Seminary.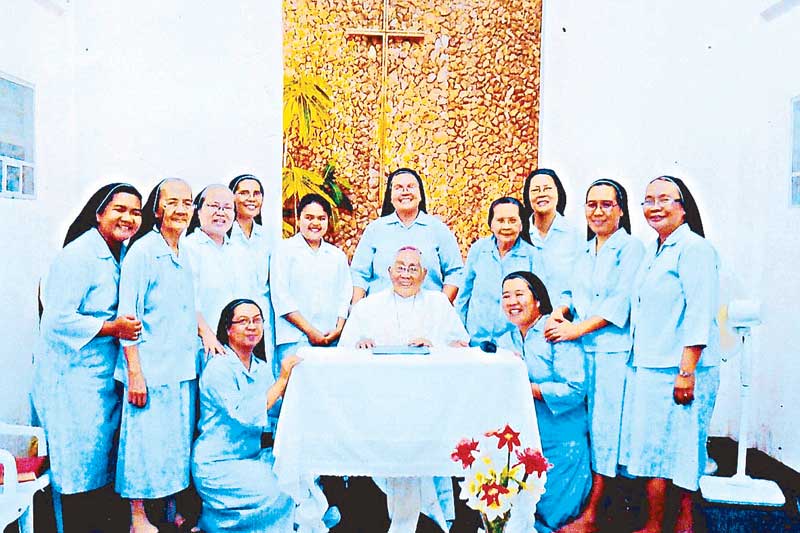 Bishop Jes with (from left) Sisters Joy, Michelle, Rose, Ning, Del, Carmela, Odel, Rosa, Mayolene, Fidelis, Ellen and Myrna.
In the pursuit of more effective evangelization, he set up a radio station in 1973.
When he was elected to the chairmanship of the CBCP Episcopal Commission on Family Life in 1981, he held on to the position for a good strong 18 years until retirement.
In filial obedience to the Holy Father, Bishop Jes accepted the transfer to Sorsogon at the height of a crisis in 1981. He bravely embarked on a mission of healing aimed to heal the wounds of the diocese.
With the collaboration of dedicated young women in Sorsogon, he formed Sister Servants of the Divine Healer in 1984.
In the aftermath of the very destructive typhoon Sisang in 1987, where hundreds perished and millions of crops were destroyed, the radio station he built in Sorsogon proved its worth by attracting millions in aid for relief and rehabilitation. He opened the cathedral to house hundreds of families until they were able to rebuild their devastated homes.
He built the El Retiro complex in Cabid-an, Sorsogon to provide a venue for spiritual retreats and a home to welcome priests seeking a haven for rest and recuperation in 1989.
He intervened for the release of military personnel captured by NPAs and was overjoyed when two officers Maj. Roberto Bernal and Maj. Noel Buan were released safe and sound. He was also instrumental in the release of other captives by appealing over the radio.
And the list of his valiant deeds goes on and on…
Bishop Jes was a passionate man of the church and of God, whose life was centered on the Eucharist. This was the source of his life's ministry, the center from which he drew strength and comfort. His family finds deep consolation in believing that Bishop Jes is now enjoying the holy banquet, singing his graces in heaven, together with the saints and angels rejoicing before the face of God.
* * *
(Would love to hear from you at miladayjewels@yahoo.com.)