Stray Kids bring their cool, youthful K-pop vibe
January 24, 2023 | 12:00am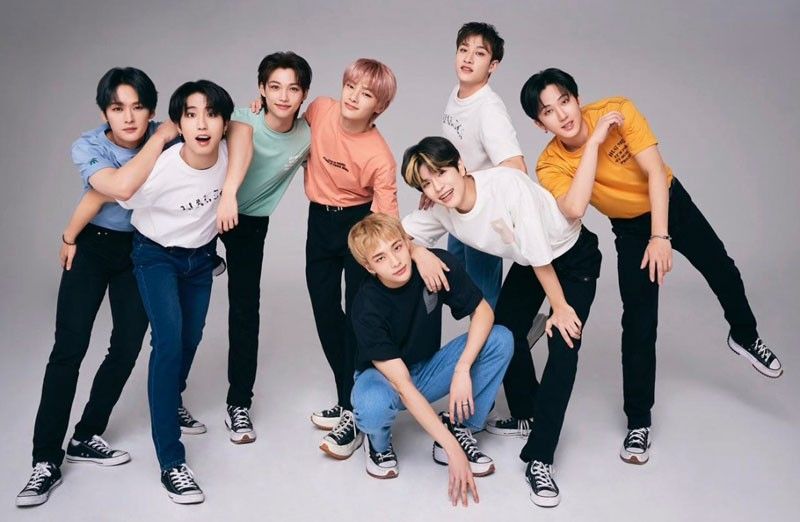 The eight good-looking members of K-pop boy group Stray Kids came out all in cool blue and white outfits, identical yet individualistic, as they were presented as the new global ambassadors of Bench. Composed of Bang Chan, Lee Know, Changbin, Hyunjin, Han, Felix, Seungmin, and I.N., the Stray Kids are popular for their dynamic musical style and adrenaline-charged performances. They are known to push the boundaries of K-pop.
The fourth-gen K-pop group debuted in 2017 and has already had notable achievements. "Go Live," their first studio album released in 2020, was certified platinum. This was followed by "Noeasy" in 2021, which sold a million copies.
Last year, Stray Kids released EPs "Oddinary" and "Maxident," which made it to the US Billboard 200. "Oddinary" made them the third Korean group, together with BTS and SuperM, to top the chart. They plan to release two albums this year, and the Stays (their fandom name) and music lovers are looking forward to their songs.
Aside from their music (which is fire, by the way), their style was at the forefront at the Bench press con. The members were chatty and recalled when they last visited the country. Bang Chan, who happens to be their leader, said, "The first time we were here was when we held our Unveiled Tour in Manila. What I remember most distinctively is the Stays' screams, which pierced through the in-ears (earpiece monitors used in concerts). We could just hear their loud screams. The energy was crazy. I just think it's really nice to be able to reach out to Stays in the Philippines and globally. Thank you guys for having us with you."
Felix remembers their time in the Philippines warmly: "The way the people treat one another with respect. I feel that represents the Philippines, and makes this country beautiful."
As for being the face of Bench, Hyunjin, who himself has a perfect face, felt honored. "First of all, I am really glad to be part of the 'global Benchsetters' and I hope in the coming days, in the future, we will be able to make more memories."
The other members echoed this sentiment, adding that the clothes are great for wearing every day. Though all of them wore denim and white pieces at the press con, they all brought their own flavor to their outfits. They added that Bench made them "shine."
I.N., who is known to be one of the most fashionable in the group, commented that "each and every member has their own distinct style when it comes to fashion. Everyone here is interested in fashion. But If I were to be honest, among all the other members, I have the most pieces in my closet."
The same day, they were scheduled to have a fan meet and were quite excited. "Being able to receive overflowing love from our fans allows us to live our everyday lives happily. To think many people are giving us so much interest makes us realize our responsibility as artists to reach the expectations of our fans."
When asked what they want to do and try in the Philippines, Felix simply said he wants to eat adobo. He grew up in Australia and had Filipino friends who recommended that he try the well-loved dish.
Answering the question as to what sets the Stray Kids apart from other K-pop boy groups, they said that they have a distinct and irreplaceable color, which makes them different. It's true that they aren't the typical K-pop boy group. Check out their music videos. They have a bit of an edgier vibe and go hard on the choreo. I guess it is this distinctiveness that makes them dominate the global charts and be recognized together with the world's top artists.
Seungmin responds to this humbly: "Up to this day, it is really unbelievable that we gained such accomplishments, and it is a great gift that Stays have given us. It is an honor and we are very happy. We will continue to do our best."
In a one-on-one (well, it was eight of them and one of me!) conversation, I got to ask them a couple of questions.
THE PHILIPPINE STAR: Describe your style and how does Bench fit your individual dressing preference?
Bang Chan: Regarding clothes, rather than boxy/oversized clothes, I enjoy fitted clothes because they clearly show the body's structure. I enjoy Bench clothing because just wearing a simple denim jacket makes my shoulders look broader. Bench provides fits that are very likeable.
What positive message do you want to tell your fans?
Hyunjin: It's January of 2023, the start of the year, and we have so much to do. From now on, I hope everyone has a great start to the year. I hope everyone can stay healthy and achieve the goals that they wish for this year.
What were each of your new year's resolutions?
I.N.: It's a straightforward resolution. I want to start writing a diary/journal this year.
Felix: My goal is to drink coffee.
Bang Chan: I have never gotten into coffee/enjoyed coffee, so this year, I will not get into coffee.
Lee Know: I want to cleanse and keep clean my internal organs.
Han: I want to continue working out till December.
Seungmin: I hope to maintain the happiness that we have as a group.
Hyunjin: I just want that nobody would get hurt and I hope we continuously live happily together as a group.
Changbin: I want to maintain and get better body health and muscular health.