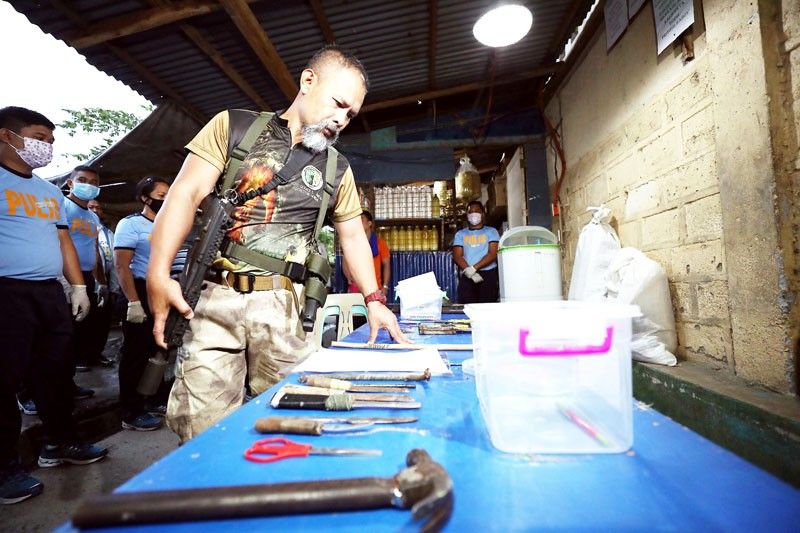 Composite photo shows Bureau of Corrections Director General Gerald Bantag, who met with Department of Justice officials yesterday to explain the reported COVID deaths of high-value inmates at the New Bilibid Prison.
Miguel de Guzman
Senate eyes probe on Bilibid deaths
Jaybee, 8 other drug dealers died of COVID – BuCor chief
MANILA, Philippines — The Senate wants to determine if high-value convicts linked to drug trafficking from behind bars are more susceptible to the coronavirus disease 2019 (COVID-19) following the deaths of several inmates at the New Bilibid Prison (NBP).
Senate President Vicente Sotto III pushed for the investigation as he filed a resolution yesterday seeking an inquiry into the deaths of 21 inmates due to the coronavirus plus 24 others suspected to be COVID cases amid rumors of body-switching and failure of NBP officials to follow protocols in cremating bodies.
"Due to unclear, inaccurate and unverified reports, speculations are now being made as to whether or not these NBP inmates actually died due to COVID-19," Sotto said in his Resolution 468.
He cited reports that no autopsies were conducted on the bodies, and these were cremated without being removed from body bags.
Sotto also cited a report from a police official who theorized that the Bureau of Corrections (BuCor) could have simply declared the death of a high-value inmate and had the body of another inmate cremated.
The Department of Justice (DOJ) yesterday confirmed that high-value convict Jaybee Niño Sebastian, who testified against Sen. Leila de Lima in her alleged involvement in the illegal drug trade in the NBP, had died of COVID-19.
DOJ Undersecretary Markk Perete said that during a two-hour meeting of Justice Secretary Menardo Guevarra with BuCor director general Gerald Bantag, it was disclosed that the 40-year-old Sebastian died of the severe respiratory disease on July 17.
"As to Jaybee Sebastian, yes, BuCor has confirmed that he was cremated," Perete said.
However, as to the eight other rumored high-profile inmates or persons deprived of liberty (PDLs), who reportedly also died of the virus, Perete did not reveal their identities since the agency is still waiting for documents to confirm their deaths.
Sen. Panfilo Lacson said he was not keen on a Senate probe of the deaths "unless there is very compelling reason to suspect any foul play, which right now there is none."
"Personally, I'd rather focus on more pressing matters than be distracted by the death, or deaths of drug convict/s who had shown no remorse at all by continuing their drug operations even in the confines of the high-security facility of the NBP, right under the noses of prison officials, corrupting those who have no moral fortitude to resist even drug money," Lacson said.
Sen. Ronald dela Rosa, whose committee on public order may conduct the probe, said he still does not see any basis for an investigation.
"COVID-19 does not distinguish who to infect, even the British Prime Minister (Boris Johnson) was hit," Dela Rosa said.
De Lima, whose detention on drug charges was based, among others, on testimonies of NBP inmates, said her lawyers are "still assessing the effect of Sebastian's death on the cases against me, considering that he is or was the Duterte regime's supposed 'star' witness."
"However, all testimonies coming from the inmates and some other so-called witnesses are all fabrications anyway," De Lima said in a statement.
"One less fabrication might be good in my case, but let us not forget all the other testimony fabrications. Whether the fabricator is dead or alive does not change the fact that their stories are all lies, and that the cases against me are all fake," she said.
Died of COVID
Sebastian died at 10:15 a.m. on Friday at the NBP Hospital, according to information from the death certificate obtained by members of the media, and was cremated at the Panteon de Dasmariñas public cemetery in Dasmariñas City, Cavite past 9 p.m. on Saturday.
Acute myocardial infarction or heart attack related to COVID-19 caused his death, the report said.
Convicted of kidnapping and carjacking in 2009, Sebastian became notorious for allegedly running a massive drug ring inside the NBP and for having a lavish lifestyle inside the national penitentiary, with a swimming pool built in his kubol (hut).
He later testified that De Lima collected P70 million worth of drug money for her campaign, with three drug-related cases now filed against her.
Up to DOJ
Malacañang is leaving it to the justice secretary to look into the death of Sebastian.
"Well, the investigation of the secretary of justice has started. The Palace is leaving it to Secretary Meynard Guevarra to do the investigation," presidential spokesman Harry Roque said at a press briefing yesterday.
Asked whether the Palace is worried by the deaths of Bilibid inmates, Roque replied: "Well, that's why Sec. Meynard is investigating. I'm sure if there is a suspected foul play, Secretary Meynard would conduct a full blown investigation."
"The BuCor has undertaken to provide documents, including the death certificates of the other eight. Until such documents are presented, it may be premature to confirm their deaths, much less the cause thereof," said Perete.
He said once proofs of their deaths have been presented, the DOJ will disclose their names "provided it is within the bounds of the Data Privacy Act."
Bantag said because of the Data Privacy Act, "even if we want to say something, even about Jaybee, there is a prohibition. That is the law."
Data privacy not hindrance
But the National Privacy Commission (NPC) said that it does not see the Data Privacy Act of 2012 as a hindrance to the release of information on the death of Sebastian.
In a statement, privacy commissioner Raymund Liboro said the NPC will not stop, but even encourage the NBP to release information on the matter and satisfy the public's right to know.
"The Data Privacy Act is not a cloak for denying the public's right to know," Liboro said in the statement.
"High-profile inmates like JB Sebastian had become public figures on account of their previous association with particular national issues in the past," he added.
"There is a justified public interest to release information like details surrounding the deaths from COVID-19 of these high-profile inmates, especially when the personal information being sought is linked to issues already on the minds of the public," Liboro said.
Probe deaths
Guevarra is set to issue a department order instructing the National Bureau of Investigation (NBI) to investigate the death of the nine high-value PDLs to dispel doubt about their deaths.
During their meeting, Bantag informed Guevarra that there are already 21 PDLS who died because of COVID-19 since March. At present, there are five PDLs in isolation at Site Harry.
But he assured the DOJ chief that the health situation of inmates in the BuCor is under control and that protocols, in case of death of a PDL, are being followed, including mandatory cremation of the cadaver within 12 hours to prevent the spread of the virus.
BuCor health service director Dr. Henry Fabro said they follow protocols when dealing with the dead.
"We have to notify the relatives which would go through process. In our case, if someone dies in a hospital we notify our Superintendent's Office, then it is the Superintendent's Office that would look for the relatives. Most of the time the relatives are located but sad to say, there are times that they could not be located," Fabro said.
Pinoy, Chinese drug lords died
Bantag confirmed that some of the inmates considered high-value have indeed died due to COVID-19.
Out of the 21 deaths related to the coronavirus, "eight to nine" were considered drug lords, he said.
"What I can tell is that it is true there were Chinese and Filipino drug lords who died of COVID-19," he told CNN Philippines yesterday.
The BuCor has recorded 339 confirmed COVID cases in the bureau's seven penitentiaries, infecting both inmates and personnel, where 320 of them have recovered, Bantag said.
The BuCor said COVID-19 positive inmates and personnel would be brought to Site Harry, a building inside the medium-security compound turned into a quarantine facility. – Evelyn Macairan, Ghio Ong, Rainier Allan Ronda, Cecille Suerte Felipe