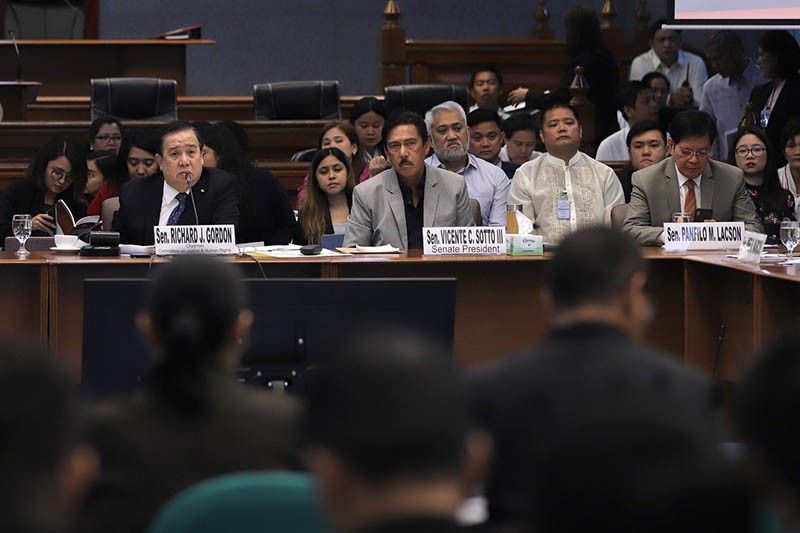 Blue Ribbon and Justice Committee Chair Senator Richard Gordon (center) leads colleagues Monday in inquiring into the implementation of RA 10592 or the Good Conduct Time Allowance (GCTA) Law which would have benefited rape and murder convict, former Calauan, Laguna Mayor Antonio Sanchez. Minority Leader Franklin Drilon (leftmost) and Senate President Vicente Sotto III (second from right) called for the probe. Also in the photo is Sen. Panfilo Lacson (rightmost).
Senate PRIB/Joseph Vidal
Senate to tackle 'GCTA for sale' in next probe
MANILA, Philippines — The Senate will look into the possibility that good conduct and time allowance grants are being "sold" to inmates by Bureau of Corrections officials.
The Senate will continue its legislative probe on Republic Act 10592 or the Good Conduct Time Allowance Law, which would have benefited convicted rapist-murderer and former Calauan, Laguna Mayor Antonio Sanchez, on Tuesday, September 3. Sen. Richard Gordon was quoted in a tweet by ABS-CBN News as saying that the planned release of Sanchez would be one of the controversies they would look into on Tuesday.
Sen. Ronald dela Rosa asked Bureau of Corrections Director General Nicanor Faeldon whether such a scheme where families of the inmate or the person deprived of liberty would pay for the grant of their loved one's Good Conduct and Time Allowance.
READ: Senators are bewildered by Faeldon's 'unfamiliarity' with own agency. But BuCor chief says he won't quit
The grant of GCTA would cut down the inmate's time in prison and result in an earlier release.
Faeldon explained that the grant of GCTA is "automatic." "Hindi kailangan hingiin," he added.
Faeldon said that while the bureau would look into the existence of such a scheme, he stressed that anyone could apply for the GCTA.
EXPLAINER: Good law, bad man: RA 10592 and rape-slay convict Antonio Sanchez
Sanchez GCTA
Earlier in the inquiry, Sen. Risa Hontiveros raised the possibility that the GCTA is being "sold off" and convicted rapist-murderer Antonio Sanchez might have benefited from it.
Hontiveros asked Faeldon if the 200 convicts released since the Supreme Court ruled that RA 10592 should be applied retroactively did not have any violations.
Faeldon said that there is a presumption of regularity to the task of the Management, Screening and Evaluation Committee that evaluated the GCTA applications.
Hontiveros pointed out that Sanchez might not be a "random beneficiary" of the law but benefited from special treatment because there are prisoners who should have been received a release order prior to the former mayor whose time in prison was marred by grave violations.
She said that these prisoners served as pastors, while some were mentors—behaviors that are factors in computing the GCTA—and did not violate prison rules, unlike Sanchez who maintained a "kubol" or luxury cottage and had drugs hidden inside a statue of the Virgin Mary.
Faeldon said they would look into "queuing" of prisoners to be released through GCTA.
RELATED: Excluded from GCTA or not? Why Sanchez's release was 'a possibility'