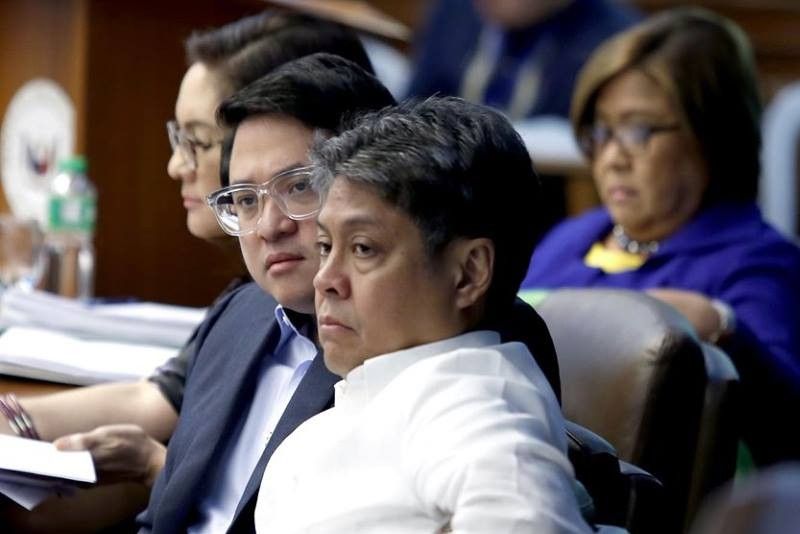 Sen. Francis Pangilinan, president of the Liberal Party, said that the opposition party will be forming an opposition slate in the 2019 midterm elections. Sen. Bam Aquino earlier said that he is not interested in joining PDP-Laban's senatorial lineup as he will be joining a genuine opposition slate for next year's polls.
Senate PRIB, File
LP to form 'resistance' coalition in 2019 polls
MANILA, Philippines — The Liberal Party is eyeing to form a coalition that will be the "genuine opposition" in next year's elections.
LP President Sen. Francis Pangilinan stressed the need for a strong opposition that will resist the "slide to authoritarianism and anti-democratic rule."
"We hope to help build together the broadest coalition of groups and individuals united behind defending our freedoms and our civil and political rights," Pangilinan said in a statement released Tuesday.
The opposition party is hoping to form a "resistance" coalition that will ensure that the country's economic development will not be sidelined by corruption and human rights violations.
Pangilinan, however, acknolowledged that the LP will need the help of other groups in forming an opposition coalition.
"We will need to work with other groups and forces willing to unite and to resist extra-judicial killings and human rights abuses, the undermining of our sovereignty in the West Philippine Sea, and the continuing rise of prices of basic commodities, among others," Pangilinan said.
Sen. Bam Aquino earlier said that he is not interested to join PDP-Laban's senatorial slate as he will join a genuine opposition slate for the 2019 midterm elections.
Aquino will be the only re-electionist senator who will not be joining the ruling political party's senatorial slate as Senate President Koko Pimentel had already expressed his support for Sens. Sonny Angara, Nancy Binay, JV Ejercito, Grace Poe and Cynthia Villar.
In a television interview on Monday, Aquino said that there is a need for a slate that is independent from PDP-Laban.
"In 2019, hindi lang 'The Force' kailangan, we need 'The Resistance' – a genuine opposition slate. Kailangan ng mga taong magsasama-sama, magtutulong-tulong para labanan ang polisiya ng administrasyon na nakakasakit sa tao. You will find me on that slate," Aquino told ANC's Early Edition.
Ejercito had earlier referred to him and the four other re-electionist senators who will be joining PDP-Laban as "The Force."
He added that the LP will join a coalition slate which will be composed of people willing to speak out against the Duterte administration's policies.
"The people willing to answer the call should join forces," Aquino said.
Photo: http://media.philstar.com/images/the-philippine-star/nation/20170223/04_liberal-party-senators.jpg
Sen. Francis Pangilinan, president of the Liberal Party, said that the opposition party will be forming an opposition slate in the 2019 midterm elections. Sen. Bam Aquino earlier said that he is not interested in joining PDP-Laban's senatorial lineup as he will be joining a genuine opposition slate for next year's polls. Senate PRIB, File