Belying Duterte's claim, DBS Bank says accounts can't be closed online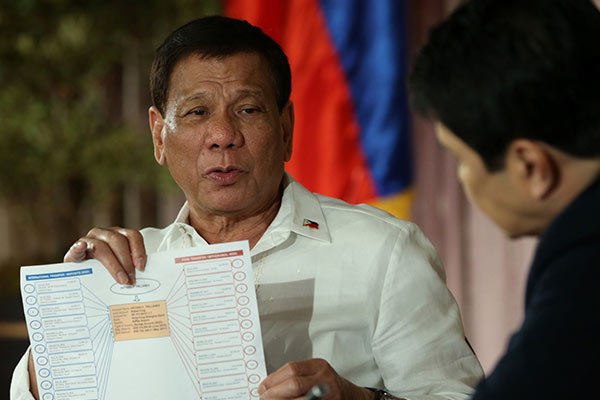 MANILA, Philippines — A spokesman for DBS Bank in Singapore on Monday said the closure of accounts could not be done online, belying the claim of President Rodrigo Duterte that Sen. Antonio Trillanes IV shut his alleged account through the internet.
Duterte alleged on Friday that Trillanes, one of his staunchest and persistent critics since last year's national election campaign, terminated his DBS Bank account in its Alexandria branch online at past 10 p.m. on September 8, days before he flew to Singapore with reporters in a bid to dispute the president's allegation that he has undeclared offshore accounts.
According to the bank's spokesman in Singapore, clients cannot close their bank accounts via the internet, basically similar to the answer of the social media team of DBS.
"We can confirm that accounts cannot be closed via an online channel," the spokesman of DBS bank said in an e-mail to Philstar.com.
The spokesman who declined to be named, however, refused to answer if Trillanes had or still has accounts with DBS, citing his country's bank secrecy laws.
During an interview with public broadcaster PTV-4, Duterte bragged about the supposed screenshot of the transaction Trillanes conducted to close his alleged offshore bank account.
"Below is the screenshot of the DBS Alexandria account. Termination of Trillanes and where he sent the funds. He terminated it online on Sept. 8, 2017 past 10 p.m. then left for Singapore after that to show his waiver to the bank teller dun sa Singapore na wala siyang account," the chief executive told Erwin Tulfo.
This revelation prompted some Filipinos to inquire with the social media team of DBS if this move was possible.
When asked by a Filipino Twitter user online, the official account of DBS on the social media site said accounts must be closed at the bank's branch or by form.
hi, JR! Accounts must be closed at the branch or by form (https://t.co/Xqw8LaxLMx). Cheers! ~ps

— DBS Care (@dbs_care) September 30, 2017
Presidential spokesman Ernesto Abella said early Monday that the answer of the social media team of DBS was unverified as well as the claims of the president.
"Well, you know, that's also unverified. All of these things have to be verified clearly," Abella said.
"The president claims that… The president claims that it was done that way. So let's — let's make sure… And then there's another party that says it's not. So both — both aspects need to be verified," he added.
Before this latest allegation against Trillanes, Duterte admitted "inventing" the supposed account number from DBS Bank that the senator proved to be nonexistent when he went to Singapore on September 19.
READ: Trillanes: Account numbers checked at DBS Bank came from Duterte, Tulfo
The president regularly issues statements that his spokespersons later clarify or brand as jokes or sarcasm.
Abella last year even said that understanding the president's pronouncement required the exercise of "creative imagination."