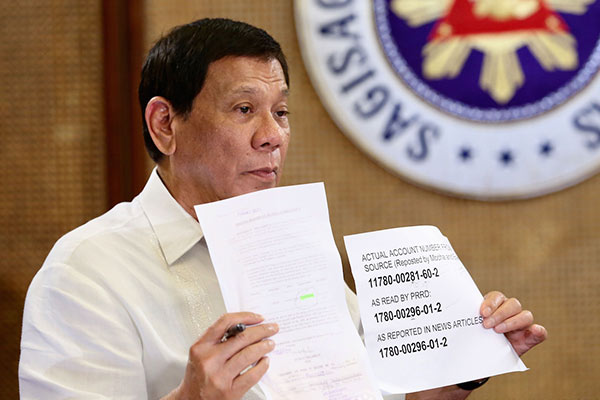 President Rodrigo Duterte shows a document during his guesting in Erwin Tulfo's program "Sa Totoo Lang" which was taped in Malacañan on Tuesday, Sept. 19, 2017. The paper shows that the alleged actual account number of Sen. Antonio Trillanes IV at the DBS Bank reposted by Assistant Secretary Mocha Uson and Tulfo was 1178000281602. Duterte argued that this is different from the account number he read, and admitted to inventing, which was 178000296012. Trillanes went to Singapore on Tuesday where the bank said both of the accounts were nonexistent. Richard Madelo/Presidential Photo
Trillanes: Account numbers checked at DBS Bank came from Duterte, Tulfo
(Philstar.com) - September 20, 2017 - 6:30am
MANILA, Philippines (UPDATED 6:11 p.m.) — Sen. Antonio Trillanes IV did not use the bank secrecy waivers he signed last week when he visited DBS Bank in Singapore on Tuesday to check on an account he has been accused of owning there.
He said that he also asked the bank to check the accounts that President Rodrigo Duterte and his supporters have accused him of having, and what which he denies owning.
"No typo error. It came from Erwin Tulfo, Mocha and Davao Breaking News. Again, according to DBS Bank, walang ganoong account numbers at account names. Pareho ko tinanong yung account numbers from Duterte and from Tulfo. Pareho wala," he told Philstar.com in a text message.
Duterte's supporters on social media have been emphasizing that Trillanes' waiver cited a supposed DBS Bank account numbered 178000296012, which Duterte admitted to inventing and was different from the alleged actual account number, which is 1178000281602, shared by Assistant Secretary Mocha Uson and Erwin Tulfo.
"I asked the DBS teller if there are existing accounts under my name, Antonio F. Trillanes IV or just Antonio F. Trillanes with account numbers 1178000281602 and 178000296012, whether existing or closed accounts or held singly or jointly with another person. She said that such accounts do not exist."
Trillanes on September 11 presented signed documents addressed to the Anti-Money Laundering Council and the Office of the Ombudsman that authorized the two agencies to examine the 12 offshore bank accounts he has been accused of having.
Duterte, on September 15, detailed Trillanes' supposed accounts including one in DBS bank in Singapore, that allegedly has a balance of "193,000" in an unspecified currency.
The same claim was trumpeted by Presidential Communications Assistant Secretary Margaux "Mocha" Uson and PTV4 radio show host Erwin Tulfo, both known supporters of Duterte.
"At siyempre sabi ng banko wala daw account na ganun. Natural, kasi ang chineck ni Trillanes ay yung sadyang minali ni PRRD (President Rodrigo Roa Duterte).
Pero ito ang nakapagtataka – Ganoon na ba ka-bobo ang mga naturingang journalist ng ating bayan? Hindi man lang nila chineck ang account number na binigay ni Trillanes sa kanila at ang naunang account na nilabas ng Davao Breaking News?" Uson, who is in New York as requested by Foreign Affairs Secretary Alan Peter Cayetano, said on her Facebook page on Wednesday.
The supposed documents that Uson referred to were no longer on the Davao Breaking News Facebook page.
According to the page, the supposed bank documents "were already taken out by Facebook for having violated their so-called standards."
"Whatever documents we posted in our website were verified true and authentic," the page also said.
Duterte and his supporters, as well as Justice Secretary Vitaliano Aguirre II, had earlier downplayed the authorization documents that Trillanes signed, saying they cannot be used to check bank accounts abroad.
READ: Rody gives details about alleged Trillanes wealth
'No waiver needed'
On Tuesday, Trillanes flew to Singapore in an attempt disprove the existence of the accounts.
In a message to PhilStar.com, Trillanes emphasized that he did not need to present the waiver to the DBS Bank. "Since I was the one who personally went there, the waiver wasn't needed," Trillanes said.
In any case, the authorization documents had already been submitted to the AMLC and the Office of the Ombudsman, a member of Trillanes' staff also said.
Trillanes stressed that he had the account number claimed by Duterte, as well as the account number he authorized the AMLC and ombudsman to examine, checked.
He said that he had asked the bank to check for "existing or closed accounts or held singly or jointly with another person" and that these did not exist.
"As to their neverending alibis, the name Trillanes is not in the DBS' system at all regardless of the account numbers," the senator added.
It was also on Tulfo's show on Tuesday night, September 19, that Duterte admitted that he lied about the account, even saying that it was just a trap to "catch" Trillanes.
It is yet unclear how Trillanes was trapped.
READ: 'Bank clearance? Trillanes fell for my trap'
Palace: President has his own style
Malacañang, on Wednesday, explained that Duterte's lie is just one of the "out of the box" ways the president has of dealing with issues.
Presidential Spokesperson Ernesto Abella told reporters: "May kanya-kanya po tayong style. The president is quite unorthodox."
Trillanes has been among the most vocal of Duterte's critics even before the Davao City mayor was elected president.
He accused Duterte of trying to divert public attention from allegations that Davao Vice Mayor Paolo Duterte and his son-in-law Manases Carpio are involved in smuggling. A customs broker who had mentioned the president's relatives at a Senate hearing as well as Sen. Richard Gordon, chair of the committee holding the hearings, has cleared Vice Mayor Duterte and Carpio, who is Davao City Mayor Sara Duterte-Carpio's husband.