Photos of dead turtles in Chinese ship anger Filipinos
MANILA, Philippines — Photos of hundreds of dead sea turtles seized from a Chinese fishing vessel off disputed Hasa-Hasa (Half Moon) Shoal in the South China Sea angered online Filipinos over the weekend.
The images circulated on Facebook and Twitter, triggering an uproar over poaching of endangered animals for financial gain.
The Philippine National Police-Maritime Groupsaid that remains of 378 endangered sea turtles were found in the cargo hold of the boat flying a Chinese flag.
Thank you CHINA !!! RT @chinogaston: Rest in peace dudes. Surf's up in turtle heaven. #SaveOurSeaTurtles pic.twitter.com/u1IpPT7YdK

— Choi Hilario (@choihilario) May 10, 2014
"Masyado kasi malambot ang puso ng mga Pinoy, kaya ayun, inabuso ng mga Chinese," Facebook user Zaido Calot said. His comment earned more than 300 likes on the social network.
Madonna Abenoja regretted that foreigners abuse and benefit from the country's rich marine life.
"Nakikipag-agawan ang China sa teritoryo para ubusin ang yamang dagat. Kakagigil!" she said.
Expat John Wallace said that the Philippine government must not heed China's demand to release the arrested fishermen.
"Prosecute them in full extent of the law. No getting out of jail for free. They broke the law, simple. China cannot kill everything in the sea. What will be left after they are done killing everything on the planet, what disgrace. China does not care of the well being of this planet. Just totally shameful," Wallace commented.
User Christopher Cross also urged militant groups to stage protests before the Chinese Embassy in Manila, an idea appreciated by over 340 other users.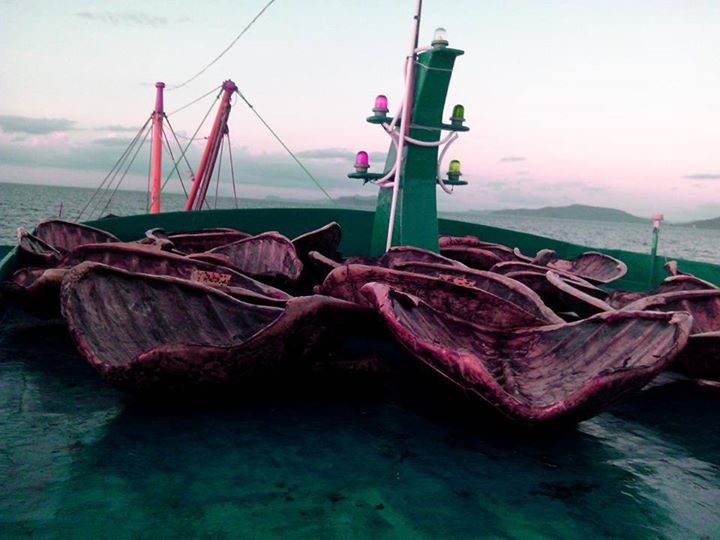 Photo from the PNP Maritime Group
On Sunday, the PNP Maritime Group said that 555 endangered marine mammals were recovered from the Chinese fishing boat. The surviving 177 sea turtles were released back into the sea on Saturday.
"The rest were dead. Two hundred seven of them were slaughtered and stuffed," the maritime group said in its report.
Seventy-five sea turtle shells were also found in the seized fishing vessel.
The Department of Justice has filed criminal cases against nine of the 11 Chinese fishermen for violation of the Philippine Fisheries Code of 1998 before the Palawan Regional Trial Court.
Also read: China poachers charged; turtles returned to sea
Cases against two other crew members confirmed to be minors after a medical check-up were dropped.
The Department of Foreign Affairs said the minors will be turned over to the Department of Social Welfare and Development in Palawan for subsequent release.