Ken Chan savors role of a businessman off-cam
January 28, 2022 | 12:00am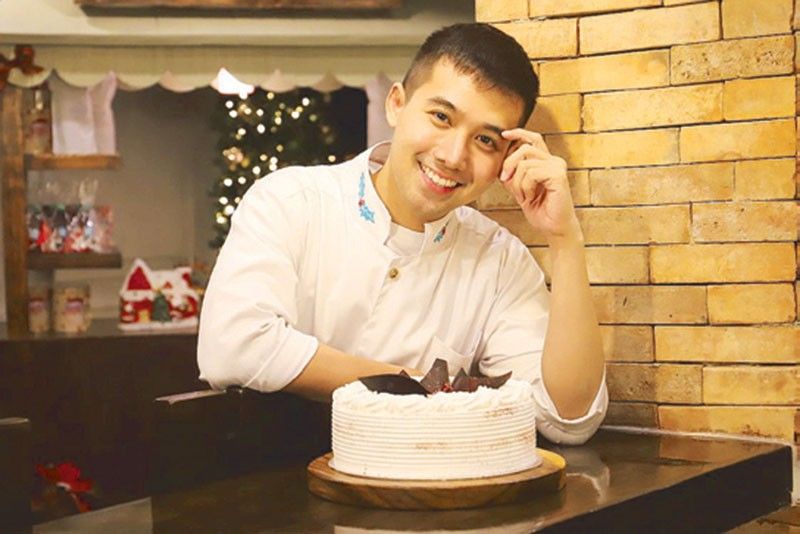 Ken Chan has fulfilled another dream. That's to run a food business, with a concept close to every Filipino's heart. Away from the klieg lights, the Kapuso actor is the president of the Christmas-themed Café Claus. He finds joy in giving each foodie a unique gastronomic experience.
"We wanted to have a café but the theme and the concept were not that clear yet (at the onset)," said Ken of his off-cam venture, which was three years in the making, in a one on one with The Philippine STAR. "There are new cafes around at napaka-ganda nila. But we asked ourselves, 'How is this one going to be different?' 'Paano tayo magiging unique?' 'What (else) can we offer to our customers?'"
When he said "we," Ken referred to his business partners such as Ryan Kolton and brother Mark Chan as CEO and COO, respectively. "We did a thorough planning," he looked back on. "We were supposed to put it up early 2020, before the pandemic."
Apparently, the global health crisis prevented Ken and his group from pursuing it, but provided them ample time to further work on the café's unique identity and essence. The challenging plight worked to their advantage.
"I told my business partners that me and my family love Christmas, we always look forward to it," recalled Ken, "Kahit simple lang yung celebration, we would always find time for it and make an effort to celebrate it. That's how we love Christmas."
That also reflects the fondness of Filipinos for the yuletide season, which commences in September and concludes in the first week of January. The Philippines probably has the longest Christmas celebration in the world. Ken's Café Claus is there to bring the merry spirit of Christmas all year round and the sense of family and love, especially in the new normal. Although Christmas cafes are part of the dining landscape in the west, Café Claus, in a way, will pave the way in the country.
While taking a breather in Los Angeles, pre-pandemic, Ken met Ryan of New York, who has appeared in Hollywood series and whose production group is into filmmaking.
"I heard them planning to do a movie in the Philippines about a tragedy that struck it. They wanted to get me as one of their stars," shared Ken. "They went to the Philippines. I was one of those who helped them for the location hunt." Again, the pandemic happened and changed the course of almost everything. "The Lord had other plans for us, ibang business pala yung ibibigay niya sa amin, pero their film is still ongoing," added Ken.
When regular and new customers enter Café Claus and dine there, they will be greeted by the mingling aroma of coffee and pastries. The café people are ready to serve them frappuccino, cakes, ensaymada, cookies, bibingka cheese cake, all-day breakfast dishes, roasted chicken (the 47-year-old recipe of Ryan's family in Ukraine), ube champorado, pizza and pasta.
Enjoying a generous serving of puto bumbong, bibingka or ginger bread seals the Christmas atmosphere, with a glass of macadamia latte. "We wanted to have a fusion," said Ken and added that their chefs developed a menu that showcases food from America, Asia, the Philippines and Ukraine.
"This is my childhood dream," said Ken, who aspired to be a businessman when he was a grade six student at the Colegio San Agustin Biñan. "My parents also influenced me because my dad had a restaurant." From them, he learned the hard work and happiness of serving people good food. Although he pursued a career in entertainment, Ken never lost his interest in making that dream come true. His Hotel, Restaurant, Institution Management course, particularly the culinary and hotel management aspects, at De La Salle College of St. Benilde also built his confidence to get himself into business.
"The real challenge for me is managing my time since I have a showbiz career," said Ken. But he is lucky to have business partners, who make things easier for him. Ken knows that Café Claus is in good hands every time he attends to showbiz commitments like working in a bubble for some time. After all, the sense of family is very strong among the men and women, who man Café Claus. That familiar homey feeling is felt inside the café.
"You will remember the Christmas you spent (or how you would spend it) with your family," said Ken. Savoring a bite or slice of puto bumbong comes with a memory of Christmas past and present. "After attending simbang gabi (Christmas Mass), we would eat puto bumbong and bibingka, and (pair it) with tsaa (tea), ang sarap lang balik-balikan," added Ken, who, as a kid, joined friends to do a neighborhood caroling. The amount he earned from it would be used to purchase food pasalubong for family.
Although well-provided for, Ken, as one may put it, knew then the value of family and the latter being the inspiration to chase his dreams. Prior to launching Café Claus last December, Ken already ventured into managing iFuel gasoline station branches.
On the small screen, however, Ken will star in Mano Po Legacy 2: Her Big Boss, follow-up to the ongoing TV series, Mano Po Legacy: The Family Fortune. It's the first romantic comedy done under the Mano Po franchise, said Ken.
"I will be joined by Bianca Umali," said he, whose perennial screen partner Rita Daniela will act along with Jak Roberto and Albie Casiño in a Joel Lamangan advocacy film. "Rita said it's a healthy way (and chance) for us to work with other colleagues in the industry. I think it's a very healthy setup that we will also have our own projects. She's very happy for me that I will be working with Bianca and I'm also happy to do so."
Given his upcoming TV series' title and his work outside showbiz, Ken fits the bill.
(Café Claus is located in Tandang Sora, Quezon City.)