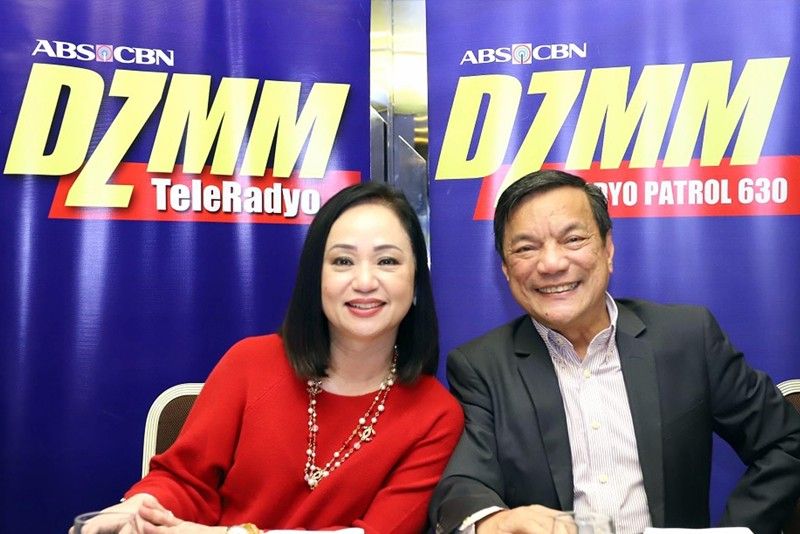 Pat-P Daza and Peter Musngi bring their dynamic banter and hard-hitting questions from Teka Muna to Pasada Sais Trenta
Time out with Peter and Pat-P
In earlier times, many people were hooked on listening to the radio because of that oh so soothing, pleasant to the ears voice of radio personalities. Some were even intrigued by their looks.
Again, that was back in the day and before the advent of TeleRadyo. Everyone now gets to see who is talking and sitting inside the radio booth. And, there's no more "mystery" behind the voice.
Peter Musngi believes today's standard is different. "Before, it was a requirement in radio to have a full tone; pa-gwapuhan o palakihan ng boses because it was then purely audio. But now there's no need to sound bombastic. If you notice, our tone is more controlled. More than the 'poging' boses, substance is what truly matters these days."
Already retired from his post as DZMM head, Peter currently works — to borrow his words — as "the voice" of Pasada Sais Trenta with Pat-P Daza. If you think they're the same tandem in Teka Muna, you are not mistaken. It's just that Teka Muna had permanently signed off yet Peter and Pat-P continue to engage listeners and televiewers through their fair, balanced discussion of the hottest issues in Pasada Sais Trenta, Mondays to Fridays at 4:30 p.m. on DZMM TeleRadyo and DZMM Radyo Patrol 630.
Peter would like to make it clear that there's nothing wrong with Teka Muna. The management just wanted a more serious take on the country's issues than the tandem's tongue-in-cheek approach in Teka Muna since it began in 2013.
"But we believe the character of Teka Muna remains in Pasada Sais Treinta," said Peter who also stressed that Teka Muna had serious interview portions with guests "but a great part of that was really jamming lang kami talaga ni Pat."
In Pasada Sais Trenta, Peter and Pat-P speak with guests live inside the radio booth or by phone. Government officials are commonly heard to give light on national issues. Peter and Pat-P raised questions that seek to find concrete answers for the public to be informed or enlightened on matters concerning the country's welfare.
As radio anchors, it's a no-no for them to take sides.
"Being commentators, I think it's inevitable to take a certain position but it doesn't mean you impose your position," said Peter. "Madalas nga magkaiba kami ng posisyon (ng guest) pero hindi dapat lumabas na ang pagtatanong mo ay dahil meron kang posisyon na pinoprotektahan. As much as possible, we try to make sure the questions are neutral but these are hard questions."
Pat-P also tries to be as neutral as possible "but sometimes I also find the answers unbelievable and everything is spontaneous so I cannot hide my feelings. But as I've said, I try to be as neutral as I can, especially if the topic is very sensitive."
"With the many problems we are facing, you really need to say what's on your mind but at the same time we also have to remind ourselves that we are interviewing (a guest)," Peter said.
"It's hard to stay in the middle so after the interview maybe we can say halatang-halata naman o alam na nambobola lang. We can make comments later on but not to the point of embarrassing our guests," he stressed.
So far, Pat-P and Peter have been receiving positive feedback from listeners. Thanks to the whole team of Pasada Sais Trenta that works hard every day hours before going on the air.
"We have a Viber group so every morning, we put our inputs about possible topics that we can tackle and then the researchers will tell us the confirmed topics from the inputs. I come early so I can prepare my make-up and read the materials. Then we discuss the flow of the show. Ganun kami, we plan for the day," Pat-P shared.
Asked if they need anything to perk them up before going onboard, Pat-P said that a glass of water is enough for her while Peter never fails to have a cup of coffee.
"It's because you have only an hour and you can't have so many minutes trying to warm up so kailangan nasa peak na talaga 'yung energy level and especially with Pat-P, nakupo," he concluded with a funny tone.