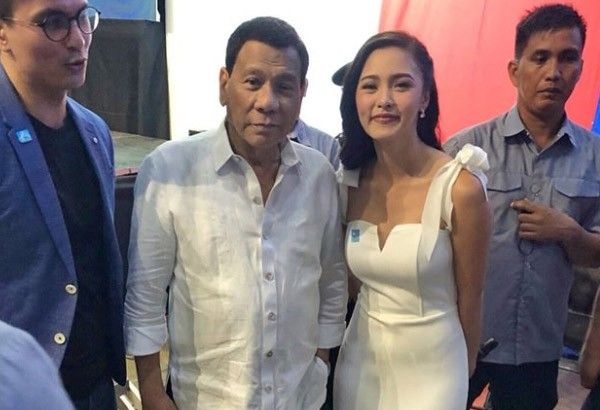 Kim Chiu mesmerizes Duterte
MANILA, Philippines — Kapamilya actress Kim Chiu excitedly shared on her Instagram account her experience hosting a Labor Day event of President Rodrigo Duterte in her hometown Cebu on Tuesday.
In her Instagram photo, the "Da One That Ghost Away" actress was seen wearing a white dress with the Philippine president by her side.
"What a great experience!!!! just finished hosting an event for labor day here in my home town CEBU and in the presence of the President of the Philippines, Pres. Rodrigo Duterte!!! ang galing!! never thought of this moment!!! kulba jud pero lingaw kaayo ug feeling! thanks @akosimangtomas for being a great co-host bisaya/waray represent!," she captioned.
"May 1,2018 this experience will definitely one for the books!!! daghang salamat!!!!," she added.
While hosting the event, Kim also shared on her Instagram story some videos of Duterte making a speech. She hosted the event with Kapuso actor Tom Rodriguez.
In his speech, where he announced the executive order banning illegal "Endo," Duterte was briefly distracted after he saw Kim. Duterte asked if it is really Kim he was seeing, then praised Kim's beauty.
"Pero siya man na si Kim Chiu? Ikaw 'yan ma'am? 'Di, niingon ko 'gwapa ka.' Asa nga ko?" Duterte said.