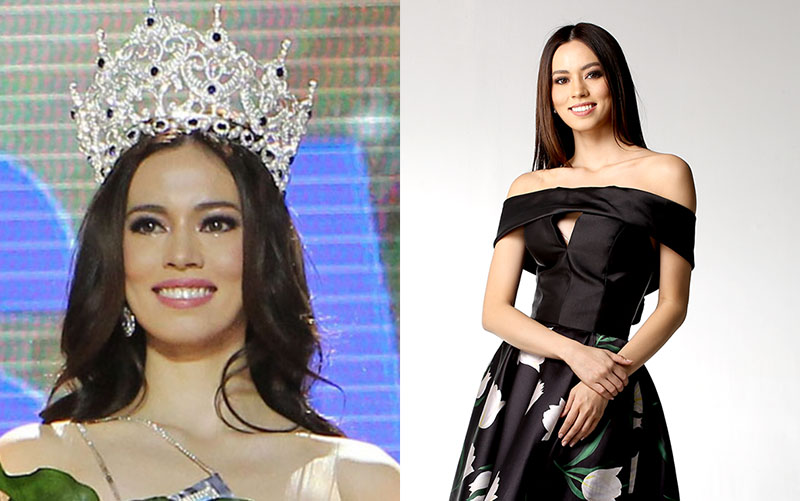 Former Ateneo courtside reporter Laura Victoria Lehmann was crowned Miss World Philippines on Sunday night, September 3, at the Mall of Asia Arena. Facebook, Twitter/Miss World Philippines
Binibining Pilipinas 2014 first runner-up is Miss World Philippines 2017
MANILA, Philippines — Nine days after her rumored boyfriend, Von Pessumal, won gold at the Southeast Asian Games, former Ateneo courtside reporter Laura Victoria Lehmann was crowned Miss World Philippines on Sunday night, September 3, at the Mall of Asia Arena.
Lehmann succeeds Miss World 2016 Top 5 finalist and Miss World Philippines 2016 Catriona Gray as the country's new representative to the Miss World 2017 pageant to be held in China late this year.
Lehmann also received special awards such as Miss BYS Philippines and Miss Cosmo Skin.
"Aside from being sporty, Laura's life revolves around traveling. Having found her fondness for the islands of the Philippines — specifically her favorite, Batanes — she's currently hosting for a travel show in Asia. This eventually translated to advocating for PREP (Promoting Rural Education in the Philippines), in which she spends a day with elementary kids in different parts of the country to prepare lessons and build libraries for them," Miss World Philippines, in its Facebook page, says of Laura, who was a courtside reporter for two years.
During the question and answer portion, Laura was asked what she would say to convince pageant non-believers. Her answer was "To anyone who don't believe in pageants, I would ask them to take a look at the girls tonight because we have lawyers, architects, women of substance who are here not only because of what they look like but because of what's in their hearts, what's in their mind, and because what they've brought forth beauty with a purpose. they're helping represent the Philippines and become the best version of the Filipina and for me that's something only to celebrate."
She's the one. She's the queen. @IAmLauraLehmann is #MWP2017 pic.twitter.com/0XvpcTHVpO

— Ms World Philippines (@MsWorldPhil) September 3, 2017
Miss World Philippines 2017 - Laura Lehmann #mwp2017 #missworldphilippines #missworld pic.twitter.com/9zXSuO9kIV

— Ms World Philippines (@MsWorldPhil) September 3, 2017
Such a lovely couple @IAmLauraLehmann @von19 pic.twitter.com/JeJ7P85fd7

— Jhona Casco Ulep (@jhonaaa_) September 3, 2017
MISS WORLD pic.twitter.com/kl4LlrnEP7

— Laura Lehmann FP (@LehmannLaura123) September 3, 2017
The Miss World Philippines 2017 coronation night was hosted by Iya Villania, Carla Abellana, KC Montero and Miss World 2013 Megan Young. The judges included TV host Willie Revillame, actor Diether Ocampo, Miss World 1993 2nd Princess Ruffa Gutierrez, broadcaster Vicki Morales, Miss World 2016 Stephanie del Valle, Mr. Chinatown Philippines 2014 1st Runner-Up David Licauco, international model Paolo Roldan, film producer Roselle Monteverde and blogger and former "Pinoy Big Brother" housemate Ann Li.
Though actress and former Binibining Pilipinas 2015 Top 15 finalist Teresita Ssen "Winwyn" Marquez failed to get the title, she was crowned Reina Hispanoamericana Filipinas 2017.
Reina Hispanoamericana Filipinas 2017 - Teresita Ssen "Wynwyn" Marquez #mwp2017 #missworldphilippines #missworld pic.twitter.com/Z9atZk1tR8

— Ms World Philippines (@MsWorldPhil) September 3, 2017
Here is the complete list of winners:
Miss World Philippines 2017 Winners #mwp2017 #missworldphilippines #missworld pic.twitter.com/PCf4xvCPZg

— Ms World Philippines (@MsWorldPhil) September 3, 2017
Miss World Philippines 2017 - #15 Laura Lehmann from Makati City

Reina Hispanoamericana Filipinas 2017 - #9 Teresita Ssen Winwyn Marquez from Paranaque City

Miss Eco Philippines 2017 - #32 Cynthia Thomalla from Cebu City

Miss Multinational 2017 - #35 Sofia Senoron from Manila

1st Princess - #3 Glyssa Leian Perez from Bohol
2nd Princess - #24 Zara Carbonell from Batangas City

Top 10 Finalists:
#6 Jona Sweett from Aklan
#14 Cristina Marie Coloma from Northern Samar
#26 Janela Cuaton from Masbate
#28 Shiela Marie Reyes from Valenzuela City

Miss World Philippines 2017 Top 10 Finalists #mwp2017 #missworldphilippines #missworld pic.twitter.com/rzc62gr6w0

— Ms World Philippines (@MsWorldPhil) September 3, 2017
Top 15 Semi-finalists:
#11 Gabriela Ortega from Albay
#12 Henna Kaizelle Nicole "KZ" Cajandig from Tacurong City, Sultan Kudarat
#22 Chelsea Anne Manalo from Bulacan
#27 Ella Eiveren Lubag from Laguna
#33 Noelle Fuentes Uy-Tuazon from Davao City

Fast-Track Winners:
Multimedia - #15 Laura Victoria Lehmann from Makati City
Top Model - #32 Cynthia Thomalla from Cebu City
Beach Beauty (also Bench Body) - #9 Teresita Ssen Winwyn Marquez from Paranaque City
Talent - #9 Teresita Ssen Winwyn Marquez from Paranaque City
Sports (also Miss Fila) - #3 Glyssa Leian Perez from Bohol
Best in Long Gown - Candidate #32 Cynthia Thomalla #mwp2017 #missworldphilippines #missworld pic.twitter.com/ErXSX0PSZZ

— Ms World Philippines (@MsWorldPhil) September 3, 2017
Special Awards:
Best in Long Gown - #32 Cynthia Thomalla from Cebu City
Miss Photogenic - #32 Cynthia Thomalla from Cebu City
Miss BYS Philippines - #15 Laura Victoria Lehmann from Makati City
Miss Blue Water Day Spa - #32 Cynthia Thomalla from Cebu City
Miss Best Skin by Cathy Valencia - #26 Janela Joy Cuaton from Masbate
Miss Cosmo Skin - #15 Laura Victoria Lehmann from Makati City
Miss Savoy Hotel Boracay - #9 Teresita Ssen Winwyn Marquez from Paranaque City
Zalora People's Choice - #13 Kathryn Jade "KJ" Cudiamat from Rizal