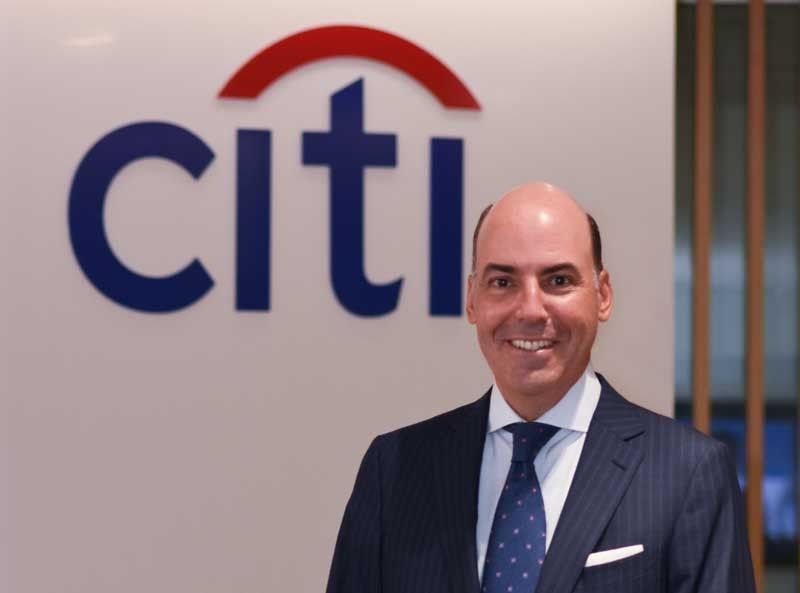 Citi grows stronger in Asia
Francisco Aristeguieta is the chief executive officer of Citi in Asia Pacific, overseeing the largest banking network in the region that does business across 17 markets. He is also responsible for Citi's consumer businesses in the UK, Russia, Poland, the UAE and Bahrain.
After a period of transforming its business, Citi is now focused on serving target clients in two core franchises: Institutional Clients Group (ICG) and Global Consumer Banking (GCB). Both are strong businesses for Citi in the Philippines.
Since Aristeguieta moved to the region three years ago from Latin America, the Hong Kong-based executive has led the bank's impressive results of eight consecutive quarters of revenue growth. Citi was recently named Asia's top bank in 2018 by Euromoney magazine.
Asia Pacific now accounts for nearly 30 percent of Citi's overall global revenues, more than any other part of the world except for North America. According to Aristeguieta, Citi is poised for sustainable growth in Asia Pacific and the Philippines.
Philippine STAR: How important is the Philippines to Citi's business in Asia Pacific?
Francisco Aristequieta: Asia Pacific is playing a key role in Citi's transition to sustainable growth and the Philippines is very important to the region's growth strategy. Our history in the market dates back to 1902. It started with a local banking license around which we have built an extraordinary team of talent and a strong Consumer and Institutional business as well as a large and growing service center. What we have today is a full-fledged business supported by a deep and profound understanding of the local market.
Close to a year ago, we inaugurated our new corporate headquarters in the Philippines. We said then that the move is a testament to the confidence we have in the growth potential of the Philippines. That has not changed; we are committed to the Philippines and its future.
In 2017, the Philippine economy was among the top three growth performers in Asia and the outlook for economic growth remains positive. We have seen this positive sentiment reflected in our own performance.
Citi Philippines has delivered strong client-led growth with 11 quarters of consecutive growth and 2018 revenues up 17percent vs prior year.
116 years in the country is a long time. How will Citi continue to stay relevant especially with disruption shaking up every industry, including banking?
We have redefined our consumer strategy on the basis of relevance. That means understanding that relevance is not about having multiple branches in high-traffic locations but about being in the digital and mobile ecosystems that our customers frequent.
To plug into these ecosystems, we adopted an open banking approach, partnering with established names like WeChat and Grab to reach our customers and build digital scale. Most recently, we launched a regional partnership with Spotify, allowing our customers to pay for their music subscriptions using Citibank credit card points and miles.
Supporting our open banking approach are the close to 100 application programming interfaces (APIs) we have in Asia, allowing us to more quickly integrate with potential partners to develop new solutions and improve the client experience.
We are building an end-to-end digital bank, which will enable us to acquire, engage, and service clients entirely though digital channels. In Asia, over half of our clients use mobile regularly. This rapid increase in mobile penetration was key in our decision to invest in the digital ecosystems where our customers are active. We are also building out our product and service capabilities on mobile. Just a few months ago we launched a next-generation mobile app in many markets in the region, including the Philippines. Credit card customers can now check their balances or pay their bills in just a few clicks.
To stay at the forefront of technology and innovation, we make strategic investments through Citi Ventures, our internal innovation engine, whose board I sit on. Citi Ventures is located in Silicon Valley and is charged with conceiving, launching and scaling new initiatives with the potential to transform the future of financial services. Our Ventures team invests in startups across a variety of sectors and leads a number of initiatives that support and incubate talent and new ideas within Citi and the broader ecosystem.
Are your cards and retail customers embracing the move toward digital?
Asia probably has the most digitally savvy customers in the world, especially in terms of mobile. Globally, the Philippines holds the top spot for social media usage. According to a report published by Google and Temasek last year, Southeast Asia is expected to be the leader in mobile internet usage this year.
For Citi, this has translated to strong digital adoption among our customers. In Asia, 57 percent of our clients are 90-day digitally active on our mobile platform. The speed at which they continue to embrace mobile is telling of the shift we are seeing. In June this year, we recorded an additional one million new mobile banking clients in the region over the course of 12 months.
Over five million customers have enrolled in Citi's Voice Biometrics and customers are increasingly using digital for cards and loans applications. Around 40 percent of card customers and personal loans in Asia are now acquired digitally.
In the Philippines, people are enthusiastically embracing digital. More than 60 percent of our customers are digitally enrolled, with mobile being the fastest growing channel. In the past 12 months, enrollment for mobile banking surged 62 percent. These numbers have grown fast over a short period of time.
What about your institutional clients adapting to the digital age?
On the institutional side, we are helping more traditional clients adapt their businesses to the digital age while also working with digital clients to enable their business models. We offer advice and expertise on the back of our leading payments platform and unparalleled global network and connectivity.
We have developed disruptive solutions such as virtual card accounts that are digital end-to-end. We have also started to deploy Artificial Intelligence-based analytics for client hedging strategies in our FX business. Citi was also the first global transaction bank to introduce APIs for corporates. Some 30 APIs across a wide range of functionalities have been implemented.
In the Philippines, we are taking an active role in helping to develop the local payments infrastructure. We are highly engaged with the Bangko Sentral ng Pilipinas (BSP) and the industry to help achieve the BSP's goal of 20 percent cashless payments by 2020.
We are promoting digital payments such as PesoNet, a new electronic funds transfer service launched in late 2017. In fact, Citi is currently ranked first in terms of PesoNet outward clearing value in the country.
What are your views on trade tensions around the world and is this having an impact on your business?
Trade issues are driving turbulence in global markets, but our outlook is that trade and globalization will not go away or even dramatically diminish. In fact, I believe trade flows will evolve to be more geographically diverse. They will shift towards markets where opportunities and costs are attractive, and local technologies and capabilities seem worthy of greater investment.
This will lead to supply chains becoming nimbler and more flexible, to allow for the dynamic allocation of production and the ability to manage technological advancement and changes in terms of trade between countries.
We are seeing this trend already as investment flows from outside of and within Asia continue to increase, moving in tandem with the expansion of new intra-Asia trade corridors. According to the International Chamber of Commerce, by 2020, Asia will account for 38 percent of global trade flows. Already, two-thirds of China's outward FDI now flows to Asian countries.
Citi's unique regional and global network puts us in a strong position to advise and support our clients in this fast-changing and dynamic environment. Our intra-Asia trade revenues have grown by 25 percent to-date.
In the Philippines, Citi continues to help local corporate clients go global, from providing M&A advice, acquisition financing, to loans, treasury and trade financing. For example, Citi Philippines helped port management company ICTSI finance global expansion, including a port in Australia and capital raising to support growth.
Are you worried about economic headwinds, especially with current inflation challenges in the Philippines?
The Philippines continues to present many opportunities for global companies like Citi. It's a market with tremendous potential, including a young and growing working population and positive steps being taken on several fronts, such as infrastructure investment.
The Philippine economy has maintained its strength despite recent inflation challenges. Our Citi economists project GDP at 6.5 percent this year and 6.7 percent in 2019.