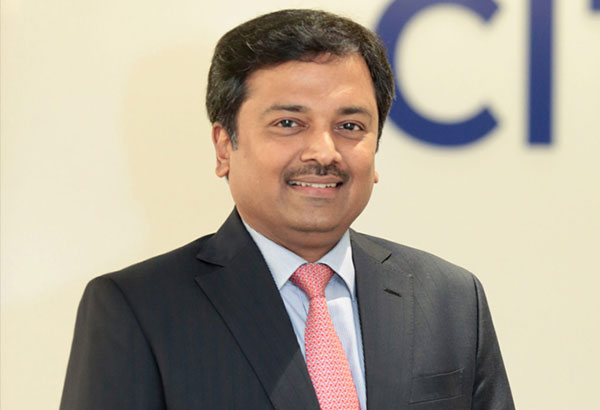 Anand Selvakesari, Citi's Asia Pacific consumer bank head walks the digital talk.
MANILA, Philippines - Anand Selvakesari is a man on a mission; a mission to transform a more than two centuries-old institution to become the number one digital bank for consumers in Asia.
To do so, he's put the customer at the center of everything Citi is doing to deliver a more differentiated and personal experience to match their changing preferences and increasingly digital lifestyles.
Selvakesari's transformational journey began over a year ago across Asia, and has seen one of the world's leading financial services brand tapping heavily on its global platform while working with regional firms and startup FinTech companies, and bringing all of them together to play in Citi's "sandbox".
Citi has consumer bank operations in 19 markets worldwide. Twelve of the 19 are in Asia, and Selvakesari has been managing the Asia franchise since 2015. Late last year, he was also given responsibility for five additional markets that are in Europe, Middle East and Africa regions, bringing his tally to 17. Citi is the region's leading card issuer with over 10 million clients. It is also acknowledged as the leading wealth manager with $218 billion in assets under management. The Asia consumer business accounts for around 23 percent of Citi's revenues from global consumer banking.
The Singapore-based executive appears to be quite comfortable in the driver's seat, and with three consecutive quarters of better revenues for Citi Asia's consumer bank operations, he is also proving that they've made the strategic pivot to growth.
The STAR: If a client opened an account with Citi today, how different will the experience be from say, three years ago?
AS: Banks have traditionally been paper- and process-intensive. In the digital age, you must simplify processes and we've done that to a great extent across Asia. Here in the Philippines, our prospective clients can now apply for a Citi Card via their mobile phone or from their desktop, and they can get in-principle approval in as fast as 60 seconds. ]Moreover, our digital application intuitively assists the customer throughout the process, from filling out the form to submission of documents and application feedback. We designed it to provide a full digital experience from start to end.
In Singapore, in our International Personal Banking unit, we've embraced DocuSign and that has rendered client transactions nearly paperless. In India, we recently introduced Video Banking allowing our wealth management clients to choose whether to send a message or chat with their relationship managers via video, all conveniently from a Citi app in a secure manner.
The STAR: That's not just simplifying a process, you also redesigned to a great extent, your service. How are you developing financial products now?
AS: Product development has changed dramatically. Products are designed with a focus on simplicity, relevance and eliminating unnecessary pain points for customers. In the past, innovations or product developments were generally led by the bank and pushed out to consumers. Now, the transformation is being dictated by consumers themselves as they migrate rapidly to smart mobile devices. We leverage our globality very effectively. We might launch a product in China, adapt the concept for Thailand, then go on to other markets. Each iteration brings further improvements, while the time to launch gets shorter with each iteration.
The STAR: Citi's digital transformation could not have been easy. What were some of the challenges you had to face down?
AS: The biggest challenge was changing the way we work. We had to become a digital organization, not just one with a digital head, or with digital products and services. You can't face the new digital challenge unless you change the way you work. We have embraced an agile approach, to work in scrums that enables us to be more nimble and efficient. We all had to be onboard this journey towards getting digitized. I like to challenge my team not just to think outside the box, but think outside of this planet. Radical ideas are welcome, especially if the focus is on staying relevant to customer needs and deliver remarkable customer experiences.
The STAR: Can you share your digital strategy for your consumer bank operations?
AS: To be Asia's best digital bank, we need to be more locally relevant for our target clients. So we have adopted an open architecture and formed both local and regional partnerships with leaders in the digital space. We launched our API development portal late last year and opened up 59 APIs in a sandbox for potential partners and developers to try out and experience our capabilities. If you look at our consumer business, we are now linked deeper into key digital ecosystems that are popular and relevant with our customers in the region, and that's how we are generating digital growth.
Our customers can now transact via Citi through instant payments, from our Global Funds Transfer to mobile wallets including Alipay, Citi Pay, Samsung Pay, Android Pay. We can now also service customers via their preferred digital ecosystems such as WeChat, LINE and Facebook.
Citi was the first bank in Asia to launch voice biometrics and we now have over 1.5 million customers signed up. The Philippines launch was a success and more and more clients appreciate the convenience of signing up for Voice Biometrics. We are also the first bank in Asia to offer instant rewards and pay with points features for our credit card customers when they transact with their credit cards.
During the last 12 months, digital card acquisitions are up 55 percent year-on-year while our digital loans are up 237 percent.
The success of the digital growth is also feeding through in our financial results. In the first quarter, consumer bank revenues were up three percent year-on-year.
The STAR: Would it be true to say that when a customer is acquired through digital channels, said customer will more likely use your digital services?
AS: To a great extent, yes. A client who applied for a credit card using his or her mobile is likely to be a confident digital user and a prolific mobile user at that. When he or she receives her Citi Credit Card upon approval, there's greater likelihood that the client will download the Citi Mobile App, use touch ID and engage with us digitally as much as possible. As we launch digital offers and services, we also saw an increase in our active mobile users over a 30-day period, by 51 percent. We continue to make improvements to our mobile offerings with new features in payments, transactions, rewards redemptions, and also increase relevance with digital partnerships and deep linking with digital eco-systems frequented by our customers.
The STAR: Does this mean the death of brick and mortar branches?
AS: No, our digital strategy is not about replacing branches, but instead having a smaller, smarter network in iconic and high traffic locations where our clients are. Digital banking allows us to serve our customers in a faster, more efficient way which they prefer. Over the past five years, traffic in our branches declined 50 percent, while digital transactions grew over 100 percent.
In 2016, we started to revisit our branch footprint, and yet we saw that deposits grew six percent year-on-year to $93 billion, while assets under management rose from $210 billion to $218 billion.
We already have a relatively light footprint of smart branches in high impact urban locations and we are continuously optimizing this through a mix of iconic city locations, transit hubs, and retail malls. They blend the best digital capabilities with Citi's signature high touch service and advice for more complex client needs. In the first quarter of this year, our consumer bank revenues were up three percent year-on-year.
Mobile has become the preferred device for everyone. As a result, we are seeing that the phone is now your branch. Philippines is one of the markets in Asia that are heavy mobile users, and this country tracks the Asia digital trend.
The STAR: One reason that makes customers hesitate to fully embrace digital is fear of identity theft or fraud. What are you doing to curb these and stay on top of cybersecurity?
AS: The technology landscape is constantly changing and with it the potential threats and vulnerabilities that are enabled by technology in the hands of criminals. This is why Citi employs some of the world's foremost experts in cybercrime and security technology, and follows a rigorous and constantly evolving assessment process for any new technology that we deploy.
We continue to launch several new capabilities to further address security issues such as biometrics which includes touch ID for mobile app as well as voice biometrics, Citi Mobile token – secure, instant and easy way to authenticate transaction, and Jailbreak device notifications to warn customers, to name a few. You'll be pleased to know that many of these features have been launched in the Philippines too.
The STAR: Do you see FinTech startups as competitors?
AS: FinTech is one of the best things to come along in decades for consumers and for financial services alike. While we are no start-up, we have always been known for our innovations. I realize it's a long time ago and some people may have forgotten, but Citi launched ATMs, credit cards, 24-hour phone banking and several other market firsts in consumer banking. We are continuing to pursue relevant innovations for our customers.
To better compete, we are transforming our operating model and becoming a true digital business. As a result of our new agile operating model, we are launching new products, services and experiences at a pace we've never done before. We are rapidly digitizing our customer services. We have our own Citi FinTech unit in the US with innovation labs across the world and we partner with FinTechs to develop innovative and relevant solutions. We have been conducting FinTech and mobile challenges around the world to recognize, encourage and work closely with the Fintech community.
At the end of the day, we need to be where the customers are and create relevancy. It's about delivering remarkable experiences for our customers that are simple, relevant, secure and convenient.