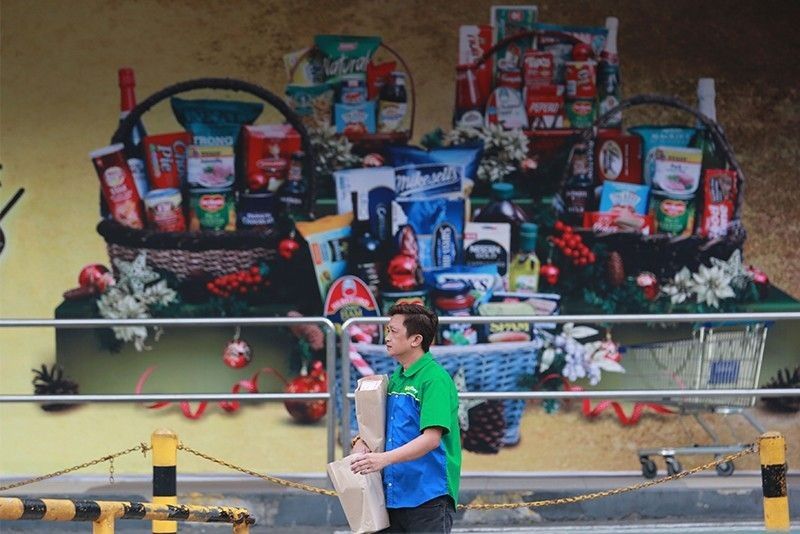 File photo shows a man passes by an advertisement for common holiday commodities at a mall in Pasig City, Oct. 9 2018.
The STAR/Michael Varcas
Philippine economy to rely again on household spending to charge growth — ING
MANILA, Philippines — The Philippine economy may once again depend on consumer spending as capital formation retreats amid falling imports, a global bank said.
"With the July import numbers showing likely weakness in capital formation as capital imports show modest gains and raw material inbound shipments contracting, we may have to rely once again on household spending to carry the load as we chase 6% growth," said Nicholas Mapa, senior economist at ING Bank in Manila.
A four-month delay in the approval of the 2019 budget — which left new projects unfunded earlier this year — disrupted public infrastructure spending, slowing down imports in recent months.
Imports sagged for the fourth straight month in July to $9.57 billion, down 4.2% from $9.98 billion in the comparable period last year on lower purchases of raw materials and intermediate goods.
Capital goods imports, a proxy for fixed investment, grew 3.4% year-on-year in July.
READ: Trade gap narrows in July
Gross domestic product — or the value of all finished goods and services produced in the country — grew 5.5% in the second quarter, softer than 5.6% clocked in the preceding three months amid a sluggish recovery in state spending due to the budget delay.
Socioeconomic Planning chief Ernesto Pernia said the economy would have to grow by an average of 6.4% in the second half to hit the low-end of the state's 6%-7% annual target.
According to ING Bank's Mapa, while the central bank's decision to cut interest rates may help charge growth, powering the economy in the second half may be "increasingly challenging" as the "ill effects of rate hikes and budget delays continue to sap already fading growth momentum."