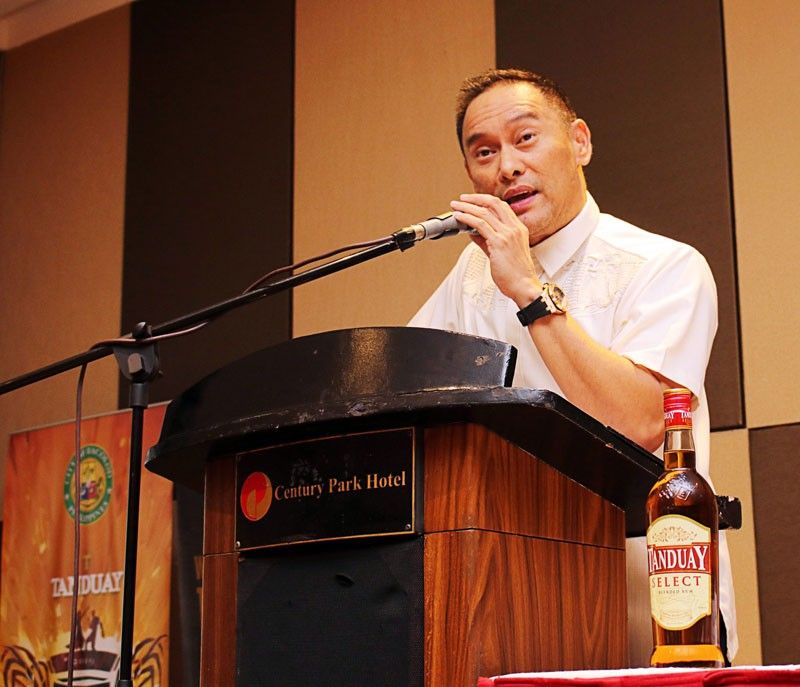 Tanduay president and COO Lucio "Bong" Tan Jr., the son and namesake of the taipan, said acquiring the sugar mill would bode well for Tanduay.
File
Tanduay to sweeten offer for Central Azucarera
MANILA, Philippines — Taipan Lucio Tan's Tanduay Distillers Inc. (TDI) is sweetening its offer for Central Azucarera Don Pedro Inc. after losing in an earlier round of bidding, a ranking official said.
"We are gung-ho about Central Azucarera," said Gerardo Tee, head of distillery operations of the Lucio Tan Group of Companies and chief operating officer (COO) of Absolut Distillers Inc.
Tanduay president and COO Lucio "Bong" Tan Jr., the son and namesake of the taipan, said acquiring the sugar mill would bode well for Tanduay.
"It would be a source of molasses for us," Tan told The STAR.
Molasses, a thick, dark brown syrup obtained from raw sugar during the refining process, is a necessary raw material in manufacturing alcohol.
Central Azucarera operates a sugar mill and a refinery on a 200-hectare property in Nasugbu, Batangas but has been struggling financially the past two to three years, industry sources said.
According to its profile, it offers refined sugar requirements for traders and industrial customers, such as multinational food and beverage, and pharmaceutical companies in Luzon.
The company operates as a subsidiary of Roxas Holdings Inc., which is 50.9 percent owned by Hong Kong-based First Pacific Co. Ltd.
The younger Tan said acquiring Central Azucarera would also help the sugarcane economy in Batangas.
Tee said Tanduay already submitted a bid a few weeks ago, but this did not meet the requirements of the owners.
Undaunted, the company is preparing a new offer. Specifically, Tanduay is vying for the assets of Central Azucarera.
"We will submit another offer probably next week. We are still conducting the new due diligence," Tee said.
The Gokongwei Group's Universal Robina Corp. (URC) offered earlier to merge with Central Azucarera but failed to get the nod of the Philippine Competition Commission (PCC) making it the only transaction blocked by the PCC so far.
The government's anti-trust agency blocked the planned merger between URC and Central Azucarera, saying it would create a monopoly.
URC's sugar mill is in Balayan, while Central Azucarera's milling facilities are in Nasugbu.
Both mill operators are in Batangas and the monopoly to be created by the merger will substantially lessen competition in the sugar milling services market not only in Batangas, but also in Cavite, Laguna and Quezon, the PCC said.
It also noted that while the transaction mainly affects sugarcane farmers in Southern Luzon, the sugar processed from these facilities serve nationwide demand, including that of Metro Manila.
"The transaction will create market power for URC and allow it to unilaterally reduce the planters' share in the planter-miller sharing agreement, the theoretical recovery rates quoted to planters, and the incentives provided to planters," the PCC said.
Tee is confident that Tanduay would not face the same fate as URC because the company has no sugar mill yet. LT Group, just has a 30.9 percent stake in Victorias Milling, which has a sugar mill in Negros Occidental.
Aside from Tanduay, there are two other parties interested in Central Azucarera.
Sought for comment, PCC chairperson Arsenio Balisacan said there has been no formal notification yet from any interested parties in Central Azucarera other than URC.
Tanduay produces spirits, wines, brandies, gins and vodka. The Lucio Tan Group acquired the Tanduay brand from the Elizalde family in 1988.
It has two distilleries, Absolut Distillers Inc. and Asian Alcohol Corp. These distilleries supply some of the alcohol requirements of Tanduay.