Being hooked on video games can lead to good things for the youth
September 30, 2021 | 5:09pm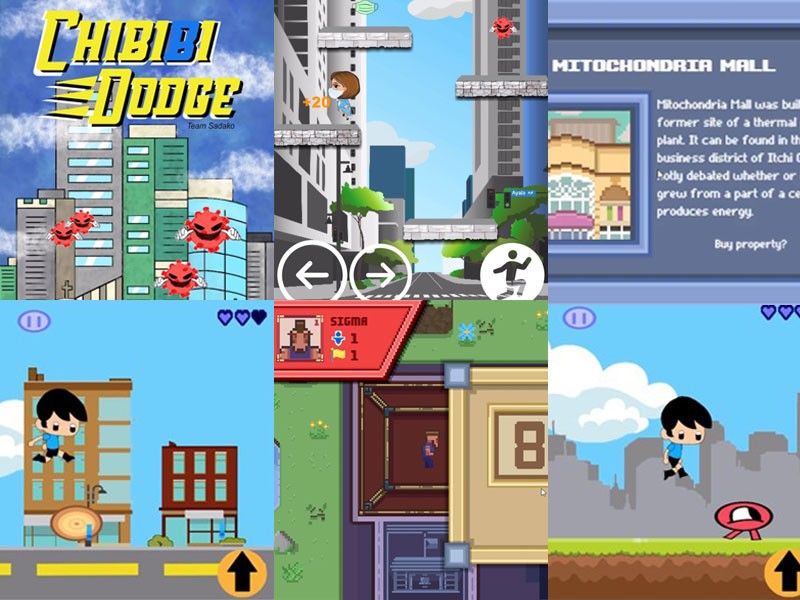 It's a stereotype that parents and adults always admonish young people about being so obsessed with video games. Let me tell you, that's not really such a bad thing.
If you asked me six months ago if my love for games would result to a working partnership with the Makati City government, Makati Department of Education and Makati Sangguniang Kabataan, I wouldn't have believed you.
Games are always considered a distraction from our studies and other more "serious" things. But as Dr. Carleen S. Sedilla, Makati DepED division Superintendent said during our commencement event, "Games are a means of capturing the passions of the youth and translating them into meaningful endeavors in computers, programming and the STEM field."
My strong passion for games has translated to interests in game development, technology and future career paths that involve science and engineering.

I started Scope for Change last year when I turned 15 years old, after seeing how the pandemic affected many people economically, socially, and even psychologically.
The main goal of Scope for Change is to use e-sports and games as a way of allowing kids and teens to participate in helping others in these times of need while exposing them to computers and programming, so they develop their interests in the STEM field.

I believe the STEM field is a valuable path for students to pursue as the age of digitalization brings evolving technologies that are permanently changing the society we live in.
Literacy in technology is the new credential for future success. I intend to use e-sports as a tool to entice kids and teens to be aware of the current challenges during the pandemic while augmenting their STEM interests and learning in fun and fulfilling ways.

On August 6, 2021, Scope for Change Summer Gaming Workshop in partnership with the Makati City government, Makati DepED and Makati SK, gathered more than talented teens from a range of Makati district schools who, like me, are hooked on video games. They participated in a series of game development tutorials hosted by Scope For Change to aid them in their game development journey.
More than 120 participants in teams of five competed in Scope For Change's Game Development Competition for four weeks, developing a "Makati City"-themed game.
The top prize of Php30,000 went to Team Sadako for their rendition of the infinite jumper game "Chibibi Dodge" where you dodge viruses and collect hand sanitizers, face masks and vaccines in the backdrop of Makati skyscrapers. The second place of Php20,000 went to Maksci Gaming for a Monopoly-esque game featuring various Makati properties and landmarks. In third place, Team Sturdy New Gen took home Php10,000 for their endless runner titled "Juan's Adventure", headlined by Juan, a kid from Makati, as the main hero. These games are published as free games on the Google Play Store to check out.
Like me, the participants have fantasized playing in e-sports tournament and competing against opponents as passionate to win as them. Thus, we concluded the workshop with a Mobile Legends Tournament with a P20,000 grand prize, complete with live casters and streaming on multiple social media platforms where the same environment professional Mobile Legends players play in.
Team Makatizens trumped the competition, taking the title and the grand prize. However, a valiant effort was put up by runner-ups, Team Sadako and Team Renaissance, for second and third place, respectively.

I hope the workshop will result to a long-lasting interest so the students can develop their skills and knowledge in technology and programming. This, I hope, will help them pursue career paths that can uplift the competitiveness of our country in the field of science and technology.
I want the students and parents to experience what I have learned. Despite video games being distracting at times, they can also prove to be a catalyst in learning practical STEM-related skills when indulged in moderation. It can develop our youth's competence in computers and programming and be able to compete against other countries for valuable knowledge-based jobs in the future.
This project would not be successful without the help and support of many people. Thank you to Councilor "Dudong" San Pedro who is also the Sangguniang Kabataan Federation President, Makati District 1 Councilor Tosca Puno Ramos, Makati DepEd School Division Superintendent Dr Carleen Sedilla, Makati DepEd Director of Education Ms Rita Riddle and Makati DepEd Senior Education Program Specialist Ms Maria Sofie Berondo for believing in my advocacy and looking beyond games as just forms of entertainment. Thank you also to Lenovo for being the major sponsor of the event while Logitech as the partner sponsor for trusting me in this endeavor.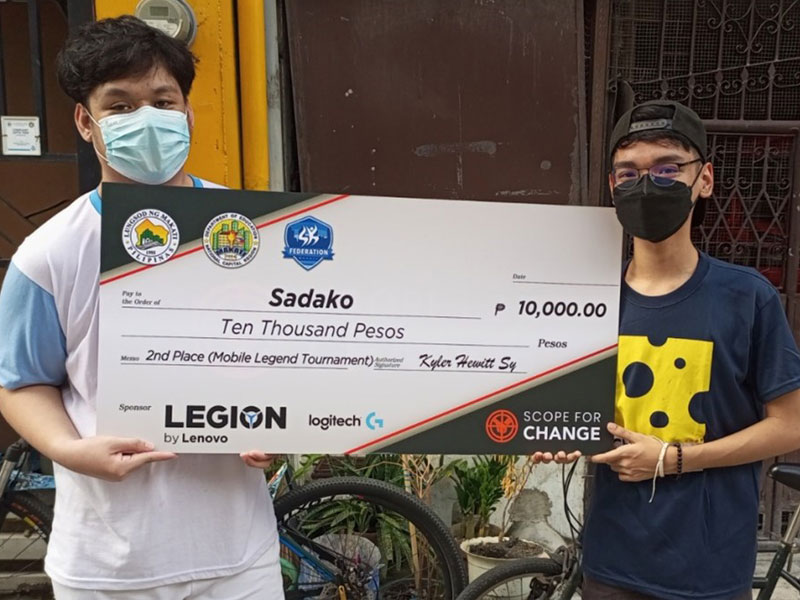 Prize for Team Sadako.
Released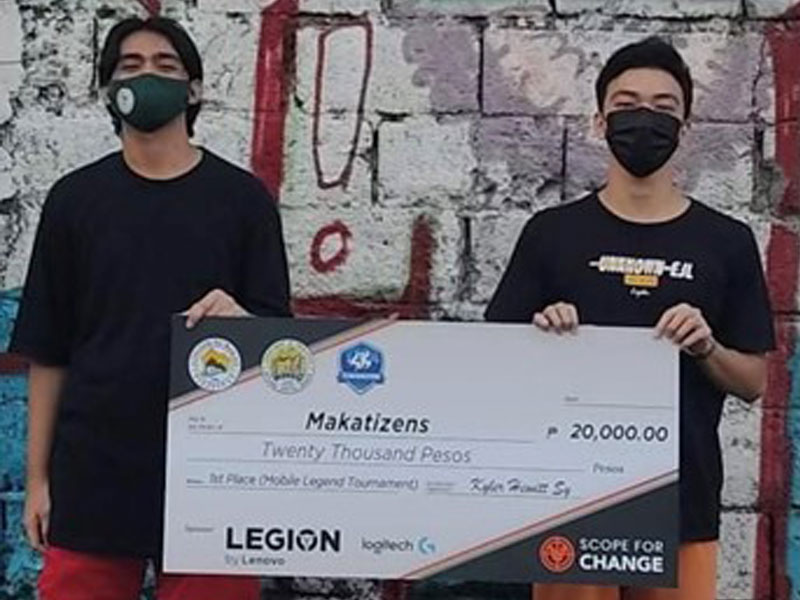 Prize for Maksci Gaming.
Released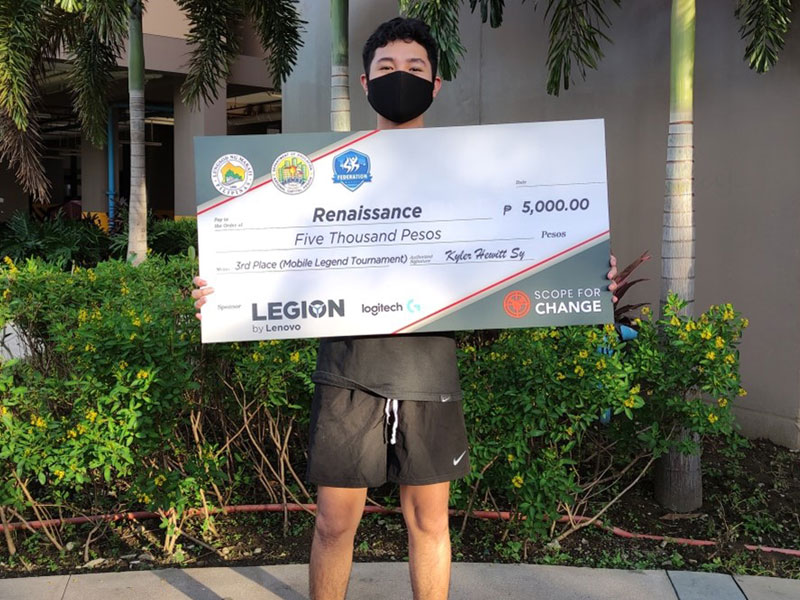 Prize for Team Renaissance.
Released