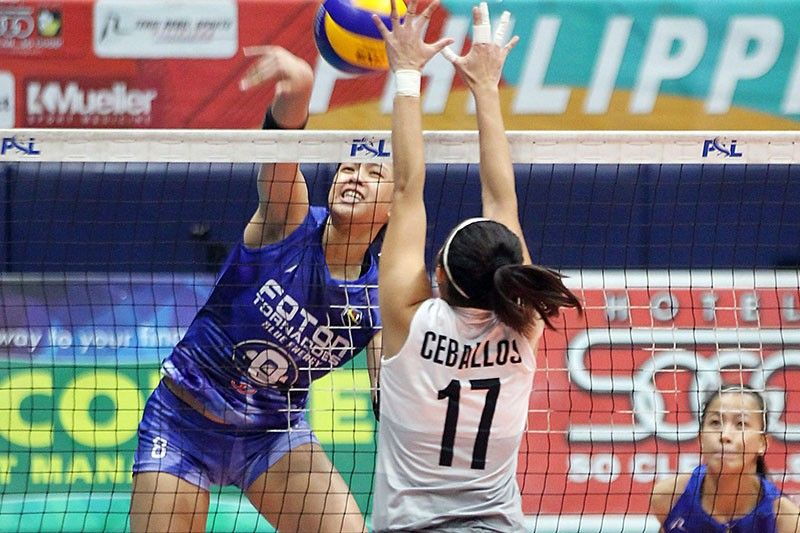 Foton's Eya Laure faces Generika's Mae Ceballos in a one-on-one duel at the net.
Tornadoes beat Lifesavers in slambang duel, advance
MANILA, Philippines — Foton joined Petron, Cignal and F2 Logistics in the Philippine Superliga Invitational Conference Final Four – the same cast of teams that slugged it out in the last PSL semis.
The Tornadoes outlasted the gritty Lifesavers, 21-25, 25-17, 27-25, 19-25, 15-11, in a virtual dogfight to secure the last semis spot yesterday at the Filoil Flying V Centre in San Juan.
Foton gained semis entry with the help of Pool D top seed F2 Logistics (5-1) which booted out Sta. Lucia, 25-22, 25-15, 25-15.
Petron (5-0) and Cignal (5-1), meanwhile, booked semis slots from Pool C as early as last week.
F2 Logistics will be facing Cignal while Petron clashes with Foton in knockout Final Four matchups tomorrow in Malolos.
Superliga rookie standout Eya Laure racked up 24 points, including six in the clincher, while Shaya Adorador added 19 markers and Marian Buitre chipped in 14 on six blocks.
Returning spiker EJ Laure also stepped up with 11 markers coming off a long layoff due to a shoulder injury.
"I'm very happy with how the players played against adversity. We knew that it would not be an easy task but we just stuck with one another. It's a team effort for us. It's all about desire and who wanted it more," said coach Aaron Velez as Foton caught the last playoff bus and replicated the same Final Four cast last All-Filipino Conference.
Mean Mendrez (16), Ria Meneses (14) and Patty Orendain (14) paced the Lifesavers (1-5) who suffered their second straight five-setter defeat en route to elimination.
Meanwhile, Ara Galang and Kim Dy posted 10 points to lead the way for the Cargo Movers who bolstered their Invitational Conference title defense bid with this semis return ticket.